'I FELT A SENSE OF HISTORY BECOMING FIRST FEMALE DVC'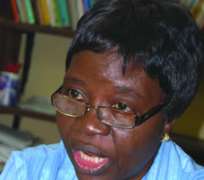 Odejide
As a young academic in the Faculty of Arts, University of Ibadan, in the 70s and 80s, she was dreaded, even more than a professor. Reason: Abiola Odejide is a strict, no-nonsense lecturer that takes her job seriously and demanded same from her students with their studies. No cheating, no absenteeism or lateness to tutorial classes, and assignments were to be submitted promptly.
Although many of the students disliked the regime of discipline, they were to realise later that it was for their own good.
For Odejide herself, this strong character trait and values were to propel her to professorship in Communication and Language Arts Department, and the seat of the Deputy Vice Chancellor of the university, the first female ever to be raised to the exalted positions.
Recently, she gracefully bowed out after 37 years of service and devotion to instructing and moulding minds.
In this interview with one of her numerous products, Odejide recalls her odyssey in the academic community. Although apparently slightly tempered, the fire of rectitude still blazes in her.
The president of International Board of Books for Young People (IBBYP) also spoke about her involvement in publishing and writing for the juvenile, her specialty. As parting gifts, she also gave tips on how to improve Nigeria's distressed educational sector.
Excerpts:
Let me congratulate you on your retirement. If you cast your mind back to the start of the race in this career and September 30, 2011 when you retired, what have you to say to God and to yourself on the journey so far?
As I look back, I'll just say I thank God that I took the right decision. I never wavered for one minute about whether I was in the right position or not, because right from when I was young, I knew that I wanted to be a teacher, but I didn't know that I would be a university teacher. The people that inspired me at that time were the young ladies that came from the UCI, University College Ibadan then on vacation job in my school in Yejide Girls Grammar School. You know, they came to teach us during the long vacation, this was in the 60s. And I was so impressed with the way they carried themselves, the way they taught us. Some of our teachers were early graduates of UCI, so I just knew that was what I wanted to do and I knew I was going to teach English.
Why did you opt for English language?
I found it so absorbing, I love reading, it came easy to me. In fact, I thought maybe I would get a Masters and teach but I never even thought I would get to this level. That's why I say, I thank God the way everything has worked out. I feel very happy and fulfilled with the profession.
Life as a young academic in the university environment then. What was it like?
I started in 1965 as a student and that was nice, it was enjoyable, the facilities were okay and we enjoyed the attention of our lecturers, you know, we had very small classes and we interacted with them, they kept note of us, they knew what we were doing. I mean there was no lecturer who didn't know who and who were in the groups. And I graduated in 1968 with a BA in English at that time, 2nd Class Upper Division, the only one in the class that year.
I left and I got married. So, for three years I taught in high school in Ibadan here, Christ High School, a private secondary school, that too I also enjoyed and in 1971 December, my husband and I went abroad, he was going to do his post graduate in Psychiatry and I went with him.
When we got there, it was an opportunity for me to pick up my studies again and he was anxious that I should, because I had done so well and it should have been a beautiful opportunity for me. So I first went to Maureen House of Education in Edinbrough where I did a diploma in teaching English as second language, that was nice, you know because I had done mainly Literature here in Ibadan, which meant I had to do more language courses, do linguistics and so on. That I also found fascinating. By the time I finished, I was encouraged by the lecturers that I should go and do another degree, that was how I went to University of Leeds, it was about three hours journey.
Have you started a family yet then?
Yes, I had two kids. And it was a difficult decision especially for me but my husband was very supportive, he was like, he would take care of them, I would go on a Sunday evening and come back on Friday evening and he would take care of them during the week. It was expensive, but we also had an elderly woman coming, very nice woman, a grandmother, nanny coming to look after the children at home, we didn't take them out to live with anybody so they stayed at home and I went and came back. I finished in 1974 and it was good that I went, because going to Leeds made a difference in my entire life, because at that time, the university was looking for staff, here in Ibadan.
They had a reading centre and were looking for staff and I don't even know how the then Dr. Unoh who was starting the centre got to know about me and he invited me to apply and he was very happy that I had done my Masters in Linguistics and English language, I even had a distinction at that time. So, he really encouraged me to come, so the university employed me from Britain and they paid my passage and everything home. It was very nice, that was how I started in July, 1974.
When you were starting, did you dream of becoming a professor and rising to the position of Deputy Vice Chancellor at all?
Well, becoming a professor, yes. Because if you joined the academic staff in the university you'll be looking forward to becoming a professor but the Deputy Vice Chancellor thing, it wasn't on my mind at all.
So when it came, how did you feel?
Well, I felt delighted. It was good, it meant that some people had noticed what I was doing and they thought I was a kind of person who could make a good Deputy Vice Chancellor (academics). It was a surprise but I must say, since we are reminiscing, when I look back now, I just saw the career path there from being a lecturer here and at some stage I did various things that I didn't count then.
For example, I was on the editorial board of some journals and at a point I became the coordinator of general studies, which meant that people would come from the sciences, everywhere and I dealt with them and I got to know a lot of the people there. And I also became Director of Distant Learning Centre which was also a good thing and it was from there I was invited to run for Deputy Vice Chancellor (academic). So the way I look at it is like we do many things and we don't know that they count because people see us, they see what we can do.
When you first sat on that seat at the administration building and you remembered you were here as a student, how did you feel?
The thing is that, even when I was a student here, you never moved near that building. What business do you have there? Unless you were in some serious problem, you didn't see your VC or DVC except at graduation. You see them first during matriculation and after that graduation unless you ran into some serious problem. So I felt a sense of history, you know, especially since I was the first female one. Nobody had ever done that before and I felt happy and people were excited about it too.
As a former student here, I had thought that it was the department that was reluctant to change the focus.
No. I mean, we are responding to the needs of the society and within the university. I think it was during late Prof. Laide's time and Prof. Tunde Fatuga was Dean of Post Graduate School at the time that was when they said look, we can't continue just as a university that just does theoretical whatever and they were actually appealing to different faculties, mount professional courses, let people come in so they can have skill not only knowledge which they can use outside and as it turned out for us, it was our lifeline, it was also our niche.
We carved a niche in that area. So, now in the whole country, Communication Arts department is the department that has produced the largest number of PhDs in communication studies, no other department in the whole country and if you look everywhere, you will see that most of our students are there, you know, they have their PhDs from here. So, it was a visionary move.
You have a top duty as director of Distant Learning Centre and Deputy VC. Could you share with us your experiences on these seats in this your assignments?
The Distant Learning Centre had actually started as a centre for external studies and it started in the 80s which was an initiative of Adult Education department in the Faculty of Education. They had started running different programmes. First, they had diploma programmes, for example, Industrial Relations and so on and so forth. But, soon under the late Prof. J.T Okedara and I also think Prof. Omolewa later, they decided that 'why don't we take in students who had done MC and under a distance learning mode, obtain their degrees'. If you remember, some of our earliest educated people in Nigeria studied under this London correspondence, so, this could also be done. That was how they started the programme and started offering degrees in Education.
The university didn't quite understand that the thing could be as rigorous or as valid as a full programme in the university, so they had a hard time selling the idea. So at a point, they just said, in Education you can do it, you go ahead and do it. Unfortunately, the programme didn't go as vibrant as it should have and so at a point in time, the then VC, Prof. Falase decided that, 'look the world is going this way, most of the world, you hear about distant learning, you hear about learning without borders'. You know, of course different countries are learning and taking their degrees across borders.
Even here, you can take your degree from Singapore, from anywhere. There is no way our university will not move in that direction. So, he then asked me to take over as director of distant learning. When I got there, I saw the potentials, I now began to say look, it shouldn't just be Education people, some of the Arts people had also begun to embrace the idea but because it started in Education, people were like, you know they weren't too enthusiastic but I now had the duty of persuading them, you specify your conditions for admission, let's know who is going to teach, prepare the materials and so on and so forth. So that was the duty I had to do there – persuasion. I had to persuade them. Fortunately, people began to believe in it, we got serious about things; we produced so many teaching materials. Your tenure as DVC?
Yes, it was from there that I became DVC and you know it's an elective position but I must say again it was the vision of the then VC to decide that U.I had a female DVC. The system works this way, VC is elected, he gets to select his team and the way he does it is that, he would nominate two people, two professors to senate and say I want this two Prof. to run for DVC academics, I want this two for DVC administration and then the senate would decide and vote and whoever was selected would become DVC. Now, the problem with nominating a female against a male was that, all the males would vote for the male and think 'no, this is not a female terrain, how can a female be our whatever?' So, what the then VC did was that at the first time, he marked me against a man and it was a close race, the man won.
When the tenure ended, he then asked me if I would run again and I was a bit hesitant. I said no, there is no point. I think by then he had also been educated about gender politics. I said if you really want female DVC, you have to match two females and whichever way it goes, the university would end up with a female, which was precisely what happened. I was then matched with another female and contested and I won. That was how U.I got a female DVC. It was a new experience for them and for me too, because if you're DVC academics, you're chairing over 15 committees throughout the whole university. You're chair of the university library, you're chair of the Post Graduate Committee, you are chair of Distant Learning Committee, all kinds of committees, anything that has to do with education.
You're chair of committee of provosts and deans, which is the clearing house that takes things to senate. So, that too was part of the schedule. It was a lot of work but it was also good, because it was an opportunity to show that one could also perform in this administrative position. You must know what you're doing about how university works and it's also about relationship you must know how to manage people.
The Ivory Tower, people say, has also been politicized so to speak. What was your experience, being the first female DVC?
That's why I said the experiences I had earlier on, for example as Coordinator of General Studies, there I had dealt with so many male lecturers and so on. And they knew my style, they could say whether they liked the way I ran things or not and also at the Distant Learning Centre. Even the ones that are not in the formal university setting like the University of Ibadan Women Society, we still have crèche and I was the director of the crèche.
That meant that I was dealing with the entire community with a wider forum; I think people liked the way I went about things. I think that was part of it. So, for many of them too, it was like a joke, 'What can we call you now? Can we call you chairman or chairlady?' it was humorous. One of the DVC's function is to liaise with other universities that want linkages with us and the ones that we want linkages with, to meet their guests and write to them. You know, if our lectures write proposals, if they want to go somewhere, we would link up with them and say 'our staff want to do this'. There are so many links with embassy, we'll say, 'look our staff wants to go here and so on'. So, it was a learning experience for me and the university, but I must say that I really enjoyed the cooperation. People say maybe because UI is more different, it's more open, it's not that conservative.
It took UI over 48 years to get first female VC
Yes, there are some places that they would say no, they can't have a female DVC and the way they also related to me showed that they were open; some of them said we have never ever sat at the meeting where a female presided. I think it's also important to show that it doesn't have to be a male terrain completely, if there are competent women, we should give them positions on merit. But don't look down on somebody and say, she is a woman, she can't do it or he's a man, he can't do it. That would be a wrong attitude. That's why I said UI has been good, I mean, it's like my umbilical cord is in U.I.
What was the most memorable experience in UI in terms of the low side and the high side, possibly an experience?
The most memorable day was the day I was elected as DVC, because it wasn't even on my radar, when I began my career, I just wanted to teach, do research and to become a professor. That's my most memorable. The low side, I can't think of one particular event, but I can just say maybe episodes, like if the student didn't do what were expected. In terms of realizing their full potential you know for me. I was here in the 60s, you don't cheat in the exams, if you did, it was a scandal in the whole university, and it could get into newspapers and so on.
And then you are here and see students thinking it just didn't matter, they say 'it's cooperative', it's like helping. And you also see some lecturers who have come through that also thinking that it doesn't matter. They say it's no big deal and if you deal with them you ruin their careers. The thing to do is to let them learn quickly that you don't do that, because that impacts some learning too. The person who cheats regularly in exams won't see anything wrong in getting out and cheating on other things in the profession, in politics, in business and so on. That's the pattern I'm saying.
Assessing the quality of students you taught across the generations till date?
I would hesitate to say a decline because U.I has been lucky, because University of Ibadan is the first choice for many students and we've been lucky to have a crop of very bright young people coming in here. We had a low side when we had explosion in the number of students and our faculties couldn't cope and then I would say that we weren't able to do our best, the lecture rooms could only take like 50 and we had like 100, so what meaningful teaching could you do? And so it would impact on the students but even then a few still distinguished themselves. If you go by the level of spoken English or written English, you'll say things are really declining, you know, people can't even express themselves well, again, the department like ours, that's tragic because that's our business -to make people use language well.
So, from that point of view we can say it's declining in the quality of language that is used but in terms of the depth of what they know and what they are capable of finding out, I think there is a lot to commend them for because right now, they have all this access of browsing, finding out information. So, the lecturer has to be one step ahead of the students nowadays, you can't keep using your 1970 notes and thinking you're going to keep on teaching adequately, no, you too must be on top of it, find out information and also be willing to learn from them. From that point of view, those who want to learn, there are so many sources of information available to them. The lecturers aren't the oracles again. There are other sources. What to help them do is how to manage the information they get.
About three years ago, your husband, the late Professor Bisi Odejide passed on. I'd always been curious how a medical expert and communication skills development expert became soul mates?
We met as students here. I was in part one and he had already done two years. He was moving on to the medical college, that was when we met, you know, it was a lifelong passion. We understood each other very well. I could help with his psychiatry and so on, not because I knew psychiatry but because I know about human beings I know how people use language. He also helped me in my own field too and there are other things we shared. That's why I said people mustn't be insular; they have to know about other things. He had a passion for politics, contemporary events and so on apart from football. I had to learn to love football too. Also, about our community involvement, those were the things that we shared.
And also religion, that was also important to us and we had values that were the same. So to that extent, there was no rivalry in our home. People will say acada marriages and so on never worked, but, we didn't have all that. So, I told you when I finished my diploma, he was the one that was very enthusiastic that I had to go, he said getting married shouldn't be a barrier. And he was prepared to make the sacrifices and so we encouraged one another along in our careers and so on. We weren't in competition with one another at all and people would say when there are two professors in the house and there was a call in the days on NITEL and the caller said ' can I speak with Prof. Odejide', we'll say which one (laughs) and people would begin to laugh, 'is it male or female?' and we began to laugh. And he didn't feel threatened at all. If anything, he was really very proud of my achievement.
Working in the same environment, when you have strike. How do you cope in term of finances?
Well, it's a question of how you manage your finances, if you are not living hand to mouth. I told you we shared core values. For example, we weren't extravagant. Our children education was our priority. So, I mean, there was no way you could say no money for school fees, other things would have to wait. I mean. So, even during the strike, I don't remember that we had any major issue about finances and I think two good salaries are better than one (laughs). And especially if you're not a man that is proud, that'll say 'I'm the bread winner, I must provide for everything'. If you say you are the breadwinner, you will kill yourself, let your wife help you if she can. And if she's not somebody that is always clothe, clothe not having a sense of what do you want to do with your life and so on.
Having lived together for so long even after the children had left home. You must miss him, how has been your coping strategy?
First of all, I'll say faith, because both of us were strong members of our church. And also he did not make me dependent. I could do things on my own. We knew our strengths. We knew I was strong and where we had to make up. For example, in terms of managing the finances of the house, I was a better organized person; I could manage the finances, expenditure and income and so on. He didn't worry about that, it didn't diminish from his status, and he didn't feel threatened by it. So, if the children want anything, ask mummy for it. We could settle that and also I had this inner strength.
He encouraged me to follow my profession and to do things that I needed to do. If I needed to go to countries, I could go without looking back.
I knew things would work well. He would be anxious about what I was doing or where I was or whether I was okay. I mean, we had some certain things, like if either of us went anywhere, like travel abroad, as soon as you got there, it won't matter what it would cost you, you called. Whichever way it's cheaper, if it's cheaper to call from Nigeria and if it's from the other way, you could also call.
Apart from that, we keep talking about gender as if it's some crazy thing; it's about empowering people so that they can survive. It's a survival strategy. If I didn't know how to fix the car or how to call the bricklayer to fix whatever or call the plumber and so on, I would have totally been devastated, but these were things I did routinely even when he was around and I could take the car to the mechanic and say fix this, do this. I have the lists of bricklayers, I knew the plumber, I knew the electrician and so on.
You know, you never know something could happen suddenly and there will be no preparation. I mean, I put on generator in my house; people look at me and say 'ha ha', I tell them what magic is there. I haven't bought one that you would be pulling rope. Its technology, I don't need to have somebody to be putting on my generator for me. This is advocacy for people that you have to empower your daughters and your wives so that, God forbids, even if anything happens, they all need to have a sense of self actualization and self esteem that they have achieved something on their own. They are not an appendage of Mr. whatever whatever,, it's important.