NOLLYWOOD: ORIGIN AND UNRESOLVED PROBLEMS By Augusta Okon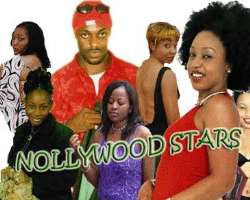 I refuse to give into the temptation of embarking on an academic voyage, to be rocked from side to side by the raging waves of movie complexities, the non-observance of the rules of engagement by the confrontational heady blustery weather, blowing fierce kisses of countless theories, propaganda, speculations, assertions, in a bid to blow my "movie ship of discourse" away from its chartered course. I've heard of the counter measures some in the past adopted, such as the deployment of missiles, encapsulating an analytical approach, fluid coherency, stemming from arguments and critical thinking, splendid performance of grammatical gymnastics from their vocabulary arsenal to beat the opposition silly.
However, i belong to a generation whose paramount interest lies not in the pursuit of knowledge via the reading of literary and non-literary works, since our reading culture was mercilessly slain on the slaughter slab of economic degeneration, having been repeatedly stabbed to death at the hands of draconian decrees, harsh economic policies, rapid spread of corruption in the various civilian era. The domineering presence of Sports (especially football with the English premiership, Champions league taking pre-eminence above the La liga and Seria A), Entertainment with Blue Chip companies throwing their financial heavy weight (especially behind Music), Fashion, Beauty concerns and therapies (Make over, Day spas) and of course the Internet, all strong contenders for our "time and money" have further dashed the hope of resurrecting the dead culture which has not rested in peace, following its ill timed descent into the land of oblivion.
Having had a good understanding of this Achilles' heel, i have resorted to the intermittent use of creative writing, simplistically formulated to stimulate their interest (as leaders of tomorrow in the advancement of the Movie Industry) and of course everyone who has a soft spot for Nollywood.
I remain a loyal fan of the 1966 Italian movie "The good, The bad and The Ugly" which was directed by Sergio Leone. It starred Clint Eastwood (the good), Lee van Cleef (the bad), and Eli Wallach (the ugly), who were all after a huge fortune. It was with certitude, a hit back in the days which transcended into the 70's and believe it or not the 80's in Nigeria (during which I was opportune as a child to watch). It was popularly tagged as part of the repertoire of "Cow Boy films" that flooded the Cinemas and our homes through VHS tapes.
CREATIVE ANGLE
The Mumbai movie stadium incontrovertibly re-nowned as the main arena for Film making within the geographical axis of India, was filled beyond its accredited numerical seating capacity. All was set for the main event which had prompted an influx of Nigerian supporters, high powered representatives of Movie bodies from various Countries, Investors comprising of (Blue Chip companies, and High Net Worth individuals), Movie echelons, Movers and shakers in Moviedom to Mumbai.
It was the return leg fixture in the Quarter final elimination round in the International Movie Champions league. An annual competition ranked at the apex position on the Organizer's list, brilliantly designed not only to improve the quality of movie productions and professionalism, but to also determine which movie body was the best on the face of planet Earth.
Hollywood, top contenders, to lift the trophy for the umpteenth time, had sailed to the semi finals having beaten their opponent silly. As i sat in the Spectators stand i couldn't help but wonder whether my homeboys had what it took to beat India's representative in the competition "Bollywood". We'd lost at home to them by a lone goal and needed to score two unreplied goals to level the scores, score one more, without conceding another, before we could qualify for the semi-final. Bookmakers relying on the historical antecedent of both teams had tipped Bollywood to carry the day, but even predictions in this dicey game, sometimes, don't come true.
I could feel the pulsating excitement, as cheers, whistles, laughter, the rendition of solidarity songs from the able supporters of both teams waving their National movie flags and attempting to cajole spectators from neutral countries to support their teams filled the air. Both teams finally emerged, selected across the spheres of directing, acting, editing, scriptwriting, cinematography and effects (special, sound, visual) by the veteran coaches. On sighting their favourite stars as they made their way on to the movie pitch, the spectators went into a frenzy. After all the preliminary singing of anthems, handshakes, coin flipping, and exchange of flags by both captains, the referee from Cannes, with his assistants from Berlin and Toronto, moved to their official positions to commence the game. Having checked one last time with his co- officials off the pitch, he blew the whistle signalling the kick off, amidst shouts and whistles from the spectators.
The 4-4-2 formation by Nollywood seemed to be working well, as my boys hungry for goals, passed the ball (representing stories created) with good accurate short passes to each other (integration of works from pre-production to post-production stages), dribbled (overcoming obstacles despite the shoe string budget), which they lost to the opponent but quickly re-gained possession. They used the Right and Left flanks (mass exportation of movies) to break into their opponent's side effortlessly, exhibited good overlapping techniques (aggressive marketing) and a beautiful well connected header,(swift, prompt delivery of movies into the market through various channels) saw the ball in the net of our opponent in the Twenty fifth minute of the game.
Nollywood supporters went wild with joy, and i screamed with sheer delight, simultaneously hugging the French man by my right. However, the steely brown eyes from the lady by his side, which interlocked with mine for some seconds, sent warning signals across, telling me to "back off" for he was "her man". Slightly embarrassed at such misconceived notion, i quickly let go, apologising at the same time.
"No need to apologise Mademoiselle, it's the hugging fever you get from the game" he replied in a deep French accent with a smile dangling around the corners of his mouth. Hugging fever or not, I certainly was careful after that!
"Come on guys" i shouted, hoping the wind would bear my message to them. They certainly were spitting fire and meant business, and much to the utter bewilderment of Bollywood fans, my boys scored another goal, ten minutes later, levelling the scores. If the previous act of jubilation was termed as "wild", then this was wilder.
"It's impossible, what's wrong with our team?" was written boldly on the worried faces of Bollywood supporters, as they looked on in disbelief.
"Yeah, o yeah" i shouted and jumped with joy, as i wriggled my waist to the drumbeats played with dexterity by our Supporters club. The Referee blew the whistle for halftime, and my boys strode off the pitch smiling, obviously pleased with their performance, much to the despair of a large number of dazed Bollywood supporters.
I was glowing with pride, and allowed my ears to pick up and then listen with rapt attention to an ongoing heated debate (in English) among three people, two Chinese men and an Italian woman, seating directly in the front row before me, with regards to the scintillating performance Nollywood put up, having had no remarkable precedent of success, in the various spheres of Moviedom. Feeling cool with myself, i descended into the arena of conflict to set the records straight, and began to give an exposition on the movie industry dubbed "Nollywood"
INTRODUCTION
The Nigerian Home Video Industry, popularly referred to as "Nollywood", during its blossoming epoch, soared on the wings of dynamism, assiduity, imperturbability, resilience, and was with certitude propelled by the wind of change into enviable heights of Moviedom. Despite the threatening thunderbolt missiles of mediocrity, ineptitude, charlatan craze, and shoe string budgets culminating into an endless stream of flawed productions launched at it by life's anti- progressive synchronized network, in a bid to terminate its meteoric ascension, Nollywood nonetheless survived the epic battle.
History was re-written in Moviedom as the age old stereotyped World record rankings of movie producing industries was broken. Nollywood caused a major upset, by clinching the third revered spot, behind counterparts, Bollywood and Hollywood, having been consensually endorsed by re-nowned critics, movie eagles, pundits, all with an intimidating, enviable, whistle invoking movie profile. This laudable achievement sent clear warning signals to its counterparts ahead and behind its ranking, that Nollywood was indeed poised to be a striking force to be reckoned with in Moviedom.
Nollywood's net worth as at 2008 stood between an estimated $250 and $300 Million dollars.1 It is worthy of note that a Global cinema survey, conducted in 2006 by the UNESCO Institute for Statistics (UIS) and released sometime in May 2009, puts Nollywood on the number two spot, behind Bollywood and ahead of Hollywood based on the numerical data of the movies produced. However, it is an indubitable fact that despite the set back to the third position, Hollywood still blazes the trail as the foremost Movie Industry with a pedigree of top class, matchless, quality productions.
The annals of the Nigerian movie Industry, proudly boasts of a plethora of movies encapsulating the Celluloid formatted films of yester years and the stream of Home Video productions, with the former incontrovertibly acting as the foundation upon which the latter was built.
NOLLYWOOD - THE ORIGIN
Film exhibition began to thrive during the Colonial era, with Glover Memorial Hall playing host to a range of memorable films viewed by "potential Nigerians", in August 1903. However, the non-availability of proper records reflecting the title of the debut film exhibited has created a lapse in the precedent stock. Notwithstanding the lacuna, the way had been paved for the exhibition of more foreign films at the Hall and other designated venues.
The emotionally traumatizing "Master – Servant" relationship, evident in the constant assaults, batteries, intimidation, segregation, victimization, carried out by the Colonial masters on the colonized, with darkened clouds of resentment, vengeance, thirst for freedom, giving way to splattering drops of such thoughts, instinctively projected through the colonized intermittent in-subordinate actions, began to spread amongst the blacks. The British knew they had to thread with caution if they still wanted to play "god" in their lives when films such as Tales of Manhattan, Trailer horn, Tarzan series began to stir up a revolution in the hearts of Blacks across the globe.
Aware of the lethal power of insurgency which could be unleashed through the Film medium, the British out of fear for their lives and possible loss of the Queen's sovereignty took the bull by the horn, and swiftly created a Colonial Film Censors Board (FCB) in 1933 to censor and classify films before they were released for visual consumption by the public. Following the establishment of the board, Films such as "The primitive, primitive man, Dixie, Buffalo Bill, The Keys of the Kingdom, Sleepy Town Girl were tagged 'suitable' to be watched , while Dr Jekyll and Mr Hyde, Clive of India, The Isle of Forgotten Sins, House of Frankenstein were considered unsuitable for viewing 2.
The Censor's body underwent a transformation process into the Federal Board of Film Censors (FBFC) from the aforementioned, and the laws from which the transformed body derived its powers ranged from the 1948 Cinematograph Laws of Nigeria, the Cinematograph Laws of 1963, to the 1963/64 Cinematograph Law and Regulations. The present National Film and Video Censors Board came into existence by virtue of decree, now Act 85 of 1993. The advent of Nigeria's Independence (1960) and the Republican status (1963), heralded the dawn of a new era in all sectors.
"The Yoruba Travelling Theatre Group" of the 60's and 70's can be referred to as the "Fountain Head" of movie productions in Nigeria. The veterans with great Theatrical skills and great performances took their works beyond the stage, and dove into the sea of film productions using the Celluloid format. Notable film makers on the Roll call of Honour during the Celluloid boom era of the 70's include Ola Balogun, Eddie Ugbomah, late Herbert Ogunde, Adeyemi Afolayan a.k.a Ade Love (father of Kunle Afolayan of the Irapada fame), Ladi Ladebo, Moses Adejumo, Adebayo Salami and Afolabi Adesanya.3
The list of documented films produced during the 70's era and transcending somewhat into the 80's is simply astonishing and goes to show that the Movie Industry has been around much longer, contrary to the '1992 belief syndrome' most have been injected with . Such works include Kongi Harvest (1971), Alpha (1972), Bull Frog in the Sun (1974), Amadi (1975), Ajani Ogun (1975), Muzik Man (1976), Bisi, Daughter of the River (1977), Ija Ominira (1978), Aiye (1979), Kadara (1980), Jaiyesimi (1980) Efunsetan Aniwura (1981), Cry Freedom (1981),Ija Orogun (1982) Owo L'Agba (1982)4
The cost of producing films in that era was financially back breaking, with Nigerians further frustrating the efforts of the filmmakers by opting to watch films of occidental and oriental origin at the Cinemas and Exhibition centres, rather than the locally produced ones. The Cowboy films were exhilarating to watch while the Chinese films paraded amongst others, the Legendary "Bruce Lee" in (Lo Wei's, The Big Boss (1971), Fist of Fury (1972), Way of the Dragon (1972), Enter the Dragon (1973), The Game of Death released in 1978) who exhibited Martial Arts dexterity, obviously a fighting technique alien, yet fascinating to us at that time.
Indian films in the late 60's and well into the 70's paraded renowned names like Rajesh Khanna, Dharmendra Singh Deol, Mumtaz, Amitabh Bachchan, Anil kapoor, Hema Malini, and produced hits such as "Bobby", "Sholay", "Kabhi Kabhi", "Dharamveer", "Amar Akbar Anthony". Their stars displayed great acting skills against the backdrop of love themes, and ear pleasing songs coupled with synchronized dance steps, produced with sound and special effects, though incomparable with what obtains today bought over the indigenes loyalty for their movies.
Thus, the Movie Founding Fathers began to face the challenges of recouping their investments, which gradually became virtually an impossible task, an anthem they constantly rendered much to the discomfort of potential financers. They counted their losses and licked their wounds sustained in the financial battle with every film they released. The deluge of VCRS in the 80's created a paradigm shift from the Cine to the VHS format, which made productions easier, faster and cheaper by a milestone in comparison to the former. Cinema houses and other Exhibition centres were finally shut down and the Baton of Cine film making slipped from the hands of the Founding founders as they attempted to hand over the movie baton to the next generation within the stipulated Baton Exchange Zone. The dream of becoming a re-nowned Movie Industry was shattered when the flow of the Film Relay cycle was broken.
THE GOOD - The Ascension Flight
Home Videos were produced which served as an alternative to the cinemas, and the name naturally stems from the fact that you could seat within the comfort of your home and watch the movies produced in the VHS format via your VCR. Film Makers capitalized on the gains of the Home Video concept offered, and began producing movies using the Yoruba language as the means of communication. However, the year "1992" has overtime been widely accepted as the triggering period of Home Video productions, with Ken Nnebue's "Living in Bondage" said to be the first movie made for commercial purposes using the Igbo/English language. The movie no doubt struck the "Movie Well", which invoked a mass exodus of people from other spheres into the art of movie productions, having seen the opportunities that lay in the Gold mine region. Thus, did the Home Video Industry tagged "Nollywood" emerge.
The fact that "Living in Bondage" was ascribed with the honour of being the first movie made for commercial purposes and the one upon which the Home Video revolution was allegedly founded on, culminating into Nollywood, didn't go unchallenged. Late Alade Aromire before his death, ignited a controversial fire, insisting that his and not Ken's movie ought to have been conferred with such an honour. When confronted by a reporter on the issue he stated:
"…Living in Bondage? No, no, no! go and ask Kenneth Nnebue. let me tell you, if you can write it properly, Kenneth Nnebue had produced over 40 Yoruba movies before he even thought of producing an Igbo movie. Living in bondage is an Igbo movie… He started with Aje N'yami, and there had been a flourishing movie industry before he came on board. So how can you say he started it " 5
The confusion stems from the Censors board of the day, whose hands were amputated by the Law it drew its powers from, (1963/64 Cinematograph Law and Regulations). The powers conferred on it to regulate the Industry did not extend to "Home Video". The present National Film and Video Censors Board (NFVCB) did not exist till 1994. On this raging issue, Late Alade Armoire produced movies such as Ekun, Omije (pts 1-3), Obirin Asiko, Ayo ni o, Adun, Orire which were released to the public between 1985 and 1991. Ken Nnebue still insists that his movie "Living in Bondage" was the first Home Video movie made for commercial purposes. His stand on the matter is rather shaky, having prior to the production of Living in Bondage sponsored commercial movies in Yoruba language such as Ina Ote, Aje N'iyami and others. Let's not forget the barrage of Yoruba TV dramas that were mass produced on VHS tapes and sold to the public before 1992.
One can't fail to mention the legendary Eddie Ugbomah's movie "The Great Attempt" (1989), which would have made history as the 1st Nigerian cine movie in the video tape format to have been censored by the defunct Federal Board of Film Censors (FBFC) based on a "special concession" granted him officially by the permanent secretary of the Federal Ministry of Information and Culture at that time. Unfortunately the strong contents projected in the movie were considered unsuitable for public viewing by the Board , hence the movie was never released. Tunde Alabi -Hundeyin's "Iyawo Alhaji" is officially on record as the first commercial (direct to exhibition hall) video film to be censored and classified by the NFVCB in 1994 at the National Theatre, (Cinema Hall) Iganmu. 6
Despite the controversial fire raised, the global publicity given to "Living in Bondage" over the years invariably imputed the movie into our memory banks as the flag bearer of the Home Video revolution of all times.
OUR STORIES
People irrespective of Nationality, race, gender, and tribe are confronted with challenges on a daily basis. Some of these problems are of a global nature, while others are peculiar to various societies. Movies offer people the opportunity of telling their own stories, free from alien interference. Nigerian movie producers leveraged on this and produced movies projecting our lifestyle, culture, local fashion, burning issues, problems plaguing our society, irrespective of the choking stench of tribalism perceived in all sectors.
Movies were made for the viewing pleasure of Nigerians initially, (before the mass exportation craze), with messages to inspire, motivate, reprove, and correct anomalies especially in the Political, Social systems, to eschew violence and all forms of evil. The tactical use of the English language as the communication tool, marketing strategies and execution through the use of trailers via T.V, Posters (now banned in Lagos State), recorded a boost in sales, and expanded the viewership base beyond the shores of our Nation to countries such as Ghana, Togo, South Africa, Kenya, U.S.A and even the U.K. . Unfortunately, the movies churned out at an alarming rate were technically deficient in key areas considered as germane in the production process.
The popular "shoe string budget" tag has become synonymous with the Industry's antecedent of making movies on extremely low budgets compared to other movie bodies in other countries, ($10- $15,000 initially), but currently stretches to $25,000, with a microscopic number of producers further stretching the seemingly financial limit to N 7,10,20 Million and more. The movies were and are still shot dominantly between 10-12 days, via Beta cam (now HDV cameras), were produced in the VHS format (now VCD & DVD), replicated in mass and sold by the Marketers who also doubled as Distributors. Over a thousand movies were being churned out yearly by producers and utterly amazed by the staggering statistical data of movie productions, the International movie spotlight was shone on the Multi Million naira Industry "Nollywood"
SOURCE OF INCOME
Prior to the advent of the Home Video revolution, a career in acting in Nigeria was regarded as "an unfruitful means to an end" by parents in comparison to the admiration and high regard they held for professional courses such as Medicine, Law, and Engineering. The fees paid to the actors did not come in juicy packages, it was just enough to get by, besides, actors were dominantly seen in TV productions. Those who were opportune to play prominent roles in steaming soap operas, comedy, drama, such as (Adio Family, Village Headmaster, Cockcrow at Dawn, Mirror in the Sun, The Masquerade, with its sequel, The New masquerade, Behind the Clouds, Supple Blues, Ripples, Checkmate, Fortunes, Samanja, Second chance, Basi & Co, Sura the Tailor, Mind Bending, Koko Close, Magana Jarice, Third eye) were certainly scene stealers wherever they went, but couldn't afford to live the lifestyle associated with stardom.
Nollywood changed that narrow perception and began to unwrap its package slowly at first, then at a faster pace, to reveal mouth watering monetary rewards to its diligent cast. Those whose money spinning presence were / and with some still sought after by producers /directors are reflected in the under listed names which include but not limited to:
Liz Benson, Regina Askia-Williams, Richard Mofe Damijo (RMD), Kanayo.O. Kanayo, Pete Edochie, Bukky Ajayi, Jide Kosoko, Sam Loco Efe, Omotola Jalade Ekehinde, Ramsey Nouah jnr, Hilda Dokubo, Bimbo Akintola, Alex Usifo, Kate Henshaw-Nuttal, Chidi Mokeme, Sola Sobowale, Bob-Manuel Udokwu, Genevive Nnaji, Zack Orji, Eucharia Anunobi, Uche Jumbo, Clarion Chukwurah, Enebeli Elebuwa, Yinka Quadri, Patience Ozokwor, Osita Iheme, Chinedu Ikedieze, Funlola Aofiyebi, Ayo Mogaji, Charles Okafor, Sam Dede, Rachael Oniga, John Okafor, Saidi Balogun, Fathai Balogun, Jim Iyke, Nkem Owoh, Stephanie Okereke, Shan George, Emeka Ike, Rita Dominic, Stella Damascus Nzeribe, Dakore Egbuson, Chioma Chukwuka- Akpota, Olu Jacobs, Joke Silva, Desmond Elliot, Ini Edo(Ehiagwina), Monalisa Chinda -Richards, Oge Okoye, Bukky Wright, Mike Bamiloye, Gloria Bamiloye, Victor Osuagwu, Ngozi Ezeonu, Emeka Ossai, Femi Brainard, Mike Ezuronye, Nonso Diobi, Mercy Johnson, Doris Simeon- Ademinokan, Funke Akindele.
Having witnessed the life transforming process experienced by the stars, with fame and fortune as their aides, wanna be celebrity actors and actresses are seen flocking to audition centres hoping to clinch roles that would transform their financial status. Desperation, frustration, lack of self confidence, low moral principles have made some females to succumb to the unethical "Casting couch practice".
Jobs were also created for those under the "Crew" category, following the dominance of the White collared jobs and the saturated labour market. The doors of opportunities to be engaged from the pre to the post production stages were flung wide open to welcome Script writers /Screenwriters, Directors, Producers, Costumiers, Camera men, Production Managers, Directors of photography, Boom mike handlers, Location Managers, Gaffers, Lights men, Editors, Set designers, Welfare officers and many others. Business minded Igbo Traders seeing the opening of a lucrative market, enthusiastically swapped their "trading roles" to become Marketers and also Distributors, unwilling to let the opportunity of having a bite at the movie cherry slip right through their fingers. The exportation of movies further served as a means of foreign exchange earnings for the Government.
Directors / Film makers in the Industry who have carved niches for themselves include but not limited to:
Tunde Kelani (Thunderbolt), Tade Ogidan (Dangerous Twins), Amaka Igwe (Violated), Lancelot Imaseun (Emotional Crack), Bond Emeruwa (Check point), Teco Benson (Mission To Nowhere), Kingsley Ogoro (Osuofia in London), Fidelis Duker (Senseless) , Charles Novia (Missing Angel), Chico Ejoro (100 days in the Jungle), Jeta Amata (The Amazing Grace), Kunle Afolayan (Irapada), Izu Ojukwu (White waters), Acquila Njamah (Rivals), Mildred Okwo (30 days)
STRONG HOLD ON AMMA
The African Academy Movie Awards ("AMAA") is an offshoot of the African Film Academy (geared towards research, training and propagating of film making in Africa). "AMAA" has been referred to as Africa's version of the Oscars, a yearly event, which was conceived and birthed by Mrs Peace Anyiam- Fiberesima. The event seeks to inter alia, reward those in the movie industries traversing the length and breadth of the African continent, who have carved niches for themselves via good movie productions. The event arose (though on a wider scale) following the untimely exit years ago, of the defunct "THE REEL", "THEMA" Awards, initiated to reward thespians and others in the Nigerian movie industry.
Nollywood has been one industry that has over the years asserted its dominance in the African movie sphere with its members carting away prestigious statuettes. Held consecutively in Yenoga, Bayelsa state in Nigeria (except for the 2008 edition which took place in Abuja), it is an event which attracts the finest hands in all the movie bodies ably represented in Africa. However, Nollywood's dominance has not gone uncriticised by a few stakeholders in other African movie bodies, who once tagged the event as a "Nigerian affair" rather than an African one. After all, from its Headship, event base, sponsorship, to other vital areas of assessment has "Nigeria" written all over it.
Organizers of the event have time and again debunked such allegation , maintaining that only the movies adjudged by its screening committee which consist of those who know their onions (both locally and internationally) come out tops. Favouritism / partiality, they insist does not exist in the body. Probably the doubts of some of these critics will be laid to rest, following the low rated performance put up by Nollywood at the 2009 Awards, in comparison to the earlier editions.
Some of the Hollywood stars who have graced the event in the past at various times include Mo'nique, Cuba Gooding junior, Angela Bassett. The 2009 Awards supported by United Bank for Africa (UBA) had Danny Glover and Forest Whitaker on the Red carpet. The meteoric rise of "AMAA" on a big platform wrapped with the cloak of International recognition with all the pump and pageantry, razzmatazz, has over time seen movie makers stepping up the quality of their productions to clinch the Awards in the various stipulated categories. Whether "AMAA" is living up to its bidding is a question which has generated mixed reactions in recent times.
Some A-list stars did not show up at the 2009 Awards, obviously paying no attention to the event, with some faulting the cease of monetary rewards, absence of separate seating arrangements for the stars, and (non development of the Industry, an allegation put forth strongly by Emeka Ike) as the problem responsible for the fast declining interest in the event. In defence of "AMAA" Shuaibu Hussan asserts that movies such as "Stronger than pain", "White waters", "Irapada" were taken to festivals on the recommendation of the body, while the Academy organises training for people in the Industry 7
TV REALITY MOVIE SHOWS
Inspired by the birth of the "Gulder Ultimate Search" Reality TV show, (with its 6th edition in 2009), and the huge success recorded, other reality shows have over time sprang up, focusing on different spheres of life especially for the youths. Nigerians enthusiastically watch exciting line up of Reality shows ranging from "The Intern" (2007, 2008), Apprentice Africa (2008), Maltina Family Dance All,(2007, 2008) Star Quest, (2006-2009), Football with Fash (2008), Idols West Africa(2007), Nokia First Chance (2007), Project Fame West Africa(2008, 2009)) Koko Mansion (2009).
The Movie Industry has also been well represented on the reality TV list through "Amstel Malta Box Office" (AMBO), "Next Movie Star" with the second edition embracing Ghanaian hopefuls, and 2008 debut entrance "The Twelve Ambassadors" conceived by Royal Pictures Ltd and sponsored by Unity Bank. The winners of the respective shows have joined the league of celebrities, clinching movie deals, followed by paparazzi and enjoying the thrills of stardom.
Winners of AMBO, Azizat Sadiq (Sitanda), O.C. Ukeje (White Waters), Bhaira Mcwizu (Cindy's Note), Wole Ojo , and Next Movie Star , Portia Yamahan, starring in the movie "Black Friday", are doing pretty well for themselves. The yearly shows have witnessed thousands of young people thirsty for glory and fortune, registering for the competitive shows.
THE GHANAIAN ATTRACTION
Since the reign of Nollywood over the African continent, Ghanawood (Movie Industry in Ghana), has been trying to bridge the gap between itself and Nollywood. Ghanawood, a potential rival of Nollywood has produced stars of its own such as Director Emmanuel Apea (Best Director, AMAA 2008 for the movie, Run baby Run), actors and actresses such as Van Vicker, Jackie Appiah, Nadia Burais, Nana Ama McBrown. These thespians have become regular faces in our Home Videos and shouldn't be blamed, after all which Ghanaian can resist the Naira take home pay package, which when converted to their currency, gives them a good financial standing in their country.
Ghanaian thespians are the wave of the moment (2009), and tongues have begun clacking about the subtle Ghanaian invasion (which is hardly the case going by the number of Ghanaian actors and actresses starring in the movies) into Nollywood. The move has obviously relegated our stars to the background. I wonder what all the fretting is about, after all there's no law that prevents foreign actors from starring in our movies. Anyway, how many times have we desired our thespians to also star in Hollywood movies? Trying to clamp down on the Ghanaians can be compared to clamping down on the number of Nigerian and other foreign footballers who play in the various leagues such as the English Premiership, Italian Seria A, La Liga, amongst others in the world. Football is big business, and likewise Movies.
According to A- list actress, Genevive Nnaji with regards to this subject matter, she says:
"I don't think Ghana is moving in, I think we are inviting them in. So if you don't want them, you don't have to invite them … I see actors as contractors, if I'm here and Ghana calls me to come in and do a movie, I don't think it is anybody's business, it is between me and the producer … An actor has the right to work anywhere, here, Nollywood, Bollywood or whatever wood. It is an open market and we all have one thing in common, which is passion for acting" 8

The worrisome matter has seen various concerned parties especially Nollywood thespians expressing their views on the indiscriminate, inconsiderable ways their Ghanaian counterparts are being used to overshadow them. Lead roles are assigned to them while Nigerians play the second fiddle, a strategy adopted by the financiers. The producers as far as they are concerned are only using the Ghanaians for their selfish gains, since they charge lesser fees in comparison to the Nigerian actors, despite the display of low quality acting skills.

However, a Marketer (identity undisclosed) when confronted with the issue by a journalist from a Top quality News paper, simply stated:
"… We invest in movies as a business venture not as charity or on ground of sentiments. Our movies now sell very well in Ghana compared to Nigeria where sales of movies are sliding by the day. In order to recoup investments, we have to take our goods to where the market is. Unfortunately for Nigerian stars, we have to sell since our home market is falling apart, and that means we have to use what will give us leverage in their market. You can't expect them to buy a movie that has only Nigerian stars. If we want to sell well, we have to use their stars, unlike before. I must confess to you that it is working" 9
Let them come, there's certainly nothing like a good healthy competition!
BACK TO THE MUMBAI STADIUM
The second half was on the way, with Nollywood off to another flying start. Bollywood had come all out, making three substitutions in Scriptwriting, Producing and Effects. They began to mount pressure on Nollywood's midfield and defence, and a thunderous shot from the left leg of one of their ace actors, narrowly missed the mouth of the goal post, with a sweet relief flooding my soul.
The failed attempt at goal seemed to boost the morale of their supporters as they came alive once again, cheering and encouraging their team to score the winning goal.
"What's wrong with you guys? Come on" i shouted.
The blunders, the sloppiness, the weaknesses that had a way of pulling Nollywood backwards, which i had hoped my boys would not exhibit, began to unfold in the first thirty minutes of the match. Our defence had been under so much pressure and i thought of Hollywood the one industry i had set as the bench mark for the production of quality movies that we could learn from. The ticking away of the seconds hand, culminating into minutes, the wild support from the Bollywood fans spurring them on to score the winning goal, made me tense.
"Just hold on" i kept screaming repeatedly, seeing the dangerous lapses on the part of my homeboys recur now and again.
It must have seemed like an eternity, when the full time was up and we were into the extra time. The supporters of each team had gone wild, shouting, drumming and trying every trick in the book of "How to spur your team on to victory". I screamed at my boys, urging them to move forward, to avoid being a victim of the "last crack by the hammer" principle.

I froze to the ground, with my eyes fixed on Bollywood's dangerous point's man who had suddenly spearheaded once again the final launch of a counter attack against my home boys. Not a single spectator was seating down in such an explosive match, and fear gripped my heart, and like a flash of lightning i recalled the Ghost in the darkness that had haunted and vowed to pull Nollywood down.
PROBLEMS FACING NOLLYWOOD:
THE BAD - A Jeremiad List
1. PIRACY:
Pirates have a knack for one thing, "Counterfeits". They simply want to make (not earn) quick cash. I refer to the disease that flows through their veins as the "Piracy Virus", which causes them to eagerly perpetuate crimes (intellectual property), thereby leaving a catastrophic effect on the stakeholders, with producers and Investors being the worst hit. The act of piracy has proliferated beyond what sceptics prior to this period had envisaged, aided by cutting edge technology at their finger tips. They have become Masters in the dirty game and operate in the heart of the marketing arena, pretending to be Saints and not Sinners, while a lot of illegal replicating goes on behind closed doors.
The "bootlegging process" has a strong hold on the Nigerian market taking into cognisance the unwarranted harsh economic situation Nigerians have to put up with in the 'midst of plenty'. Since pirated copies are cheaper and easier to obtain just around the corner, down the streets, over the internet in comparison to the original copies, many patronize them, ignorant of the financial short fall they've created for the producers. The pirated copies possess unique features such as an untimely abrupt end, audio and visual distortion, poor picture quality, subtitling defects and other forms of technical deficiencies. It is worrisome that piracy in Nigeria also embraces foreign movies on DVDs, especially those from Hollywood, which are sold to the public most times before the trailers are shown in accredited Cinemas in Nigeria.
Sometime ago, an alarm was raised at the spate at which pirates had become more daring in their evil schemes. Actors and actresses in Indian movies rather than communicating in the widely used Hindu language with English subtitles were heard dialoguing in the 'Yoruba language'! An act perpetuated by these movie miscreants. The release of movies straight to DVD /VCD in Nigeria makes the pirates job a lot easier, after all just a single copy of the DVD/VCD is what is needed to create a booming multiplicity with its attendant financial magic making them smile to the banks. Further more, the sale of a single DVD containing 15 different movies produced under Nollywood /and other foreign movie umbrellas, is purchased for a paltry N 200 /300, which has over shadowed the earlier purchase of a single VCD/DVD copy. Pirates have capitalised on Nigerians love for movies (local and foreign), to freely infringe on the Intellectual property rights of filmmakers.
The National Film and Video Censors Board ("NFVCB") headed by the Director General, Mr Emeka Mba has vowed to combat piracy and bring the perpetuators to book. The Board has been using the TV medium especially on Africa Independent Television (AIT) to enlighten the public about the dangers of buying and selling pirated works, owning of illegal video clubs, selling uncensored and unclassified movies through the unstructured distribution framework (now corrected with the New Distribution Framework), amongst others.
The National Copyright Commission ("NCC") headed by Mr Adebambo Adewopo also launched its war against piracy, with the "Strategic Action Against Piracy" (STRAP) to protect people's works from all forms of Copy right infringement. The "NCC's" Copyright Inspectors have conducted raids via tip off on piracy bases. Elegushi International Market, Lekki in December 2007 fell under their axe, as pirated CDS seized during the raid were put at an estimated cost of N 70 million. In 2007, the Nation's loss to piracy was put at an estimated N 500 Million by the D.G of the "NCC" who disclosed the staggering amount when he paid a working visit to Kano state late in that year. 10
The Commission also came up with the Optical Disc Regulation Policy, aimed at regulating the various Disc replicating and Duplicating plants, with its swift prosecution of offenders. He also launched the Alaba Anti- Piracy Task Force on July 10, 2008 in Lagos. Alaba is known on one hand as 'the' vibrant marketing and distribution base of the Industry, and on the other as 'the notorious' base for the promotion of pirated works. Other Marketing /distribution domains are found in Idumota (Lagos), Namdi Azikiwe (Lagos), Iweka road (Onitsha), and Pound road (Aba) . They are also not pirate- free zones.
As a result of pirated works, producers do not make reasonable profit. Some hardly recoup investments from the sales of the VCDS, DVDS. This has made financiers who are surprisingly "Marketers", to bluntly reject the offer to invest in movie productions, especially from those who haven't carved niches for themselves. The Marketers willing to finance movies "call the shots", dictating the thespians that should star in the movies, amongst other things.
Should the statistical data on Nollywood movies continue to decline due to inadequate funding from the private sector and support from the Government, job cuts, with fewer movies to buy as the days roll by would be inevitable. This would invariably make Nigerians to take the return path leading to the dominant purchase of foreign movies , and the dearth of another era ("The Home Video") which could have been averted. If this were to happen, history would have repeated itself, causing the Home video productions to follow the unprecedented path of our movie founding fathers of the 70's and early 80's era.
The "NFVCB" and the "NCC" should continue to carry out aggressive public enlightment campaigns, conduct seminars, bi-annual stakeholders' conference. I believe that an Independent body, separate from the "NCC" ( which is already saddled with too many responsibilities) be established to specifically combat piracy, bringing perpetuators to book in the Courts of Law, the way the EFCC and ICPC were specifically established to rid the Nation of corruption . Hot lines, e-mail addresses, adverts promoting the body and stating what awaits offenders via the media, regular press conferences, interactive websites, functional offices where complaints can be lodged, unreserved co-operation by the Police with relevant bodies and its officials especially when embarking on raids, embrace of the Water Mark technology, partnership with foreign counterparts to monitor the distribution process within their shores, ensuring that justice is not only done but is seen to have been done are some of the ways i believe piracy can be reduced to the barest minimum within our shores.
2. TRIPPY PLOTS & THEMES
Nollywood movies revolve around themes such as love, abolition of class distinction, fight against HIV/Aids, adultery, craze for wealth, power, fame, rituals, witchcraft manipulation, engagement in nefarious activities, greed, corruption, domestic violence, abuse of women and children's rights, thirst for political power, poverty, barrenness, and many more. At the advent of the Home Video revolution, stakeholders welcomed the idea of being able to tell our own stories to the viewing audience (Nigerians and non-Nigerians alike).
However, the common denominator of flawed scripts, parodies, water shed plots, embarrassing verbal blunder, choppy editing, high predictability rate, abysmal soundtracks, bland, prosaic, monotonous, technologically deficient , formulaic movies have all added to the declining rate at which Home videos are watched. There has been a clamour for movie makers to introduce new dimensions and other positive sides that reflect our society's norms and values into our stories, and not the promotion of a deluge of negative stories being portrayed about Nigerians to the International communities.
I believe however, that the so called negative stories being projected in our movies, (if we must be truthful to ourselves), represents holistically what obtains in our society.
Hollywood itself has produced movies dealing with negative issues in America such as lust for power, greed, corruption (among political office holders, top management of Blue Chip companies, dirty cops), serial killings and various forms of murder, assassinations, rape, use of narcotics and its addiction, hacking into computer systems of government and non-government establishments, robbing of banks, homes, stores, assault and batteries, prostitution, strip dancing, pole dancing, betrayal, nudity, adultery, illicit sex by youths, one night stand practice, car jacking, domestic violence, divorce, separation, and other related vices. Bollywood likewise is not a saint in telling its stories as well, despite the usual romance and dancing strategies synonymous with their movies.
I'm not saying that sticking to the making of vice related movies is good, but we must also note that Hollywood through some well thought out written scripts, relies on its thespians to portray American virtues such as the sharing of strong, deep bond of love for the Nation, family, friends and fellow citizens, which when necessary, means sacrificing one's life to save the day, promoting and sharing the American dream, exhibiting acts of heroism, as super powers always defeating its enemies, embarking on wild adventures, and discovering new things where others have failed. Hollywood movies stem largely from its wide range of genre on offer, made possible by state of the art technology within their reach.
Nigerians with certitude possess good virtues and there are people who have great stories out there to share but unfortunately aren't given the opportunity of doing such in an overtly competitive tribalized sector, where people fail to see the bright ideas others can come up with. You've got to put your money where your mouth is if you want a good movie free from the cluttered work syndrome. After all, my people have a saying that "soup way sweet, na money kill am" It is however important for our stories to have a "cross appeal" feel, to which people from other countries can easily relate with.
The Re-branding of Nigeria clarion call actively propagated by the Minister of Information, Prof Dora Akunyili, to change the negative mindset/perception the International communities have about the Nation and its citizens, has also clamoured for the production of good movies as a veritable tool in the Re-branding process. The slogan "Nigeria, Good people, Great Nation" is geared at promoting the country and its Citizens image in a new light, and scriptwriters with great imagination are being encouraged to come up with novel stories that would do just that. The question is "where are those with great stories that can achieve this purpose? are they resident in Nigeria or are based in other countries? Do they strongly share the re-branding passion or do they feel it's just another political gimmick in the government's book to draw attention to itself? Has the government set up a "functional, impartial, separate funding scheme", where funds would be made available to producers to make such movies being canvassed for? What can be done to stimulate the interest of untapped highly talented minds, running with wild imaginations to come forward with great stories, bearing in mind the deceptive webs that they could be caught in, spun by unprincipled, crooked, deceitful practitioners in the Industry? When the proper machineries have been put in place, there would be an equilibrium recorded in the stories told, unlike the present weighty tilt towards the projection of negative issues dominating our screens.
3. LIMITED GENRES / SPECIAL EFFECTS:
Nollywood movies suffer from lack of essential special effects and genre nutrients, which has incontrovertibly limited our movie diet to genres of Romance, Comedy, Drama, with little sparks of Thriller not Horror and laughable Action. The hub of the genre problem can be attributed not to the lack of ingenuity of a few good script writers, but inaccessibility to state of the art equipments needed to capture, manipulate scenes, with the attendant soft ware programmes to create the necessary special effects (which doesn't come cheap)
Hollywood has a retinue of genre of movies, ranging from Action, Comedy, Romance, Thriller, Science-fiction, Animation, Mystery, Film-noir, to Violence, Adventure, Crime, Suspense, Drama, Musical, Horror and Fantasy. The genre expansion base has been made possible by cutting edge technology, with the use of 3D technology, Computer Generated Imagery (CGI) with great special effects, visual and sound effects, Hi- tech cameras, world class Studios, making Hollywood movies stand out, especially the High budget ones.
Low budget movies are not robbed of the shine as well, even though a sizeable portion don't make it to the Theatres, at least the quality production still remains far ahead, parallel to an array of Nollywood productions. Even Bollywood's production still ranks ahead of ours, and the collaboration with Hollywood technicians to create great special effects in their movies have further aided in re-positioning the Industry. They've certainly come out smoking with better productions e.g Krrish (2006).
Great movies have been made in Hollywood with grand special effects as reflected in "Titanic", "Pirates of the Caribbean" trilogy, "Chronicles of Narnia: Prince Caspian", Peter Jackson's version of "King Kong", "Casino Royale", "Lord of the Rings" trilogy, and many more. Movie producers in Nigeria can't afford the cost of special effects and make do with outdated software programmes. It is worrisome to note that accident scenes on land (restricted to knocking down of a thespian crossing the road since we haven't graduated to that of car collision, air and sea accidents with the attendant bombastic explosive effects), stabbing, shooting, fighting, escaping from murder based scenes, lack even the ABC's of special and sound effects, which other established Movie Nations can produce with their eyes shut.
Movies are all about make belief, and if the audience can't be convinced about the authenticity of such scenes, 'which often happens', then Movie makers certainly have a big problem on their hands. Bollywood as previously stated has leveraged on its collaboration with the Masters of the game in Hollywood to produce better quality movies not restricted to the age old Romance and Action genre. Few Nigerian Artistes such as Weird MC, Tu Face Idibia, TWO (Tunde & Wumi Obey) have produced animated videos for their respective songs. Besides, certain TV programmes are leveraging on the 3D technology especially in their opening montage, e.g 'Chat Street'. It invariably means that we can produce animated movies as seen in "The Lunatic" by Ebele Okoye. The movie received "special mention", at the 2008 AMAA Awards, since it was the only entry received by the Body under the Animation category.
Only a microscopic percentage of movie directors/producers have impressed Nollywood critics with a bit of effects in their movies such as Jeta Amata's "The Amazing Grace", Kingsley Ogoro's "Across the Niger" (especially the underwater combat, which came as a surprise to Nigerians, for most never imagined anyone would go the extra mile of hiring cameras that could capture such, though we've seen it countless times in Hollywood flicks).
In the Music terrain, report had it that the highflying twins (Peter and Paul Okoye) popularly referred to as P Square, had to import hired film equipments from South African based director, God father, to shoot the videos to the songs "Roll it, Ifunnaya, No one like you"11
This strategy without an iota of doubt paid off for the Twins whose works stood out from the plethora of videos flung right in our faces by various entertainment inclined programmes via the TV medium. Good quality productions don't come cheap but the end result of possessing a success filled kitty (financial boost, awards, limelight transcending beyond the Nation's shores) can be compared to a mother holding her new born baby in her arms, who instantly forgets about the labour pains as the joy of being admitted into the school of motherhood floods her soul.
The role of special effects can't be under played as it is the vital ingredient that spices up the movie meal. It certainly doesn't come cheap, but then again are the producers willing to go the extra mile of sourcing for funds that would cover the cost of obtaining and using these soft ware packages in a bid to have their movies coming out smoking hot, in and beyond the shores of our Nation ? Until they see the need for such, people would have to cope with the 'effects dysentery' and only hope that one day the up dated special effects drugs to cure the problem would be readily available.

4. FUNDING PROBLEMS
Flowing from the aforementioned issue, funding remains a mountainous challenge producers have constantly battled to surmount. Producers who scurry around looking for Investors to finance their movies are frustrated with the negative responses received majorly from Banks, High net worth individuals and minute Corporate bodies. The Government has not aided the matter with its lackadaisical attitude, and unfilled promises. Without the availability of funds how can we produce movies of International standard? What a lot of Nigerians and even investors fail to realize is that making of movies is an expensive venture, and once again i insist that you've got to spend money to get money! Most of the Nollywood financiers are Marketers, who prefer to be cautious in the risk taking business, investing 'paltry millions', and demanding a quick turn over for their investments, ignorant about the possibilities of a great mind blowing turn over where 'solid funds' are wisely invested.
In Hollywood, investors who financed movies which turned out to be Block busters smiled to the banks. In 1990, the first prequel in the "Home Alone" Quadlogy was made on a budget of $15 million and grossed $477, 561,243 worldwide. Pirates of the Caribbean: the Curse of the Black pearl released in 2003, grossed $656million worldwide, Titanic cost $200million to make but hit the $1billion mark, and Lord of the rings Trilogy grossed $2 billion worldwide. Good funding is the name of the game but Nigerian investors shy away from such. The cost of film budgets has also risen in Bollywood, with the most expensive production so far put at a cost of $20 million, not Rupees! Funding comes from Private distributors and a few large studios in Bollywood.
Most Nollywood movies are not released without an immediate back up of Part 2, wilfully schemed to make more profit. A movie which logically should have been watched between two and three hours with a logical conclusion, rather plods on and stops abruptly with the "watch out for part two" phrase staring at us, followed by the rolling of the closing credits much to the viewers displeasure. This unwise strategy adopted by movie makers is uncalled for and partly responsible for the low patronage of movies and greater promotion of pirated copies. Why produce two parts to sell for N600 naira and above when both pirated copies can be purchased for half the price is the question put forth by those who purchase pirated movies.

Investors are often times interested in the 'marketing records' which reflects how the movies fared in the market, a case of testing the waters before diving in one could say. However, the manipulation of figures and improper record keeping leaves much to be desired. How many producers have paid back the loans obtained before/at the stipulated due date without giving excuses? At best soft loans are given, but funding for a High budget movie is another kettle of fish in Nigeria. Under funded movies coupled with shallow plots, never cease to 'hit the flop gong' in general sales of VCD/DVDs. This is not to say that "all" well funded movies are blockbusters, but funding goes the extra mile with the right story in place to record a box office hit.

Funding problems in Nigeria didn't just spring up during the Home Video era, on the contrary it had long built its nesting colony in the Celluloid epoch. "Bull Frog in the Sun", "Kongi Harvest" were flops and the likes of late Chief Herbert Ogunde, Chief Eddie Ugbomah, Ola Balogun, Late Adeyemi Afolayan, never recouped their investments at the box office.12 Afribank and KMG funded the marketing of Vigilante by A-Productions, while the movie itself was funded by H.K Aderibigbe and R.N. Aggrey. Wema Bank and Rims Merchant back in 1990 funded "Ose sango"13
"Quick returns" in the coffers of the financers (majorly Marketers) is the slogan constantly reeled off from their lips, at least three movies were financed by a Marketer before the end of the year during the all comers charlatan craze. Diamond Bank supported the funding of Jeta Amata's "The Amazing Grace", easily deduced from the voice over in the trailer, Eco Bank has supported Project Nollywood's production and distribution, Intercontinental Continental Bank sponsored Charles Novia's "The Covenant Church (Ijo Majemu). As a general rule, Banks carry out due diligence on the Institution that approaches them for banking relationships, analyse the risk of credit taking involved to determine the viability of the project. Most producers can't keep up with the bench mark criteria given by the banks, hence rely solely on marketers to finance the movies.
In 2008 during the Movie Producers week, Union Bank and Spring Bank were reported to have pledged whooping sums with regards to their plans to partner with Nollywood. However, the number of producers who have benefited from the package remains uncertain, and one wonders to what extent the deal has been executed.

In Nollywood, a "Five Million Naira Budget" declaration by a producer is followed by series of commendation from his fellows in the Industry. Some have made movies between the range of Six and Fifteen Million Naira, while a microscopic percent have stretched beyond that mark. Tunde Kelani's 2009 AMAA Award winning movie 'Arugba' was reported to have cost N 20Million, while Kunle Afolayan's latest work "The Figurine" was reportedly pegged at a budget of N 50Million. Jeta Amata's "The Amazing Grace", with so much secrecy spun around its high budget has been rumoured to still be ahead of the pack.
Some producers /directors in a bid to probably make a statement, have shot some of their movies abroad, which obviously wasn't cheap such as Paradise in America, Life in New York, London Forever, All my Heart, Windstorm, Home and Abroad, Osuofia in London, Black Night in South America. Shooting movies abroad does not guarantee a hit, and from the aforementioned, "Osuofia in London" by Kingsley Ogoro remains the most successful hit movie shot beyond the shores of our Nation.
One would ordinarily envisage that movies bearing the "foreign shot" tag would be of Top notch quality, having all the necessary effects to 'steal the market', break new grounds, but the contrary has been the case. This is quite parallel to what obtains in the Music Industry where A-List artistes such as P Square, D'Banj, Tu Face Idibia, have shot good videos in South Africa, Ghana, USA and the UK. The good quality productions aided their songs to rise and seat comfortably on the various Nigerian Music charts e.g P-Square's video for the song "Do Me" no doubt acted as a catalyst in the 'hit' record process. Quality videos by A-list artistes and promising ones who can afford the financial expenses of shooting their videos abroad or under the highly rated directors at home, no doubt influences and wins the battle for the various statuettes organized by different bodies. Notable Music Award Events eagerly awaited by artistes includes MAMA, KORA, Hip Hop World Awards, Nigeria Music Video Awards (NMVA), and Sound City Music Video Awards (SMVA).
Apart from the Banks, i believe that Giant Telecoms companies such as MTN, ZAIN, and GLO who have shown unflinching support for various spheres can be brought into the financing picture. MTN sponsors/supports various events (cultural, festivals, e.g the Ikeji, Argungu festival), Who wants to be a Millionaire? (Game show), Project Fame West Africa (TV Reality Music Show), Music Video Awards, Soaps, Youth Interactive Forum, MTN International Polo Tournament, and many more. Zain supports Music inclined events /programmes, and sponsors "Don't Forget the Lyrics" with a N 20 Million prize money offer for grabs.
GLO has shown its interest in Sports with the sponsorship of the Nigerian Football League, as well as other entertainment shows. Who says they can't support the production of good movies? After all Nigerian Breweries PLC, makers of Amstel Malta not only discover talented young actors and actresses through their reality TV show but also produce quality movies which they star in, which has boosted their brand. In fact their movies have been known to always cart away statuettes at the AMMA Awards. What Producers, directors and in general the stakeholders in the Industry need to do is to enlighten, correct misconceived notions, and open the eyes of these giant companies to the endless possibilities and great achievements to be recorded when they support/sponsor potential hit movies.
5. THE 35MM CONTROVERSY
Having followed the Nollywood "fast movies" trend, with earlier productions such as Unconditional Love (2003), Love Entangled (2003), Dangerous Desire (2003), Jeta Amata departed from what seemed to be the norm in Nollywood to produce a movie of International standard. "The Amazing Grace" starring Nick Moran, Scott Cleverdon, Mbong Odungide, Fred Amata, Joke Silva, James Hicks, Itame Efa Willaimson, caused no small stir in Nollywood. Directors and producers were mesmerized at the high quality production shot on the International standard film gauge '35mm' The outstanding success recorded inspired a scanty number of daring ones to follow suit, resurrecting the dead celluloid production, as seen in Teco Benson's "Mission to Nowhere" ( though shot on HD and transferred to the 35mm format), and "Mirror of Beauty". Tunde kelani had earlier on shot movies on 35mm such as Ireke Onibudo, Vigilante, Kannakanna, M-net short feature films e.g Barber's wisdom.
Films made on 35mm can be viewed in Theatres world wide, however its expensive nature makes film makers to shy away from being saddled with the financially burdensome responsibility. Two schools of thought in Nollywood have emerged from the flaming contentious issue. One believes that the 35mm gauge will bring about good returns on investments (world wide theatrical releases, DVD sales with the movies retaining the original means of communication amongst other available options) licensed for broadcast on TV, have Cable deals, and also generate money through Video rentals. The movies would translate to good foreign exchange earnings in the Government's coffers, shown easily at International Film festivals, open up great partnership deals, and boost Nollywood's thespians chances of clinching International movie deals.
The other school rejects the 35mm propaganda, and insists that Nollywood is a Home Video Industry (video based) recording outstanding success in African countries, U.S.A and the U.K. However, with investors not forthcoming into the financing picture, it would be an attempt in futility to embrace such colossal tradition. Besides the common man can afford to buy and watch Home videos for about N300 and not the movie tickets sold for above N1000 in the few cinemas. Advertising and distribution of movies to Theatres is financially gulping and such money can be used to make better quality movies ten times over especially with the present alternative (HD cameras).
The subtle influx of Home Theatre systems, digital technology, and movie downloads via the "internet" onto one's mobile phone, is also causing International producers to have a re-think about shooting on 35mm. It might not be long before the 35mm syndrome finally wears off from film makers world wide. Not all movies make it to the Theatres in Hollywood and the number of films made on 35mm in that region has dropped considerably due to its expensive nature and as such some have begun to look towards its alternative - Digital video.
One can't question the huge financial gains made vide 35mm when compared to only releases on VCD and DVD. Film makers in Nollywood are not willing to leave their comfort zone and are content to churn out movies and be happy with the little profit made. Only a few of them have dared to take the risk! This is not to down play the effective role of HD cameras which are currently being used by some in TV series and outstanding movies that have made the Entertainment news head lines with its good quality output.
A scanty number of Nollywood film makers who can't afford the luxury of shooting on the 35mm format have alternatively used the 16mm format (which can still be blown up to 35mm). Charles Novia reportedly produced the movie "My paradise, your hell" which was shot on 16mm by a South African crew. Tunde kelani once again has a retinue of 16mm movies he'd worked on such as Efunsetan, Anikura, Eri Okan, M-net's short feature films - The White Handkerchief.
As long as both camps exist, filmmakers would continue to shoot movies on the format their budget permits, whether the 35mm, 16mm, or the digital video alternative to tell their stories. What matters at the end of the day is whether their movies performed poorly, fairly, was good, hit the block buster mark, when the financial score sheets are released.
6. LOW- EBBED PROFESSIONALISM
The lack of professional expertise reflected in the technical deficiencies seen in most productions gives room for concern. The Nigerian syndrome of "go with the flow", "what's in vogue", saw charlatans rushing into the Industry which was rumoured to be flowing with milk and honey. Igbo traders converted into marketers and doubled as distributors, with majority financing the movies. Majority of those who took up roles as directors, producers, cameramen, lights men, editors, script/screenwriters, costumiers and other positions had/and majority still have no business being there. Most learnt on the job, some at the hands of those who had cross carpeted from TV stations or had been engaged at one time or the other in various TV productions.

Tunde Kelani ("T.K") with his movie production outfit "Main Frame productions" which he calls the "Opomulero : The solid pillar that holds the fort" has got great movies in his kitty such as "Thunderbolt: Magun", "Saworoide", "Oleku", "Agogo Eewo", "Abeni", "The Narrow Path", "Arugba", a couple of M-Net short subject films and an enviable number of Awards attached to them. He is an example of one who had a solid foundation to build his profession on in the "Art and Technique of Film Making" courtesy of the training he received at the London Film School.
Kunle Afolayan, of the "Irapada" fame, having bid the banking terrain farewell, also starred in Tunde Kelani's "Saworoide". He was spurred on by the love to make good quality movies and thus attended the New York Film Institute, where his works today speaks for him. Much has not been heard about Steve Gucas who shot "Keeping Faith", produced by Ego Boyo, starring RMD, Genevieve Nnaji, and Funlola Aofiyebi. He left for the U.K to obtain a Masters degree in Film Making at the London Film School in 2000. He produced the movie "Nujoma", and another which featured Hollywood star, Danny Glover.14
This is not to undermine the proficiency of a few good Directors /Filmmakers in the business, who didn't go beyond the shores of the country to been trained, yet produced reasonably good movies by our standard. Technical deficiencies in most movies are manifested through abysmal sound tracks , defective lightning, clash between sound and dialogue, background noise especially of vehicles being driven past by motorists who honk in the process, absence of good sound effects in certain scenes (combat, accidents), choppy editing and sometimes non-editing of long unwarranted scenes, flawed scripting/screen play, unprofessional use of cameras, subtitling defects, miscast, misnomer titles, bad diction / verbal blunder by actors, over dressing and heavy makeup of thespians by costumiers and make up artistes, low quality cinematography amongst other things.
The Nigerian Film Institute, Jos, powered by the Nigerian Film Corporation has also trained a few good hands in the Industry. The lack of funds to produce International set standard productions remains a thorn in Nollywood's flesh. Respite has seemingly come in 2009, from the Institute which has undergone some infrastructural changes with its new Sound stage complex wherein (for the first time) pre to post production stages can be achieved at a single location, but how accessible and affordable will the complex be for enthusiastic producers? How long would one have to be on the waiting list to shoot his/her movie in a situation where there seems to be a barrage of directors who want to make use of the facilities during the same period? Will the "First in time" principle apply or would it be based on one's "professional ranking in the Industry? Would the productions live up to the people's expectations after all the hype given? I guess in the interim that we'll just have to keep our fingers crossed and await the output. Training programmes are being conducted by 'the Body', with resource persons drawn from various countries in Europe, ready to brush up the skills of the movie practitioners in Nollywood.
"Salaam Bombay" in 1988 by Mira Nair won the Camera d'or at the 1988 Cannes Film festival and was nominated for the Academy Award for Best Foreign Language Film. In the new Millennium, and still flying, Bollywood film makers became more daring with increased movie budgets, encapsulating good quality cinematography, better story lines, brushing off technical deficiencies to advance into the spheres of animation, better special effects, and a great thrust into the foreign market. The Bollywood movie "Lagaan", won the Audience award at the Locarno International film festival and was nominated for Best Foreign Language Film at the 74th Academy Awards.
It is in doubt whether Nollywood makes provisions for specific positions like an Amorer, Articulation artist, Colour consultant, Dialect coach, or resort to the use of stunts double, stand –in techniques in certain scenes in the movies. The meetings of various organisations which exist in Nollywood such as the Directors Guild of Nigeria (DGN), Association of Movie Producers (AMP), Actors Guild of Nigeria (AGN), Screen Writers Guild of Nigeria (SWGNJ) amongst others should not be convened to majorly brood over problems plaguing the organisations. An in- house appraisal of their technical deficiencies ought to be carried out and various high powered regular trainings, workshops, seminars (with resource persons on certain occasions drawn from Hollywood, Bollywood, and other movie industries), should be organised to develop/ brush up their skills as well.
Youths are warming up on the side lines of the Movie pitch to take over, hence it is imperative that they are abreast with the happenings of the day and acquire skills, and knowledge to effectively handle pre - post production stages in movie making. Hence, various aspects of film making should be introduced into the curriculum of a few Universities with its department being well equipped for that purpose. Not all Universities in the country offer "dubbed professional courses" such as Law, Medicine, Engineering and the likes, therefore eye brows shouldn't be raised where "Selected universities" are used to propagate film education.
Schools such as, The University of Lagos (Unilag) in the West, due to its strategic location (same state where the seat of Nollywood is), The University of Calabar (Unical) in the East, (good access to Tinapa studios), The University of Jos (Unijos), with those in the North having access to the movie education, and leveraging on the City of Jos as the foundation of TV Soaps, beautiful Natural sceneries ideal for exterior shooting locations and access to the National Film Institute, should definitely be on the list. The private establishments making waves in that arena shouldn't be relegated to the background in this sensitive matter for eg PEFTI Film Institute with Wale Adenuga (MFR) as the man at the helm of affairs, has taken the bull by the horn to give those who want to acquire knowledge and relevant skills in certain aspects of the aforementioned education the opportunity of having such. A few notable Private Universities that pass the criteria test should also make the list. The art of Film making requires more of a practical than theoretical approach which would actively develop young minds that can compete favourably with their colleagues in other parts of the world when they lock horns at the International Students Film festival.
The young man, Clarence Peters, has become one of the high flying directors to be reckoned with in the Music Industry in Nigeria, based on the outstanding quality Video output he produces for artistes who patronize his services. Most people are unaware that he read the beautiful art of Cinematography at the City Varsity School in Cape Town, South Africa, majoring in Sound and Film production. He was the DP on about four short films at the film school, two of which went into the film festivals. One won the SITHENGI for Best film. He was nominated for Best Cinematographer at the Students film festival, won Best Film "ACT 4" at the City Varsity Awards, was part of the crew that conceptualized the film "CASE 417" which won bronze at the Cannes Film festival. He was also part of the crew that filmed "Life is hard" which M-NET commissioned, and the movie won M-Net's Award for Best Story and "Most promising director". A remarkable feat he achieved before the age of 24.15
Although in Nigeria, rather than taking to the art of Film making due to the major lapses being highlighted, he opted to shoot commercials, but dominantly Music videos through his outfit "Capital Hill". D.J Tee seems to be the only one ahead of Peter, with the latter's presence causing a major upset in the rankings of other music video directors. His track record is a true reflection of what young Nigerians can do, in an ideal environment where the appropriate machinery, financial and good Human resources, requisite for excellent performance are in place. Nigerian youths are bubbling with ideas, and are ingenuity loaded with potentials of producing mind blowing movies, given the opportunity and support to grow in the Industry.
7. UNSTIMULATED INTEREST FOR ADAPTED WORKS
Having read an array of Novels and Comic books, movie goers in the USA seem to prefer the re-living of exciting moments from these works played by a life cast (adaptation) to original works. The strategy seems to be paying off with remarkable box office hits being recorded and has become a case of ADAPTED WORKS V ORIGINALITY. Americans are not the only one who enjoy adapted productions as people in other Countries have also keyed in to the thrills of such works. Movies which have been re-lived in Hollywood from literary works of authors include but not limited to:
Jurassic Park (Michael Crichton), Lord of the Rings trilogy (J.R.R.Tolkien), Chronicles of Narnia (C.S.Lewis), Black Hawk Down (Mark Bowden), The Pelican Brief (John Grisham), The God Father (Mario Puzo), Sea Biscuit( Laura Hillenbrand), No Country for Old men (Cormac McCarthy), Jumper (Steven Gould), I Am Legend (Richard Matheson), Atonement (Ian McEwan),and of course Harry Potter (J. K. Rowling). Characters from Marvel and D.C comic books have also joined the Adaptation band wagon with movies such as Spider Man, Iron Man, Dare Devil, Ghost Rider, X-Men, Superman, Incredible Hulk, Batman, Fantastic Four, and 300 amongst others.
In Nigeria, the unprecedented dearth of the reading culture consequent upon the economic crunch tide that flowed into the lives of Nigerians is responsible for the low patronage of literary works. People can't afford to buy such books and with the non-existent Public libraries which would have acted as an alternative source, most are groping in the dark unaware of the activities in the literary world, save for some past notable works of important novelists and a few new ones in the public spotlight projected by the media.
Surprisingly some literary works have been made into films in Nigeria such as:
"Owo Eje"( Kola Akinlade), "Basorun Gaa"/ "Magun"( Adebayo Falati), "Ko See Gbe" (Akinwunmi Isola), "Auren Jari"(Abba Bature), kwahon Masoyi (Adamu Mohammed) ,"Ki Yarda Da Ni" (Bilkisu Funtua). 16 I doubt if most Nigerians have even heard about / read the books or seen the films, at least not my generation except "Magun" which Tunde Kelani produced but under the movie title "Thunderbolt". Tunde kelani is one filmmaker whose love for books stimulated his interest to adapt the works of various authors for the screen.
Renowned Playwrights, veterans in the literary world, have been canvassing for a symbiotic relationship between Authors / Playwrights and Film makers. One of such is Prof. Femi Osofisan who believes that great books such as Cyprian Ekwensi's "Jaguar Nana", with the sequel "Jagua Nana's daughter", "The Great Ponds" by Elechi Amadi, "Ake", "Isara" and "Season of Anomy" by Wole Soyinka (Nobel laureate) should be made into films.17
The Nation is blessed with many great authors who have carved niches for themselves in the literary world. Arrow of God by Chinua Achebe, The Joys of Motherhood (Buchi Emecheta), The Famished Road (Ben Okri), Ogboju ode niniu igbo irunmale (D.O. Fagunwa) written in Yoruba and translated into English by Prof. Wole Soyinka as "The Forest of a Thousand demons" can be made into movies. However, this not to undermine some good novelists whose works for one reason or the other have not come under the literary spotlight.
Notable new generation authors such as Helen Oyeyemi's "The Icarus Girl", Chimamanda Ngozi Adichie's "Half of a Yellow Sun", Uzodinma Iweala's "Beast of No Nation", Kaine Agary's "Yellow Yellow", Jude Dibia's "Unbridled", Stella Ify Osammor's "The Triumph of the Water Lily", Ifeoma Okoye's "Behind the Clouds", Isidore Emeka Uzoatu's "Vision Impossible" and works of other promising/professional Nigerian authors can be adapted. However, the question as to whether Nigerian producers would be willing to part with good cash to obtain the rights to such materials is still begging for an answer.
8. UNTAPPED POWER OF BIOPICS
Biopic movies simply put, projects a person's life story. Series of Biopics have been made in Hollywood such as Malcom X ( Denzel Washington), A Beautiful Mind (Russell Crowe), What's love got to do with it (Angela Bassett), Bird (Forest Whitaker), Ray (Jamie Fox), Ali (Will Smith), The Hurricane (Denzel Washington), Raging Bull (special edition) (Robert De Niro), Erin Brockovich (Julia Roberts), Gandhi (Ben Kingsley). In Nollywood a scanty number of biopics have been made such as Efunsetan Aniwura, The Covenant Church (Charles Novia), Mary Slessor (Jeta Amata). Plans are reportedly on the way to produce same on late African music icon Fela Kuti, while Charles Novia has decided to project the life of the Rain Man "Majek Fashek".
One of the challenges scriptwriters are facing stems from the myopic vision and mentally incarcerated thought pattern of the Marketers /Producers inability to break away from the norm, away from the stereotyped, monotonous themes and over flogged story telling antics. They call the shots and it's what they want that the scriptwriters, or those who have the original story to tell, have to majorly align their ideas with. Biopics are inspiring, thought provoking, heart moving, as the public is taken through the trials, turmoil, good and bad moments, and the success break through of the icon.
A good number of people who watch the movies unconsciously align their thought patterns, emotions with the Icon's challenges, step into their shoes to share their pain, grief, hopes, and joy. Those who are on the verge of giving up on their dreams, hopes, aspirations are mentally and emotionally re-charged to sail through the stormy weather of life to reach the land of their dreams. Where extensive research about the life of the icon (dead or alive) has been carried out, with a good story, cast, crew, funding, and all the nitty gritty needed to produce a good movie in place, the possibility of clinching International Awards is with certitude on the high side.
There are Nigerians who have achieved great things in various spheres such as Politics (from the Pre-colonial to Post Independence era) Sports, Music, Science, Economics, Human Rights, Safe Conservation of the Environment, literary world and others. The possibility of a paradigm shift from the barrage of Original works to Adapted and Biopic productions can't be over ruled. Variety is indeed the spice of life, and diversification is important to ensure that the movie market does not go under.
9. NON- LEVERAGE ON TOURISM
Nigeria is blessed with beautiful Natural sceneries and other man made structures that have the potentials of wooing Tourists from various countries to our shores. Only curious ones eager to dispel the negative mental images and records they have about the country and its inhabitants (aside from Business trips) have come to Nigeria to see things for themselves.
The visual opulence of the terrain, Arcane rocks, Cabalistic caves, Imposing sized hills, Sandy stretched beaches, the ceaseless cry of the water falls, Exquisite resorts, Wild life parks, Refreshing warm springs, Lakes, Hotels of International standard, friendly Nigerians, makes Tourists feel at home. Though some pay visits now and again, the Tourism industry has unfortunately not been able to compete favourably with other African countries dominating in the lucrative sector.
Africa's most competitive countries for Travel and Tourism in the Top ten rankings for 2009, are Mauritius, Tunisia, South Africa, Egypt, Morocco, Botswana, Namibia, Gambia, Kenya and Tanzania. Unfortunately, my beloved Nation is not on the list.18 The unrestive Niger Delta region, with militants hiding in the creeks and unleashing their fury on oil facilities, kidnapping children, abducting adults, especially foreigners working in the Oil companies amongst other things, ( though an Amnesty deal lies on the round table initiated by the President to Militants willing to give up the "fight") has contributed to the rapid decline of tourists "especially occidentals" to the country for fear of a possible abduction.
What the Government has not been able to achieve in triggering off a "Tourist invasion", Nollywood through its movies can. How many viewers having seen The Statue of Liberty, Eiffel Tower, Disney Land, Tajmahal, Giza Pyramids, The Great Wall of China, and other great tourism spots in various countries shown in movies, wouldn't like to visit such places during vacation or at other times. Movies do promote tourism as seen in the case of Harry Potter, based on the report by the UK Film Council:
"Visitors were drawn to the Alnwick castle, Northumberland to see a mighty medieval fortress, one of Europe's finest. Since it became setting for Hogwarts, the boy wizard's school, there has been a 120% increase in visitors numbers, which has brought an estimated 9million pounds in tourists revenue to the area." 19
Despite the major lapse of using people's houses majorly as shooting locations ( with Tinapa Studios, Calabar, rated as 'the' standard studio for shooting movies, (the luxury of which hasn't been effectively tapped into), recourse has sometimes been made to shooting at the Beaches, Eateries, Clothes and Accessories stores. Unfortunately shots at the beaches have failed to capture the beauty and the essence of Nature associated with such spots.
Perhaps one movie which captured the Tourism essence was AMBO's "White Waters" directed by Izu Ojukwu, starring Joke Silva, Rita Dominic, and O.C Ukeje. Some scenes in the movie were reported to have been shot in the mountainous area surrounding the "Farin Ruwa" Water Falls (located in Nassarawa State), which helped in boosting its Cinematographic output. On its part, the Nassarawa State government has mapped out plans to truly leverage on this plus factor and make "the falls" a wonderful site to behold. Nollywood movie producers should take advantage of the various Tourism spots to shoot movies which abounds in our great Nation which includes :
The Yankari National Park (Bauchi), Obudu Cattle Ranch (Cross River), Olumo Rock (Abeokuta), Tula High lands /Hills (Gombe), Shere Hills (Jos,) Kainji Lake National Park (Kwara) Coconut, Alpha, Lekki, Eleko, Kuramo, Akodo beaches (Lagos), Oguta Lake Resort (Imo), Ikogosi Warm Spring (Ondo), Ngeji Warm Springs (Borno), Erin Ijesha Water Falls (Osun), Jos Wild Life Park, Assop, and Kura Falls, (Jos), Three Sisters Hill (Adamawa), Idanre Hills /Ebomi lake/ Ipole-Iloro Falls (Ondo), Mambilla Plateau (Taraba), Azumini Blue River Rose(Abia), Gurara falls (Niger), Agbokim falls (Cross River).
Certain Historic sites can also be shown in movies laden with adventure, the quest to retrieve hidden treasures from such sites, unlocking secrets kept in the dark by the early missionaries and other great stories can be created, it's all about the script writer allowing his/her imagination to run wild. The facilitators of the Gulder Ultimate Search TV Reality show leverages on this aspect, with an interwoven plot revolving around a hidden priceless artefact which the contestants have to find through series of riddles, clues, searches, embedded in the various tasks. This shows that it is possible to make movies along this line and sites around which stories can be spun include:
The First storey building in Nigeria, Slave port, Jetty and Market, (Lagos), The Iron of Liberty / The Cenotaph, (Lokoja), Ogbunike Cave, (Anambra), Iwoloke Caves (Niger), Kpambo and Fikiyu Mysterious Rocks (Taraba), Imoleboja Rock Shelter (Kwara), Marshall Caves (Plateau), Mary Slessor Town (Cross River), Oba's Palace of 1854 (Ogun), Bronze Casting Street (Edo), The Ancient City Walls and Gates (Kano), Ancient Walls with Seven Gates (Katsina), Confluence of Rivers Niger and Benue (kogi), Mongo Park's Cenotaph and Zungeru ( tombs of over a Hundred colonial aides of Lord Lugard (Niger).
Stories revolving around priceless relics/ artefacts can also be told. A script writer(or one who is interested in creating stories) can visit the museums where they are kept, garner knowledge about these artefacts from the curator or the guide, make further detailed extensive research, and take a deep plunge into the sea of creativity. Museums such as Gidan Makaman, (Kano), Odinani Museum at Nri, (Anambra), Oron Museum (Akwa-Ibom) Lagos /Benin /Plateau National Museums, National War Museum a.k.a 'Ojukwu's Bunker' (Abia) can be visited. The Baro Empire Hill (Niger) plays host to relics of the HQ and HF Radio Station of Lord Luggard (1st Colonial Governor General) while the relics of the Akassa Raid can be found in Rivers state.
Luxury Hotels of International standard can also serve as choice location spots for filming, such as Sheraton Hotel and Towers, Eko Hotel and Suites, Transcorp Hilton, Protea Hotel, and a few others. Exquisite Resorts are not excluded from the picture with the presence of Le Meridien Ibom Resort, Protea Hotel Ranch Resort and Obudu Cattle Ranch, Oguta Lake Holiday Resort, Tinapa Resort, Whispering Palm Beach and Holiday Resort, Halem Sea Side Resort, Ray Field Resorts, Funtopia Leisure Resort, La Campagene Tropicana Beach Resort. Kunle Afolayan's latest movie production "The Figurine" was reportedly shot at Miccom Golf Hotel and Resorts.
Movie makers can also show case the rich cultural heritage of various tribes, festivals in the country, access to jolly rides through ferries, cruises, helicopter charter and car hire services on offer. Nollywood movies are viewed beyond the shores of our Nation when exported to other countries or shown on DSTV's "African Magic" (which incidentally shows mostly Nollywood movies to over 1. 5 Million subscribers in Africa, Europe and the Middle East) .Tourists are generally attracted to a place featured on TV, Movies, or Magazines. Hence, Film Tourism can be leveraged upon to initiate an invasion of tourists into the country. The average Nigerian though rather incurious about his environment is not exempted from visiting tourist centres. The mind set that Tourism pertains only to foreigners is a misconceived notion, as Nigerians resident in a state can visit others in which Nature's works abound. Where such Tourism spots begin to record an astronomic rise in the influx of Tourists, State governors and Honourable Commissioners of Tourism will be inspired, propelled to partner with producers/directors to promote Tourism sites within their jurisdiction which would serve as a welcome alternative source of Revenue for the States.
10. NAME DIVERSITY IN NOLLYWOOD / ETHNIC PALAVER
Top rated motion picture companies such as Walt Disney, Paramount, Metro-Goldwyn Mayer, Sony, and various Art House film companies in America, have their movies produced under the ambit of "Hollywood", the umbrella body renowned for such. Most people have the erroneous belief that Bollywood refers to the entire Indian movie industry, but that isn't the case. It refers to the Mumbai Cinematic base with others in places such as Bengal, Tamil Nada, Assam, Karnataka, Orissa, Kerala, Andhra Pradesh. Some of these Cinematic bases amazingly have their own "Wood" such as Tollywood (Telugu Film industry), Kollywood (Tamil Film Industry), Marathi Film industry, Bengali Film Industry.20 No doubt the name diversity runs contrary to the general norm, which has indeed created confusion in the minds of movie enthusiasts. After all, one would have ordinarily expected that the use of the word "Wood" automatically covers the entire movie industry in a Nation as seen in Hollywood.
Unfortunately, the Nigerian movie body called "Nollywood" has towed the line of its Indian counterpart, with the presence of "Kannywood" which produces movies in the Hausa language, projecting their culture, ideas, religion and the likes. Even those wrongly termed as "Yoruba actors and producers" by their counterparts (starring in "Nollywood movies- dialoguing in English) seem to operate in their own world, without officially declaring it, may be as "Yorubawood".
"Project Nollywood" run by Chico Ejiro, Fred Amata, Charles Novia, and Fidelis Duker (all Easterners) created to produce and distribute quality movies has unconsciously caused "the tribal" factor to rear its ugly head with the ethnic set up. Project Nollywood supported by Eco bank was conceived to use part of the loans received from the bank to produce high quality standard movies among the four partners on one hand and to use another portion to ensure wide auditable distribution of the DVD sales in at least Twenty two states.21 Letters to a Stranger (Fred Amata), Caught in the Middle (Charles Novia), 100 days in the Jungle (Chico Ejiro), Senseless (Fidelis Duker) have been produced by the body.
Their intentions, purposes for establishing such was justified, but using the name "Nollywood" to achieve the vision they had in mind was in my opinion a wrong move. Dream Works SKJ was founded by Stephen Spielberg, Jeffery Katzenberg, and David Geffen in 1994, with the aim of creating an American film studio which would develop, produce and distribute films, video games and TV programming. Why didn't the trio call it Dream Works Hollywood? There certainly would have been problems long ago if various studios, big and small, used the word 'Hollywood' or any "wood" as a means of identifying/distinguishing themselves from others for eg 'Paramount Hollywood', 'Sony Blisswood', 'MGM Frontwood', 'Dream Works SKG Blazingwood' all functioning under one Industry tagged "Hollywood"
What's in a name? Everything! Names are given for easy identification of living and non-living things. Names distinguish places, animals, things, people (those who coincidentally bear the same name use their middle name or initials to distinguish themselves from others). Nollywood is distinct from Ghanawood and other movie bodies in other countries. When the name Nollywood is mentioned any where in the world, people easily download from their mental web that reference is being made to the 'Nigerian movie Industry'. A stranger and even most Nigerians unfamiliar with the name 'Kannywood' would initially think it's the movie body in another country, whereas it's in Nigeria, and where on earth will 'Project Nollywood' fit in. What stops the Yoruba film makers such as Tunde Kelani, Tade Ogidan, Kunle Afolayan and a selected few from forming their own "Wood". If the umbrella movie Industry is referred to as Nollywood, let's stick to it and not have various versions under one body!
I have often wondered why most of the cast in Nollywood movies are Easterners (dominantly from the Igbo speaking communities) with a few from the Niger-Delta region and Western States. Bimbo Akintola and Omotola Jalade Ekehinde are two prominent actresses from the Yoruba tribe that 'successfully reigned' in Nollywood (English movies).
Omotla J. Ekehinde says:
"When i started in the movie industry, we had a lot of independent producers then who just wanted to work. You didn't have to be Igbo , Hausa, Yoruba to be in Nollywood. We had people from every tribe in Nollywood but as time went on ….. a notable producer whom I don't want to name…called me… he said you are a bright actress but there is a gang up against you and you really have to be careful because some people have vowed to get you out of Nollywood… have heard those things like producers telling people to change to Igbo names. I don't think anybody will risk telling me that to my face because they know that i might talk" 22
Is there really unity in the umbrella body "Nollywood", with tribalism playing a subtle role in the movie making process which invariably takes its toll on those hired to be part of the cast and crew? This issue might been down played, swept under the carpet, dismissed as false by those in the Industry, after all a sickly person who is told by another that he certainly looks sick, and is advised to see a doctor but out rightly declares he's in tip top shape can't be forced to do otherwise. The constant reference to thespians who star in movies where Yoruba language is used as the means of dialogue as "Yoruba actors" and the movies dubbed as "Yoruba movies" is a misconceived notion. There is no such thing as a "Yoruba actor", an actor is an actor anytime, any day, anywhere, with the ability to take up any role he/she's being hired to play irrespective of the communicative tool to be deployed.
The unwarranted, unjustifiable, needless, uncalled-for distinction, between Yoruba and Nollywood actors (those who dialog in English) should be deleted from the movie dictionary of the umbrella body via the movie practitioners who operate with the clouded belief that they fully represent the Industry. Unity is important for the advancement of Nollywood (everyone plying their trade in the Nigerian movie Industry) hence all hands should be on deck to move the Industry forward.
11. HOLLYWOOD MOVIES SHOT ON LOCATION IN NIGERIA VERSUS OTHER AFRICAN COUNTRIES
The names of a few Nigerian actors have been recorded in the annals of 'foreign movies' dating from the colonial times. Late Pa Orlando Martins (1899-1985) was the first Nigerian to act in a movie titled "Sanders of the River" by Edgar Rice Buroughs in 1935. The film was partly shot in Nigeria and he acted alongside American actor, Paul Robeson. He was part of the cast in "Black Libel" which unfortunately was not released due to an incomplete shooting. He featured in "Man from Morocco", and "Man of Two Worlds" which gave him the desired breakthrough into the limelight.23
"Mister Johnson", a novel by Joyce Cary was converted to a film. The movie was partly shot in Nigeria and was released in 1991. It was directed by Bruce Beresford and starred Mister Johnson (Maynard Eziashi), Harry Rudbeck (Pierce Brosnan of the James Bond 007 fame- Die Another Day (2002 amongst others), Waziri (Femi Fatobi), Brimah (late Chief Hebert Ogunde), Ajali (Sola Adeyemi).
Hollywood movies shot in African countries are carried out to recreate events that occurred at one time or the other (in a country, its people, or life of an individual) or simply because certain Natural sceneries are considered ideal as the setting for original / adapted works.
"The Ghost and the Darkness" (1996), starring Valkimer, Michael Douglas, was based on a true story in1898 with regards to Man eating lions which killed the men laying the Railway tracks. It was shot in South Africa. "King Solomon's Mines" (1950) starring Deborah Kern and Stewart Granger was shot in Kenya, Tanzania, Uganda, Congo and the U.S.A. "Congo" (1995) directed by Frank Marshall was shot in Kenya, Tanzania, Uganda.
"A Far Off Place" (1993) was shot in Namibia and Zimbabwe, "Sheena" (1984) was filmed in Kenya, "Black Hawk Down" was shot on location in Sidi Moussa, Morocco. "Blood Diamonds" (2006) directed by Edward Zwick, starring Leonardo Di Carprio, Djimon Hounsou, Jennifer Connelly, was shot in South Africa and Mozambique. "Tomb Raider" was filmed in Kenya, "Out of Africa" starring Meryl Streep and Robert Redford was filmed in Kenya and was based on a true story.
"The Last King of Scotland" (2006) directed by Kevin MacDonald, starring Forest Whitaker, was filmed on location in the U.K and Uganda. "Hotel Rwanda", was a true life story about Paul Rusesabagina, a Hotel Manger who hid Tutsi refugees from the Hutu militia during the 1994 Rwandan genocide. It was filmed in Johannesburg, (South Africa), and Kigali (Rwanda).
Unfortunately the movie "Tears of the Sun" (2003), starring Bruce Willis, Monica Bellucci, was not filmed in Nigeria as most thought since it projected a Nigerian story line. It was shot in Hawaii with Non- Nigerians playing the native roles in the movie.
The Northern African countries have been known to host the shooting of popular movies. Jesus of Nazareth, Lawrence of Arabia, Othello, and The Gladiator were shot in Morocco. Raiders of the Lost Ark, Star Wars, and The English Patient were shot in Tunisa.24
The movie "Phat Girlz" (2006) had a spicy, romantic, Nigerian undertone to it with the presence of Dr Tunde Jonathan from Nigeria, played by Jimmy Jean-Louis. The movie was filmed on location in L.A / California U.S.A and at no time was any scene filmed in Nigeria. The average Nigerian might be puzzled over the consistent preference for a few selected African countries, with Nigeria excluded from the filming location list, despite being endowed with abundant Human and Natural resources.
Good image, International exposure of great Tourism spots, creative stories spun around us, safe and conducive environment to shoot in, willingness to extend hands of fellowship brokering into good partnership deals, support from relevant Government bodies, can stimulate the interest of Hollywood film makers(and those from other movie bodies) to come to Nigeria to shoot movies.
Let's consider the hit film "Slumdog Millionaire" which was directed by Danny Boyle, produced by Christian Colson, and filmed in India. It portrayed the Indian version of the Game show "Who wants to be a Millionaire?" (Ironically we have the Nigerian version actively sponsored by Telecoms giant MTN). In the movie, the Show plays host to a poor young man from the slums of Mumbai, who relies on his experiences to answer the questions correctly, exceeds people's expectations, arises the suspicion of the game show host and law enforcement officials in the process based on his outstanding performance, with the juicy package within his reach.
To say the least, the movie was shot in India, woven around an Indian plot and played by Indian thespians. The movie won an enviable number of Oscars, and has opened greater doors for Indian thespians (adults and children alike) with its Industry inclusive. I hope that our local Industry will not fold their arms and adopt a lackadaisical attitude, and watch as other movie bodies harness the products of a symbiotic relationship with the trail blazers of movie productions.
Digressing from the aforementioned , it is worthy to note that certain Nigerian and Non- Nigerian directors especially in the Diaspora, have at one time or the other directed/written movies or produced documentaries bearing a Nigerian undertone, flavour, theme, issues, problems, as well as characters. These include but not limited to:
"Kasarmu Ce : This Land is Ours"( 1991), written and directed by Saddik Balewa, "Etat" (2000) written and directed by Olatunde Osunsanmi, "Jump Tomorrow" (2001) directed by Joel Hopkins, "Rag Tag" (2006) directed by Adaora Nwandu, "My American Nurse" (2006) directed by Pascal Atuma, "Banana Leaves" (2007) directed by Lanre Sarumi, "Curse of the Black Gold" (2008, documentary on the Niger Delta region), "Through the Glass" (2008) directed by Stephanie Okereke, "Mama's Great Love"(2008) directed by Chet Anekwe, "Dearest Sir" (2008) directed by Michael Kratochvil, "Nollywood Babylon"(2009, documentary on the Nigerian Movie Industry) 25

12. NIGERIAN ACTORS IN FOREIGN MOVIES / TV SERIES
It has always been the desire of some of the stakeholders in our local movie Industry to see some of Nollywood's actors (as earlier on re-defined) starring in foreign movies, with Hollywood as the climax. Late Pa Orlando Martins, late Chief Hebert Ogunde, Femi Fatobi, Sola Adeyemi featured in foreign movies as earlier stated, however, Nollywood actors are yet to 'substantially clinch' good International acting deals.
This is not to down play a few good ones who have at one time or the other been offered some acting deals, but turned them down based majorly on the nude and sex roles they had to project in the movies. One of such was Omoni Oboli, who was said to have turned down a role in a $40 million Hollywood budget movie, in which she would have smiled to the bank with an acting fee of $500,000. The nude and the sex scenes, put the young married actress off as she backed out from what some believed would have shot her into fame and fortune in Hollywood.26
Many Nigerians are unaware of the fact that Veteran actor Olu Jacobs, featured in a Hollywood movie in 1980 titled "Dogs of War" directed by John Irvin, which was filmed on location in Belize City in Central America, London and New York. Nigerians, who seem to be making waves in foreign movies/TV series, apparently were born and raised in foreign lands, with a microscopic percentage born in Nigeria and later relocating to foreign lands.
Sophie Okonedo, half Nigerian, half European Jewish heritage was born and raised in Britain. She starred in "Hotel Rwanda" as Tatiana Rusesabagina. David Oyewole was born in England though of Nigerian descent and played the role of Dr. Junju in the "Last king of Scotland". Adewale Akinnuoye Agbaje was born and raised in London, starred in 'LOST' TV series and has played roles in Congo (1995), The Mummy Returns (2001). Hakeem kae-Kazim, was the voice over of George Rutaganda in Hotel Rwanda, starred in movies such as Pirates of the Caribbean, X-Men Originals-Wolverine (as the African Business man), "24" as Col.Ike Dubaku, and in 'LOST' TV series. Chiwetel Ejiofor starred in End Game (2009), Red Belt (2008), American Gangster (2007), Talk to Me (2007), Children of Men (2006), Inside Man (2006), Serenity (2005), Four Brothers (2005) amongst others. Other thespians of Nigerian descent include Dayo Ade, Godfrey Danchimah, Chet Anekwe in "Phat Girlz", with the latter starring in Blood Bath (2002) (V), Mama's Great Love (2008), Adedamola Adelaja, Ikenna 'Macoy' Akwari , in Rag Tag (2006) 27.
An Acting career beyond the shores of the country seems to have opened up greater doors of opportunities for these thespians. Let's not forget that operating from a well structured base where due process is followed, with actors having their Agents, and all the legal build up to their deals adequately taken care off (which is contrary to what obtains in Nollywood) and other requisite processes in place, has with certitude given them a great edge over their Nigerian counterparts apparently stuck in the local Industry.
13. THEME SONGS / SOUND TRACKS
Hollywood leverages on the dexterity of Orchestra groups and Artistes (sometimes renowned ones) to provide songs to be reflected in the Music score. Sound tracks are used during appropriate scenes and turned down when thespians dialogue. In Nollywood, most movies with theme songs are ear sores and fall way below standard, churned out by charlatans in the Music Industry. Sound tracks by High flying artistes (both foreign and local) are used at inappropriate times, and i doubt if the rights to such songs are obtained by most producers. Who can forget the famous film score, including its main theme by Ennio Morricone in "The good, The bad and the Ugly" which invokes a nostalgic feeling when heard?
Artistes in Nigeria are really carving niches for themselves on the home front and in the Diaspora. The highly sought after ones include Tu Face Idibia, P-Square, D'Banj, Asa, Banky W, M.I, Sasha, Mode Nine, 9ice, Faze, and a few others. Imagine how many people were surprised on hearing Tu Face Idibia's hit song "African Queen" being played as one of the soundtracks in "Phat Girlz" which starred Sit-com Diva, Mo'nique. This shows that Nigerians are talented and with the right support will surely go places. Why can't directors work with these artistes? Of course one can't rule out the probability of an insignificant number trying to solicit for their services. It's possible that they might have backed out based on the high fees the artistes demanded.
Recourse is then made to the charlatans who willing accept the paltry amount given to them, but why patronize cheap labour just to save cost and churn out abysmal sound tracks? It is either they have forgotten or are ignorant about the fact that theme songs / original sound tracks written specifically for movies can sometimes become hits, invariably endearing people / motivating them to watch / purchase the movie.
The song "Everything i do, i do it for you" by Bryan Adams in the movie "Robin Hood: Prince of Thieves" won a Grammy, was no 1 on the US Billboard Hot 100 for Seven weeks, while the movie was nominated for an Oscar. Celin Dion's "My Heart will go on" in "Titanic" was ranked 14th most successful song on the United World Chart, and was on Billboard Hot 100 airplay for 10 weeks. The song won 4 Grammies, a Billboard Music Award, Billboard Latin Award, Japan Record Award, was No 1 on VH1's 50 Best movie songs, while the movie won an Academy Award.
"I will always love you" by Whitney Houston in "Bodyguard", won VH1's 100 greatest songs of the past 25 years, was no 1 on Billboard hot 100 for weeks, won VH1's 100 greatest songs of the past 25 years, no 4 on VH1's greatest songs of the 90's and no 1 on VH1's Greatest love songs. Eminem's theme song "Loose yourself' in the movie "8 Mile" was no 1 in the Billboard Hot 100, ranked no 4 in the 100 greatest songs of the 25 past years by VH1, won two Grammy Awards, while the movie won an Oscar.
Those who have heard these songs being played years later always catch the "nostalgic bug" and in a flash remember the movies, which truly portrays the fact that good songs are veritable tools in soaring the popularity of movies. Other Artistes used in singing theme/sound tracks in Hollywood movies include Elton John's 'Circle of life'(The Lion King), Kenny Loggins 'Danger Zone'(Top Gun), Inner Circle's 'Bad Boys'( Bad Boys 1&11), Seal's 'Kiss from a Rose' (Batman Forever), Evanescence "Bring me to Life" (Dare Devil), Aaliyah 'Are you that somebody' (Doctor do little), Christina Aguileri, Lil'kim, Mya, Missy Elliott and Pink's 'Lady Marmalade' (Moulin Rouge). 28
A-list artistes in Nigeria as well as promising ones can be used to spice up our local movies. Little is known about any theme song or sound track sang by any A-list artiste contracted at one time or the other by producers/directors. One of the pillars of success strategy responsible for the great songs recorded for Hollywood flicks, stems from the massive airplay such songs receive, which is contrary to the norm here. This is part of the Low promotion palaver, based on oversight, plain ignorance or unwillingness to spend money! There are a good number of Radio stations spread through out the entire Nation willing to support movie makers in creating awareness for their movies. This avenue to indirectly promote the movies should be dutifully explored and not limited to trailers on TV. Who knows whether the sought after block buster movie can be recorded as a result of this giant leap taken?
14. SHORTENED SHOOTING CRAZE SYNDROME
Consequent upon the 'shoe string budget' most work with, movies are shot within 9 &10 days contrary to the month's general rule (least time frame) required in bringing out the best. Some stakeholders however believe, that there's nothing wrong with the few days allocated for shooting , it's simply the financial resources within their reach that dictates the time frame within which to shoot the movies. They have to make do with what they have if they want to tell their stories. I actually wonder if it is right to produce a movie because you want to tell a story and end up with a sham production that goes unrecognised, in a bid to make some profit. After all what's worth doing is worth doing well! Good productions are not achieved through (as it is popularly referred to) "rushed jobs" and the principle of "Garbage in, Garbage out" strictly applies.
Imagine trying to induce the birth of a baby before the appropriate Nine months delivery time frame stipulated by Nature simply because you are impatient and just want the baby delivered into the world and not within the comfort and warmth of his/her mother's body? We are aware of the risk involved in the process, and at the end of the day a premature or still birth is inevitable. Likewise, where movie makers are impatient to ensure that the output required during the various production stages meets the set quality standard within the stipulated time frame principle, but insist on hastening the process so as to release the movies into the market, a sham production is inevitable. Of course critics will have a field day delightfully biting hard at them, low ratings by the public, translating into poor sales of the movies, with no potential awards in sight, eagerly awaits them. The production of movies like Irapada, The Amazing Grace, Arugba can attest to the fact that adequate time is needed to birth good productions.
15. EPILEPTIC POWER SUPPLY
The erratic power supply across the Nation by Power Holding Company of Nigeria (PHCN) formerly NEPA, has hampered the smooth shooting and eventual production of movies. Years back, one was sure of constant electric supply to residential and non-residential areas. Power supply began to decline at an alarming rate, stifling businesses that depended on it to operate maximally. The constant barrage of outrageous bills for unconsumed power supply handed over to residents before the middle of the month rather than at the end has not gone down well with the teeming populace. Many homes, streets, neighbourhood, have been flung into darkness at Night. The problem has further degenerated especially with the Niger- Delta crisis.
Shootings are generally carried out in people's homes, and with the interference of Generating sets running at various times in the neighbourhood, directors have found it more difficult with each passing day to overcome this thorn in the flesh that has vowed to mar their productions. Even the post production stages are not spared from the power supply problems. Generators run on diesel /fuel (depending on the size and make) and operate for long hours through out the shooting period and post production processes to avoid any hitches, with thousands of Naira notes being spent on 'this necessity'. Who bears the burden? The producer! and wise ones have begun to include the purchase of this product under the contingency plan in their budget, to avoid the experience of a financial short fall, which could negatively affect what might have turned out to be a good production. It is not certain when the power problem will be over, and with Nigerians adapting to the change, courtesy of the influx of small sized generators which the common man can with a bit of effort, afford, all we can do is to keep our fingers crossed. However, the use of Inverters, the Solar power drive, embarked on by a few enterprising Nigerians, though in its infancy stages have been presented as alternatives to generators, consequently eliminating fuel/diesel expenses. Nigerians are tired of the black outs and are willing to embrace alternative measures which are affordable (since majority of Nigerians fall within the lower class). The days of being held to ransom by PHCN i hope will soon be over.
16. SHOOTING LOCATION PROBLEM
Besides the unwanted Noise pollution courtesy of vehicles passing by (motorists honking impatiently, displaying the road rage syndrome, engines coughing with some showing signs of a possible engine attack) traders drawing the attention of passers-by to the wares being hawked through series of irritating high pitched calls, with the bus conductors towing the uncoordinated shouting path in a bid to woo commuters to board their buses, and an array of bee hive of activities interfering with the sound quality of scenes shot on the streets, directors have found it rather difficult to prevent unsolicited crowd from gathering to "stand and watch" the ongoing shooting process. This has countless times given an unnatural feel to such scenes. In Hollywood, people who have no business being at the shooting locations stay away. They just don't stand there watching, those who happen to be there are incidentally part of the large cast in the movie. Where residential areas, public places are needed, permission is sought from the relevant authorities and the people keep their distance from the areas mapped out for such purposes.
The movie "I Am Legend" an adaptation of Richard Matheson's 1954 novel, was filmed for six months in New York City, and required getting permission from fourteen different Government Agencies. The night scene was shot for over 6 days, was reported to be the most expensive single scene filmed in the history of New York for $5million. It was shot over the Brooklyn bridge and its environs with a 250 person crew plus 1,000 extras, with a Blackhawk helicopter and several tank like vehicles. Citizens were warned against taking certain routes such as Fifth Avenue, Lower Manhattan, Times Square which were closed for the shooting of the movie.29
Can that happen in Nigeria? Imagine closing down the Third Mainland bridge to shoot a movie, (though it was partially closed last year for about two months to effect repairs) however, Lagosians did not appreciate the inconvenience suffered. How then would they react to the news that the third mainland bridge/other bridges, popular streets would be closed for a slated time frame to allow directors shoot their movies? There would be mixed reactions as expected (those for, those against, and the Indifferent) but the standing ratios depicting the views of Lagosians from the three categories will be the yard stick used in measuring the depth of knowledge Lagosians have with regards to the intricacies of film making. This challenge enveloped in a cloud of uncertainty would not be peculiar only to Lagos state as other Nigerians resident in other States are most likely to tow the same reactory line.
Society's miscreants known as 'Area Boys' have often interfered with the shootings, extorting money from the crew and harassing them when they fail to give into their demands, which has also contributed to the down slide of outside shots recorded especially in public areas. Such can easily be curbed with the support of the Nigerian Police Force. Policemen ought to be enlightened about the filmmaking process so that they can have a better understanding about how the sector works and the need for their collaboration. Be that as it may, I believe that the State Government should wield its big stick on the miscreants, come up with other stringent measures to nip the unchecked, arbitrary use of powers to intimidate, harass, and extort money from innocent filmmakers/directors in the bud.
17. CASTING AGENCIES: A MIRAGE
This does not exist in Nollywood! Wanna be celebrity actors and actresses sniff out information for auditions via colleagues, theatre boards and other places known within the acting circle for such. Public awareness about auditions are not carried out (via print, and electronic media), which only exists for matters concerning TV reality shows. Only A-list actors of course have scripts delivered to them. Auditions are carried out mostly by the directors, producers and invited reputable hands in the Industry to assess the performance of those being auditioned. Going by the Literal interpretation of who a Casting director is, it is sad to note that such crucial role is technically non-existent, likewise the absence of a Casting Directors Association. Ordinarily a Casting director acts as the middle man between the Director, and the actors and of course liaises with their agents. Once again Agents representing the interest of actors do not exist in Nollywood, and those who tried to create such body were frustrated by the non co-operative heady attitude of directors, producers, and stakeholders in the Industry, hence had to drop the Agency concept, which ordinarily should operate in a complex system such as this.
18. LOW LEVEL OF PROMOTION
Trailers of movies are promoted majorly via the TV. Those produced in the English language, patronise stations such as Silver Bird Television (STV) and African Independent Television (AIT), while those produced in indigenous languages (dominantly Yoruba) opt for LTV, NTA channel 10, and also AIT. The use of posters in Lagos State to create awareness of the movies was banned by the Governor in 2008, consequent upon its massive de-facing of public areas which did not augur well with the Government's drive to turn the state into a Mega City. Following the face off between NFVCB and the Distributors, movies produced in English are barely flung in our faces unlike in the past, while the indigenous ones (Yoruba) seem to have taken over the screens.
Prior to this problem most movie makers did not take full advantage of the gains to be made through the power of the Media, Internet, Talk shows, relevant entertainment programmes and tours in promoting their movies. They were simply content to roll out thousands of copies, make little turn over, instead of aggressively promoting the movies to create awareness and boost sales. I re- emphasize on the fact that "You've got to spend money to get money"!.
Foreign flicks are shown at the existing few cinemas such as the Nu Metro, City Mall cinema, Silver Bird Galleria with the latter leveraging on its synergy (especially its TV station) and recently the move by Rock & Templers, on Television Continental (TVC) to revive the movie culture at the National Theatre Cinemas. Genesis Deluxe Cinema has also begun its brand promotion via the print medium in a bid to make its presence felt. Trailers are shown dominantly on STV to lure Nigerians and foreigners to the Galleria, and sometimes through the print medium (Vanguard, Punch Newspapers). Both mediums are used to raise the awareness bar about the movies showing at the Cinemas. If they were to wait for movie goers to stroll in on their own accord, then whence cometh the profit to be made after all the expenses incurred to obtain the rights to show such flicks? When people watch the trailers, (depending on the hype given to the movie), it propels them to want to see it. The cost of running a cinema doesn't come cheap, there are bills to be paid!, the influx of movie goers prevents the doors of the cinemas from being permanently shut.
The power of the Internet has not been fully explored by most movie makers, either borne out of ignorance or the miserly mentality of cutting cost. Millions of people surf the Net everyday, and what better way to also promote your movies than through the largest medium where people resident in different parts of the Globe are well informed about your movies (can view the trailers, stills, and have authentic, credible information about the story, cast, crew, and other vital facts). Those who have had a good understanding about this medium (which the foremost Industry utilizes) have used it to effectively promote their movies on a global scale e.g Irapada, Mission to Nowhere, Mirror of Beauty.
19. DRACONIAN AGREEMENTS
When movies have undergone the various production stages, and have been reproduced onto VCDs / DVDs, put into movie jackets ready to be released into the market, Marketers/Distributors often times than not pay off the producers by out rightly purchasing all the copies set to be released. This technically goes along with the sale of their rights and the latter's sole power to further produce hundreds of thousands more, should the movie be a hit. Who looses? Your guess is as good as mine. It's not only the Marketers who have certain unwarranted clauses hidden in between the lines of an agreement, Replicating companies have as well, absolving themselves of problems that could occur during the replicating process.
Two Rookie producers on the inspiring talk show programme in Nigeria "Moments with Mo" couple of months ago recounted to the Talk show host with regards to their unsavoury experience along this path. Unwilling to follow the out right sale process, they decided to do their own thing and replicate copies of their movie (which won an International Award). Unfortunately, a sizeable number of the copies of the movie replicated were dubbed in the Yoruba language during the replicating process, which made Marketers unwilling to sell the movies. The Replicating Company had a hidden clause in the agreement absolving them of any problems which could arise during the replicating process, which the rookies unfortunately didn't see. They ignorantly signed the agreement and as such were estopped from suing the company. They had spent about Seven million naira in its production and were yet to recoup their investments as at May 2009.
The number of people who have fallen prey to such antics can only be imagined. One wonders what the stakeholders are doing to address this issue or would they claim to be unaware of such unhealthy practice? Lawyers play a pivotal role in agreements conceptualization / vetting and are trained to pick out fishy clauses / words (which ordinarily the average man would wave aside as being irrelevant) hidden in the sea of numerous clauses. Had the rookie producers engaged the services of a lawyer, they certainly would not have fallen into the trap of signing such an agreement. This issue is of grave importance and ought to be addressed by the stakeholders and the Regulatory bodies of the Industry.
20. UNDER RATED CHILD STARS
Who can forget Shirley Temple, the Hollywood child star with her mop of curls, who reigned during the 1930's depression era in America? Her record for being the highest paid actor in Hollywood between 1936 and 1938 beating all adult stars and starring in over 30 movies before the age of 12 stands unbroken. Despite stepping off the movie stage she has without an iota of doubt carved a niche for herself in Moviedom. Other children stars such as Dakota Fanning (Hide and Seek, War of the Worlds, Man on Fire), Abigail Breslin (Little Miss Sunshine, Definitely Maybe) have performed remarkably well. Ayush Mahesh Khedekar, Rubina Ali, Azhar Uddin Ismail , Bollywood child stars from the Oscar wining movie Slumdog Millionaire certainly played their respective roles well, and have the movie spotlight on them
Chinedu Ikedezie and Osita Iheme once passed as kids, (based on their child like facial features) until they finally declared their ages to stunned Nigerians. They are not children but little men. Had the duo indeed been children they certainly would have written their names in gold for being highly sought after by producers/directors. Children are not encouraged in Nollywood to tow the acting, directing, or whatever lines in movie production. It's a kind of 'use and wave aside thing', unlike their counterparts in TV series who enjoy more on - screen performances. How many Nigerians are familiar with the names Samuel Olaseinde (Abeni), Fidelis Abdulraham (White Waters)? It is sad to note that we live in an unfriendly, anti- growth environment, where only the strongest and the most determined can accomplish their goals.
There's nothing as good as discovering purpose early in life. How many people during childhood transcending into teenage years were confused as to the career path to take, which would lead them to the land of comfort? A lot of people end up reading courses at the Universities, graduate, get jobs, then realise they're in the wrong career boat. Those who have the guts to make the dreaded turn around move, do so, pursue their dreams, make good money and are at peace with themselves, while others stay put and resign themselves to fate. Some drop out at High school to pursue their dreams which has been considered an unhealthy practice (though some successful people towed the line at that level as well as at College).
I believe that children who at an early age are gifted in the field of acting or express their love to become directors, filmmakers etc should be encouraged to tow the line. Fame has its price all must pay, (children not being exempted). However, with the proper relevant guidance/counselling from parents/professionals on how to handle spotlight pressure from the public and peers, non-indulgence in various vices, early good wealth management education and its practical application on their behalf, will go a long way in keeping them on the right track.
It does not invariably mean that all will continue to tow the acting line when they get to adulthood for one reason or the other, nevertheless, the first hand experience received will prepare them for the challenges ahead in the chosen professions opted for. The worst thing that can happen to anyone is to wake up one morning with a heavy heart to realize that he/she had for a greater part of his/her life been a pawn in the hands of life, existing to chase shadows, go around in circles, live a meaningless and unfulfilled life.

THE UGLY: Appalling
21. THE UNDER VALUED SCRIPTWRITER
The Script writer who dictates the movie course, through which the story flows, especially with regards to an Original work, often times, falls into the deceptive nets of scrupulous movie makers. In a bid to hop on the train to stardom and to willingly eat the monetary crumbs that fall from their tables, many are seen jostling to sell their scripts cheaply for as low as N 50,000. Rookies in the business, drop their scripts with the movie makers to peruse through, waiting and hoping for the positive response that would re-position and direct their steps to Movie land.
Unfortunately, they get turned down and the same rejected scripts are secretly modified, shot into movies, released, with the profits rolling in, while the stolen credits are bestowed on another. The poor double crossed scriptwriter can only count his loss, without any evidence to prosecute the cunning producer. This certainly calls for concern. Even a N 100,000 which is seen as a magnanimous gesture paid to script writers is a "crime against ingenuity". Amstel Malta Box Office Write for Fame Script Writing Competition was conceived to select the best script that would be produced as a movie, in which the winner of its reality TV show would star in. The winner receives the sum of N200,000 and a brand new lap top but the said amount still ranks in the low cadre of monetary rewards to be given. A movie laden with A-list actors and actresses, good cinematography, special, vocal, visual effects, and all good funding 'without a good story line", courtesy of the script writer(who most times conceives the story) is nothing more than an empty shell at the end of the day. Fees paid to Scriptwriters should be reviewed and the manipulative, scheming practices of the movie makers addressed, with offenders being prosecuted. It's not a crime where they demand to be well paid (varying on the class of quality scripts written) or would a ban be also slammed on them ?
22. ACTING FEES PALAVER
The 2004 ban on R.M.D, Nkem Owoh, Ramsey Noah jnr, Genevieve Nnaji, Omotola Jalade Ekehinde, Stella Damascus, Emeka Ike, came as a shock to Nigerians. It was based amongst other things on the huge fees these actors in the A-list range were demanding. What's wrong with demanding for fees you consider appropriate for your calibre?. Organizers of events who want the likes of Tu Face Idibia, P-Square, D'banj to perform (whether at promenade concerts or not) are well acquainted with the fat sum of money to be paid because their services don't come cheap. The problem was and still remains that producers, marketers (financiers), run with the ideology of not spending much money on a particular star, (after all there are others who are good enough and willing to act for lesser fees) but if you can't afford the services of these actors, then don't call for them, it's as simple as that! Why slam the ban on them in the first instance? The ban certainly raised a lot of eye brows, igniting mixed reactions from various quarters, as it launched other thespians who ordinarily were living in the shadows of the banned ones into the full glare of the public spotlight.
Omotola. J. Ekehinde says:
"I think initially it worked because they had to bring up a lot of propaganda to justify their actions and to get the whole public to loose respect for us… there were all kinds of rumours about those on the list, just to get us on the wrong side of public opinion and tilt good will towards the new persons that they were bringing…" 30
Can Mel Gibson, Julia Roberts, and Harrison Ford star in a movie for $5 Million, Nay! If you are not talking weighty millions then you're not speaking their language. It is obvious that only producers with a big budget can afford to pay them, so if you don't have the money then don't bother crossing the line. Why couldn't the relevant association there slam them with a ban on being too expensive? Simple, because they know it's part of show biz which is an expensive sphere. In Nollywood the cheaper the services of a star (whether A-list or not), the better for their pockets! I believe that A- list actors deserve to be paid well. It has been reported that they earn half a million Naira with a few crossing the pegged line, but is that really good enough?
The ban caused some of the thespians such as Genevive Nnaji, Nkem Owoh, Omotola Jalade Ekehinde, to look to music for succour, with only Omotola recording a slight ignition spark of success while the others flopped big time. Dakore Egbuson has joined the Music train in 2009 with the release of her video single titled "Don't make me". The slamming of such ban should never be heard of again in Nollywood.
23. CASTING COUCH PRACTICE
Even though the existence of this unethical practice has constantly been denied in some quarters and affirmed in others, this despicable practice does exist in Nollywood!. Those 'who call the shots' insist on having sexual relationships with the auditioned, presenting the unwholesome act as the golden ticket to securing the sought after role. Desperate, frustrated, gullible ladies seeking fame and fortune at all cost, fall as cheap victims and at the end of the day are not given the roles. It's a matter of "chop and clean mouth". It has been rumoured that ladies are not the only victims of this scandalous practice. Young men especially the good looking ones are also made to tow the line. However the unnatural, despicable, unacceptable act of Homosexuality in Nigeria where moral values, culture, logical reasoning, Christianity and other forms of religion are highly upheld, prevents it from being openly expressed, and are simply heard in whispers.
Women are vulnerable to rape, and other forms of sexual assaults, one then wonders what would happen when the men who are meant to protect the women find themselves being victims of such (though under the Nigerian criminal law a man can't be raped irrespective of the sexual act). Why would a man prefer to have sex with another man, a woman with another woman? and in some countries they raise their thumbs to the act and simply say 'hey there's nothing wrong with that!'. I wouldn't be surprised when people begin to clamour to make sexual acts with animals legal! and of course some will insist that there's absolutely nothing wrong with that, then we'll know they've lost it, and (without mincing words) are towing the line of Sodom and Gomorrah.
How many wanna be celebrity actresses can come out openly to say that this or that producer, whoever, made sex a condition precedent to her being declared suitable for the role. What processes have the relevant authorities put in place and set in motion to verify the down played existence of this practice and what stringent measures have been stipulated for dealing with the guilty parties? Unfortunately, when it comes to this kind of sexual harassment /victimization cases which can easily erupt and break into scandals, the ladies speedily back out, unwillingly to bear the stigma among friends, loved ones, colleagues, the shame brought to the family name (highly revered norm), and the public ridicule because tongues never cease to clack in this part of the world.
24. PORNOGRAPHY
Pornographic movies are sold illegally by some bad eggs who are involved in the sale of movies. In Nigeria, pornographic outlets where movies and all kinds of stuffs related for such purposes , exist illegally, and the owners when eventually caught face the wrath of the Law. Though the country is 'corruption infested', yet it does not 'openly condone' any form of deep moral degeneration. The Director-General of the National Film and Video Censors Board is on top of the matter with the "National Anti-Pornography Task Force" combating and bringing perpetuators to book. The Lagos State government has also lent its weight to stamp out the existence of such movies. Uprightness, good moral behaviour, morning prayers during the schools morning assembly, are being inculcated into the young minds.
As a result of the economic crunch, both parents have to work. Gone are the days when women were house wives who simply stayed back home to take care of the children while the men fended entirely for the family. Those who work in the Government sectors are privileged to close in the afternoon between 3.30 and say 5pm. The case is different for those women who work in the private sectors who close at 6pm and don't get home on time. Worst cases of lateness are recorded by those who work in the banking sector, who leave early and get home late and with parents hardly at home, kids are exposed to all forms of visual dangers (especially through the TV programmes and Movies).
The presence of House maids does not save the situation for kids can pick up bad habits from them, besides one can't tell what they are capable of doing to ones children while taking care of them. To say the least, children learn by example and after watching a sex related scene can be innocently influenced, cajoled or might intentionally want to practice what they've seen. Their minds become polluted and from then on, there's no stopping them. Sick minded adults lustfully feed on such movies and remain potential Casanovas, rapists, paedophiles, and threat to the safety of the female folks.
Good morals are still upheld within our shores, and with the firm resolve to stamp out pornographic movies including its attendant materials from the society by the relevant bodies one can only keep his/her fingers crossed.
25. FACE OFF: NFVCB V DISTRIBUTORS
In February 2007, the National Film and Video Censors Board released new guide lines for the distribution of movies in Nigeria. Interested marketers were told amongst other things to have a lawyer, an Accountant, and increase their Capital base according to the scope of their business. The sum to be paid was rather very weighty, though it was later reduced after series of complaints, agitations by the marketers. The NFVCB meant business, though the marketers constantly communicated their unwillingness to obey the dictatorial command.
The NFVCB stood its ground, insisting that only members registered by the Board would be allowed to distribute movies much to the dismay of the marketers/distributors. There were series of calls to remove the man at the helm of affairs, Mr Emeka Mba, from the Board, with railing accusations being flung at him. However, the house was divided as some later complied with the Board's order and consequently were registered. Some of the heady ones, who smelt defeat from a mile away, dropped their battle weapons in surrender and towed the registration line.
The new distribution framework ensures that distributors at the National or Regional level sell movies only to retailers licensed by the Board or accredited agents of licensed National and Regional distributors. The framework is meant amongst other things to ensure effective and accountable distribution of movies, hence curbing piracy. Distribution of movies is territorial based and once the retailer in a particular territory has bought distribution rights from the higher releasing distributor, he must take all the necessary precaution to prevent piracy from thriving in that place. Movies released must now bear the new official classification tags. The New distribution framework has still not gone down well with some distributors who are uncomfortable with the territorial restriction, opting rather to have a free access to various terrains as in the former times. 31
The distribution framework invokes accountability, transparency, vital ingredients needed in the effective running of the movie business, which hitherto was non existent in the business vocabulary of the concerned parties. How well it would fare in the coming years is with certitude another kettle of fish.

BACK TO THE FIELD OF PLAY
Everything around me momentarily stopped, as thousands of spectators watched the ball sail through the air, past the outstretched hands of the goal keeper, seemingly headed in the direction of the net. Based on a reflex action i found myself holding my head with my two hands, my eyes closed, unwilling to permanently record such moment in my memory data base. The thunderous simultaneous utterance of the word "Goal" erupted through out the stadium.
"No, no it can't be", i muttered as I opened my eyes to behold the wild jubilation that rocked the stadium from Bollywood supporters, with the one who scored the winning goal hidden underneath the bodies of his team mates.
"One minute to go" said the French man as he looked as his watch
My boys badly shaken up by the surprise attack, passed the ball to three of their colleagues, and with one last frantic attempt, launched an invasive counterattack, while i screamed my head off in the process, and then the sound of the dreaded whistle by the Referee was heard . Nollywood was out of the race!
Disappointment was written on their faces as they looked on in disbelief at the jubilating Bollywood supporters and players. "Better luck next time" said the Chinese man to me as he departed.
"Come on it's only a game Mademoiselle, cheer up, you've got good players in your movie team, they just lack the necessary financial support and technical in-depth needed to play and win great teams" he said
"Tell me about it" I scoffed
I sat for a while pondering on the match that had just ended. I've been around for sometime, enough to know when Hollywood began to dish out hi-tech productions, when Bollywood swapped the old ways of production to modern advanced ones, enough to know when Nollywood came to town. Seating on the fence all this while has opened my eyes to a lot of things that have gone wrong in Nollywood, and the things that can be done to up our game. I have garnered so much knowledge over the years concerning Moviedom and i promised to use the writing platform to sound the clarion call to the Nigerian youths to arise, to give them a better understanding about the Industry, thereby equipping them to successfully battle and surmount challenges presently facing those in the Industry. This I have done.
"Well the downfall of a team is not its end, we'll be back some day" I said to myself with a new found vigour. I descended the stairs to join the sea of heads making their way towards the various exit points in the stadium and I made this simple prayer as I walked:
"May the History of our founding film fathers failure to hand over the movie baton to the next generation never be re-written during the movie span of Nollywood. May Nollywood remain as "One". May Investors be better enlightened to confidently support film makers in their quest to produce mind blowing movie productions. May the Government and its mandated regulatory bodies overseeing the Industry's affairs, come up with great ideas, policies, strategies that would advance the industry and not become a thorn in its flesh. May the hunter against the progress of the Industry become the haunted. May tribalism, sentiment, and emotional dysentery be a thing of the past. May all the "Woods" work as one until properly re-defined, may the truly gifted ones in acting, directing and other movie spheres bring joy to us by breaking into new International heights. Above all, may generations yet unborn, never be told the story of Nollywood, beginning with the words "Once upon a time".

REFERENCES
1. D.G of National Video and Censors Board, Emeka Mba's interview with the Sun Newspapers , posted to Nollywoodwatch.com by Watchman, retrieved on April 16,2009
2. "In defence of the films we have made" key note address presented by Odia Ofeimun, at the 2nd National Film festival on 27th Nov,2003, retrieved from westafricareview.com on June 15,2009
3&4 Ademola James (Pioneer CEO NFVCB, 1994 -2001),The Making of Nigeria's Film and Video Revolution, by Public Comm. Associates Ltd, Lagos.
5. Alade Aromire's last interview by David Ajiboye retrieved from www.tribune.com.ng on March 26,2009
6. Ademola James ,The Making of Nigeria's Film and Video Revolution, by Public Comm. Associates Ltd, Lagos
7. Shuaibu Hussan 'Head, Screeners College AMAA', interview in the Sun newspapers , April 19,2009, p 21
8. Genevive Nnaji's interview with Ada Onyema on June 16,2009,p39, Saturday Punch Newspaper
9. Samuel Olatunji of the Sun newspaper's report with regards to the Ghanaian invasion in Nollywood, retrieved from sunnewsonline.com on June 15,2009
10. NCC's launch against piracy, reported by Sola Balogun, retrieved from Nollywood.net, on January 24 2008
11. Punch Newspaper, March 13,2009, p 40
12&13 'How video films developed in Nigeria' retrieved from www.nollywood.net on June 17, 2009
14. Sound City Blast International Magazine, Volume 1, issue 002, p159
15. Sound City Blast International magazine, Volume 1, issue 2, p91
16. A paper for the 5th Globelics Conference Saratov, Russia, 19th – 23rd September 2007, by Gbemisola Adeoti (Phd), retrieved from www.Globelics.com on June 15, 2009
17. retrieved from www.westafrica.com on June 16,2009
18. The travel and tourism competitiveness index developed by the World Economic Forum in collaboration with various travel and tourism organizations and agencies, retrieved from www.ezega.com on June 17,2009
19. U.K's film report on the impact of Film and TV on Tourism retrieved from www.entretainment.timesonline.co.uk on December 15,2008
20. retrieved from www.bharatonline.com on June 16,2009
21. retrieved from www.africine.org on June 15,2009
22. Omotola Jalade Ekehinde's interview in Sunday Sun newspapers, April 19,2009, P7
23. The Economics of Nigerian Film, Art and Business presented by Tayo Aderinokun MFR, at the 50th quarterly Art stampede of the Committee for Relevant Art (CORA), Sunday March 7, 2005, retrieved from www.nollywwood.net on June 5th 2009
24. retrieved from www.gonomad.com on June 16, 2009
25. retrieved from www.imdb.com on June 15,2009
26. retrieved from www.allafrica.com on June 16,2009
27.retrieved from imdb.com on June 15, 2009
28. Themes, soundtracks retrieved from www.rockthelist.com on June 15, 2009
29. Movie review, and background information of "I Am Legend" by Scott Foundas, retrieved from data base of www.moviecritic.com
30. Omotola's interview in Sun newspapers on April 19, 2009
31. Enunciation of the New Distribution Framework propelled by the NFVCB in Thursday Guardian Newspapers on July 9 2009, p68