Nigeria Militant Attacks Kill At Least 65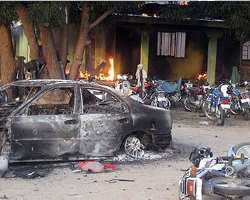 * Suicide bombers, gunmen attacked northeast Nigeria
* Islamist sect's attacks growing in sophistication (Adds President Goodluck Jonathan reaction, claim of responsibility)
At least 65 people were killed in the northeast Nigerian city of Damaturu, an aid agency said on Saturday, after Islamist insurgents bombed churches, mosques and police stations and fought hours of gun battles with police.
The Boko Haram militant sect claimed responsibility for the attacks, one of the worst days of violence since it launched its insurgency two years ago in what it says is a campaign to impose Islamic law in Africa's most populous country.
Witnesses said dozens of bodies were piled up in morgues in the city, which was all but deserted on Saturday after Friday's raids.
"This place was like a war zone last night. There is no single policeman on the street now. The attacks destroyed mosques and churches, I have seen many injured persons in the hospital," said local Damaturu artisan Benard Ogbeifun.
"There were dozens of dead bodies, and no vehicles on the road. I'm staying in my shop and praying."
In an interview with the Abuja-based Daily Trust, Boko Haram's spokesman Abu Qaqa claimed responsibility for the strikes and said "more attacks are on the way," the paper reported in its Saturday online edition.
An internal memo sent to Reuters from an emergency relief agency, which declined to be named and did not say who was responsible for the killings, counted 65 people killed in total. All were in Damaturu, except for two in Patiskum.
"The police headquarters, (military) Joint Task Force Office and five Churches were attacked with explosives ... and there was also an exchange of gunfire between the Security operatives and the unknown gunmen in Damaturu, the state capital," the report said.
Some 16 other people were wounded by gunshots at the two locations, all but three of them hospitalised, it said. It described the city on Saturday as "relatively calm".
Seven police officers and two soldiers were among the dead in Damaturu, a military source said.
The attacks followed multiple bomb blasts earlier on Friday in nearby Maiduguri, Boko Haram's heartland, including a triple suicide bombing of a military headquarters and three roadside bombs. The blasts, all shortly after Friday prayers, wounded at least seven people.
MULTIPLE SUICIDE BOMBINGS
The conflict has heightened rifts between Nigeria's increasingly prosperous, oil-rich south and its economically deprived, semi-arid north. Boko Haram appears to be growing in sophistication, and security analysts believe it has made links with al Qaeda's north African affiliate.
The sect has overtaken militants in the oil-rich Niger Delta as the biggest security headache for President Goodluck Jonathan, whose administration has received criticism for failing to protect citizens from almost daily attacks .
"These attacks in Yobe State and elsewhere are condemnable," a presidential spokesman said by telephone.
"The President has reaffirmed the task to security chiefs to stop whoever is behind this. It is a small minority with a dastardly agenda. The president has cancelled his day's events in respect for the dead," he added.
Another witness to the Damaturu violence, Umar Gambo, said he had seen several dozen dead bodies at the local morgue.
"The streets are deserted. I have lost count of dead bodies, but ... I saw at least 80 dead bodies in the mortuary. There is no high presence of security on the streets and two banks were bombed," he said.
"I can't understand why all this madness."
Boko Haram says it wants sharia law more widely imposed across Nigeria. It draws much of its support from unemployed youth in the remote north.
In August, a suicide car bomb attack against the United Nations' Nigeria headquarters in Abuja killed 26 people.
REUTERS