KILLED OVER N3,500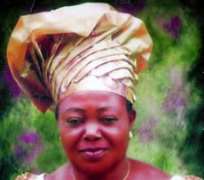 Mrs Mba before the attack
When 52-year-old Mrs. Josephine Mba, mother of four and dealer in food stuff and provisions, opened her shop on 35 Obiwali Road, Rumuigbo, Port Harcourt, in Rivers State last March 28, she never had any inkling that it was the last time she would ever do so. That day, four men, who acted for government, killed her in cold blood.
Saturday Sun gathered that this trader had hardly opened for business that day when operatives of Rivers State Environmental Sanitation Authority stormed her shop. The men, four in number, had demanded to collect her sanitation fee of N3, 500. Having paid, Mrs. Mba presented her receipt. Apparently angry that the woman had paid and therefore would not give them tip, the sanitation agency operatives pounced on her and attempted to take away a bag of rice from her shop.
It was gathered that Mrs. Mba had held on to the bag of rice, since she saw no basis for the sanitation agency's action. That was her greatest mistake. The four men turned her into a punching bag. As they battered her, she slumped and died on the spot.
Saturday Sun gathered that the sanitation agency's operatives, on realising that the woman had slumped, jumped into their waiting van and fled. Concerned neighbours had promptly reported the incident to the sanitation agency's office. Since no action was forthcoming, they carried Mrs. Mba's corpse to the police headquarters, on Moscow Road, demanding justice. The Rivers State Commissioner of Police, Mr. Abba Suleiman, it was learnt, ordered the immediate arrest of those who were involved in the matter.
Ben Ugwuegbulam, Police Public Relations Officer (PPRO) in the state, confirmed the incident. He also said the matter had been charged to court. Counsel to the Mba family told Saturday Sun, however, that the case has not been properly charged to any court of competent jurisdiction.
According to Mr. Higher King of Higher King Chambers, who represents the Mba family, the sanitation agency and the Nigeria Security and Civil Defence Corps, whose operatives were also involved in the incident, are playing games with the matter.
He told Saturday Sun: 'They are either buying time or playing the ostrich. We are talking about human life and up till now the government has not sent anybody to sympathise with family. This attitude alone can increase the psychological trauma the family has been going through.'
When contacted, the new chairman of the Rivers State Environmental Sanitation Authority, Mr. George Sogbewe Briggs, condemned the battery of the woman, which caused her death. He however, said that what happened must have been an accident.
Sogbewe said although the incident happened before his tenure, the sanitation authority would do everything to ensure that the matter was settled amicably.
Meanwhile, the deceased's husband, Mr. Fidelis Mba, has condemned the lackadaisical manner the state and federal governments handled the matter. He said: 'This is an incident that involved both federal and the state governments but no official from the two governments has bothered to pay even a condolence visit to my family. The worst is that while my wife is in the mortuary, the people that killed her are still moving freely in the streets. They have not been charged to court. Some of them arrested were horridly released.'
Mr. Mba revealed that he recorded double tragedy the day his wife died, as thieves broke into his warehouse and carted away goods worth over N2 million.
On how he learnt of his wifes death, Mr. Mba said: 'I was travelling to Lagos that day. We were already at Ore when I got a call that my wife was dead. I had to return to Port Harcourt. I went to the BMH mortuary, where I saw my wife's corpse. I felt empty and confused, because it was my wife that did every thing in my home. She manages the home and our finance.
'People who killed her have not said they are sorry. They are behaving as if it was a fowl they killed. They should know that even if you kill a fowl, the owner will ask for it. I have not heard anything from the government; no single government official has come to my family on a condolence visit.'
Most painful to Mr. Mba is that those who were responsible for his wife's death are free. 'My wife was an innocent and a law abiding citizen. You can see that she had already paid the sanitation fee. She was killed for being law abiding and they don't want to bring her killers to book,' he lamented.
Saturday Sun gathered that to ensure that justice is done, some human rights activists, civil rights and women organisations are planning a major protest in Port Harcourt.
A human right activist, who pleaded anonymity, told our reporter that the Rivers State Environmental Sanitation Authority has become notorious for such deaths. According to him, the death of Mrs. Mba is not the first linked to the excesses of operatives of the agency.