PDP Still Won't Decide Sylva's Fate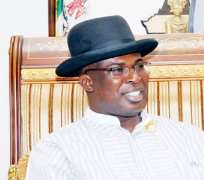 ...Acting Chairman Insists Bayelsa Governor Not Sacked From Primary But....
SAN FRANCISCO, November 03, (THEWILL) – The back and forth over the fate of Bayelsa State Governor, Mr. Timipre Sylva continued Thursday with the acting National Chairman of the Peoples Democratic Party (PDP), Alhaji Kawu Baraje, saying the party is still determining the fate of the embattled Governor, whom it has so far not cleared to contest in the party's Bayelsa State Governorship Primary.
Recall THEWILL had reported yesterday after a knowledgeable source informed that the party and President Goodluck Ebele Jonathan had balked down following pressures from Governors from the South-South zone and legislators sympathetic to Sylva's present ordeal.
The source had added that the party would issue a statement on Thursday clearing Sylva.
But Baraje, who addressed journalists on Thursday at the party's headquarters in Abuja insisted that Sylva has not been barred from contesting in the primary, though he maintained that the party was "awaiting responses from the areas we contacted to clarify certain things, and we are still waiting for a feedback."
Sylva and President Goodluck Jonathan, who was once Governor of the state, have been at loggerheads over yet to be determined issues. Both men have managed to remain civil in public until Sylva a few days cracked the ice on their fragile relationship when he allegedly threatened to kill the President and make Bayelsa ungovernable, if he (Jonathan) stopped his bid for re-election as governor on the party's platform.
The PDP says it is still examining the petition filed against Sylva following the alleged threat.
Acting National Chairman however said only five persons have been cleared out of 11 persons that purchased forms to contest in the primary.
Those cleared in the 'first batch' according to a statement two days ago by the party's National Publicity Secretary are Oruta Justine Boloubo, Henry Serieke Dickson, Enai Christopher Fullpower and Kalango Michael Youppele.
Governor Sylva and other aspirants like Mr. Timi Alaibe and Mr. Ben Murray Bruce may have to wait a bit longer to know where they truly stand.