PDP bow to pressure, approves Timipre Sylva`s candidacy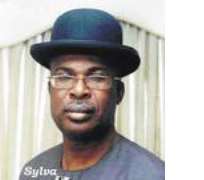 Governor Timipre Sylva can now breathe a sigh of relief, as the People Democratic Party (PDP), after having pulled every trick in the book to stop him from getting a second term in office, under the party's platform, may have approved his candidacy.
The National Working Committee (NWC) of the Peoples Democratic Party (PDP) held a meeting, Tuesday, over the fate of Sylva and other candidates who are to be approved.
The NWC is yet to release an official statement, but sources told Huhuonline.com / that owing to the intervention of the governor's forum, the party leadership might have been prevailed upon to reconsider their position on Timipre Sylva.
However, Hon. Henry Seriake Dickson, one of the approved aspirants and a former Attorney General in Bayelsa state, has condemned the intervention of the governor's forum.
He said, 'It does not help anybody putting pressure or blackmailing people here and there. We call on them to justify the mandate they were given almost five years ago. We agree with the Bayelsa people that the present government in the state does not deserve a renewal of the people's mandate.'
'My camp is not blackmailing anybody. Rather, we are busy engaging stakeholders to win their support by selling our ideas and determination to change the destiny of our people, people that have been made hopeless by a government that has no desire to secure the people. A government that is oppressive against the people.'
'We are going to meet them ideas for ideas, not violence for violence. We shall meet them in all hamlets, in all the villages and towns in Bayelsa. This election is about the future of Bayelsa people. It is a referendum on the performance or lack of performance of the incumbent government.'
'The truth is that everything good about Bayelsa has been lost and we want to restore the glory of the state, in line with the aspiration of the founding fathers. Bayelsa is the Jerusalem of the Ijaw nation but has been turned into a pariah state. I am running on my ideas but the governor cannot run on his performance in five years.'
He stated that legislators of Bayelsa origin at the state and federal level, who have been rooting for a particular candidate, to wait till the primary election to vote for a candidate of their choice, since they are all eligible delegates for the primary election.
Hon. Dickson said he was the candidate to beat in the race and called on all aspirants and their supporters to play by the rule, saying that the decision on who becomes the governorship flag-bearer should be left entirely to the delegates.