THE TRIBUTE TO ONWA IKENNA NDAGUBA (MFR) - A MEDIA LEGEND AND NATIONAL ICON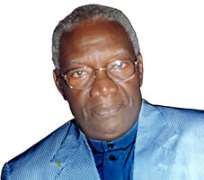 Onwa Ikenna
The Chairman of the Kano State Board of Internal Revenue, Alhaji Habu Mohammed Fegge is not one man to be envied, going by the huge challenges of revenue generation before the Kano State government. But in this interview session, the man who is saddled with the task of changing the face of revenue generation in the Kano State maintained that the board is equal to the task. He spoke to journalists in Kano State on the journey so far. Desmond Mgboh was there.
Excerpts:
Sir, how has it been since you assumed office as the Chairman of the Revenue Board in the state?
Let me state that I took over with a lot of problems every where.  For now, what I am trying to do is to do is to solve the problems that we inherited when we came in. We are trying to link up things and at the same time, we are trying to improve the level of revenue collection in the state. So, we are now embarking on an enumeration exercise, house -to- house enumeration. This enumeration will enable us to capture tax payers from the Direct Assessment, from Pay -As -You- Earn and from things like Withholding taxes among others.
The former consultants in the state, when their contracts were terminated, they left with all the information and the data base of the board. The data they extracted from here, all the information and the new once they built, they left away with them once their contract was terminated. They shut out all the system. So, what I am trying to do now is to build new information base from the scratch. All these time since I was appointed , all these time from June to date I have been trying to build a new set of records, bringing the lost glory of the board and the staff  and at the same time trying to maintain a certain level of growth in terms of revenue collection, which I have been doing.
If you remember, the consultants were making N318 million,  N340 million and a maximum of N400, but since I took over in June, it is a different game. The month I assumed office, I collected total revenue of N 622million. In July, I made N 705 million and in August, I made around N800 million and I think by this October , I am heading to One billion Naira or over a billion Naira. But I must tell you my target is not a billion Naira , but something very reasonable that can even be used to complement and cushion the salary challenges of the state government by the grace of God.
What are your challenges in the course of this collection?
I must put on record that we are running the most difficult job in the state. It has not been easy. I have 546 staff and 28 area offices. Yes.  But I must say that Government is giving me all the necessary support. A hundred percent support from His Excellency. You see pumping money and equipment and vehicles is not going to help with out the personal support of the government. And I must tell you that Government has given one hundred and one hundred percent support to us. One interesting thing is that we are guided by laws and we are established by law.
The mode of collection is guided by laws and there are other laws that go with our activities. So, we as much as possible, go within the content of the provision of these legislations. That is why we are closing companies and we are closing banks. You will be surprised. Last week, we even brought out the file of the Central Bank of Nigeria (CBN) and we found out that the Central Bank had settled all its taxes. Had it been that it defaulted in any form, we would have closed down the Central Bank of Nigeria . I telling you this to show you the power of the law that we have behind us.
Is it proper in law for the former Revenue Consultant of the state to take away all the data base of the internal revenue board?
The law does not allow anybody, beside the officials of the Kano State Board of Internal Revenue Board to operate, to access or to collect taxes in the state, talk less of even to come and have a look or to operate with the data base of the Board. They went into all the secret documents, they extracted all the information, they build their own data and they made assessment and they made collection on behalf of the state. And at the end of the day, when their contract was terminated, they went away with all these soft wares- 28 companies with over 200 branches, they blocked the system. I could not be able at that time to access what was being collected, and who deposited what at where. It is really unfortunate.
But  are you not considering a legal action against what is obviously a breach of the laws of the state?
To be honest, you see this government inherited a lot of problems. It has its own problems. Every minutes, it is been confronted by problems. You have no time to go and start taking this people and that people to courts. In fact if you do, you end up this four years and eight years taking other people to courts! What we are trying to do is to solve problems for you to take off and start off by getting the done properly.
What are you doing to put a stop to the cries of multiple taxations in the state?
A: I just told you that these sources of income and revenue were established by the laws of the Federal Republic of Nigeria and there are three tiers of governments- Federal, State, and Local Government Councils. The Federal Government has its own taxes- the petroleum tax, the VAT, the Custom and Excise, the Ministry's salary deduction and the Withholding Taxes. The state government has its own taxes- has PAYE, Withholding taxes , Stamp duty,  and Road Taxes. The Local Government has tenement rate, shop dues, bill boards, and the rest. So anything coming outside this is illegal to be honest with you.
But have you taken steps to avoid this issue of multiple taxations giving the injustice inherent it?
The Board of Internal Revenue, I must admit, may not be able to handle these challenges on its own alone. Every local Government is coming up with its own type of taxation, levying what is already established by law, bringing out its by law. So I, alone , here cannot solve this problem. That is not to say that we are doing nothing. We are doing something and we have actually started writing to His Excellency about this to be able to contain this situation. You find out that one local government has about seven different types of fees, and levies it is collecting from tax payers, and from companies.  I learnt that the Federal Government is going to stop the revenue collection on roads. That is going to help a lot.
Before now, we have heard speculation that the Okada riders(cyclists) is one of the areas that will be taxed to improve the revenue base in the state. But what is the true situation?
I happened to be the Chairman of the Transition Committee……I came out with the idea of this Achaba (Cyclists) being considered for taxation, because we have about 2.5 million Okada riders in the state. Interestingly, for every seven Achaba riders you see on the street, look at their plate numbers, you see that four of them are not from the state. We must not forget that at times the idea of coming up with a revenue or fees or levies is not just for the government to generate money alone. Sometimes, some other issues are being considered.
For instance, we want to introduce traffic discipline and control. I came out with the Achaba idea so that we will  know the exact number of Achaba riders in the state through the registration process. And the idea is that by this measure, it will be help us to control them. Thank God, with the introduction of these number plates, this new project will be able to take care of a lot of problems. This is because when you purchase these numbers, you are purchasing it for life. It will contain your name, your address and your photographs and there are certain procedures before you get the numbers.
Maybe. we may be able to contain some of these problems that these Okadas are creating through this policy. But coming back to the question, the idea of the collection of taxes from Achaba riders is not coming immediately. You see the legitimate revenues that we have been talking about here have  its own problems and we want to put our house in order. And it is until these things are stabilized that we will start talking of introducing new things. It is very difficult and tiring job, but we are going make the best of these challenges.