African China, fastest selling reggae artist — CN Media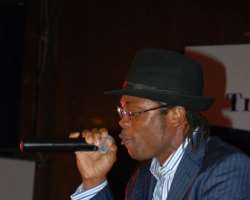 African China's fourth album the Return of the Legend has been described as the fastest selling album in Nigeria. This declaration comes from the authorities of CN Media, the marketing company that is in charge of China's fourth album.
China, whose last album, London Fever performed below expectations was full of smiles when informed of the declaration made by his marketing company. "Whao, this is really amazing! That my marketer can come out to say this about my album, that means more money in my pocket".
The 12-track reggae album had the production touch of four different producers L Johnny, Shariff P.Black and Emac the beat maker. Although none of the tracks showed the typical live recording that great reggae legends are known for, the producers still pulled together beats that gave the album a cross over appeal, blending funky reggae beats with contemporary dance hall and R&B tunes.
On the lyrics and vocals in the album, China brought to bear his usual high notes and thought-provoking lyrics that bother on political and real life issues. Collaboration with 2Face Idibia on the track Loving you everyday brought a great blend of R&B into the album.
While speaking to journalists in Lagos, China took time to react to a single that seams to be tearing two reggae acts in Nigeria apart. I want finish Timaya an abusive track released by Nico Gravity and targeted at another act, Timaya. "Look, Timaya to me is not a reggae artist, he is a Makosa act. The truth is this, his music is not reggae and his life style does not reflect the principles of reggae artists because true reggae acts do not brag over material things." African China's current album is his fourth, though the highest point of his career remains his Mr. President album that brought him fame and fortune, a situation his present marketer believes will change if the present album continues to sell.