WHY WE ARE CALLED FOOD BASKET OF ANAMBRA -IGWE ODEGBO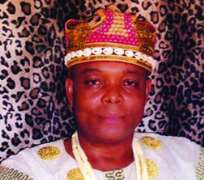 •Odegbo
His Royal Highness, Igwe Rowland Madukolu Odegbo, the Aborgu II of Nteje in Oyi Local Government Area of Anambra State, can be described as a lucky royal father. Reason? His kingdom is largely an agrarian community regarded in many quarters as one of the food baskets of Anambra State.
In this chat with Igwe Odegbo, the royal father spoke about the agricultural prowess of his community and how it has contributed to the development of the state.
My community
We are largely an agrarian community; we enjoy farming. As a matter of fact, we are called the food basket of the state because we produce the largest quantity of rice, cassava and yam, tomatoes and so on. We are God-fearing and friendly people. Visitors, who have come to our area to live – teachers, policemen and so on, never want to leave, even when they have been transferred.
They settle their families here, while they go to report in their new areas of posting. Generally, we are good people and the area is relatively crime-free.
Pilot towns and the Federal Government's food security scheme
We have farmers associations and we have participated in FADAMA programmes. I am also aware that different groups in my community are taking part in several agricultural projects. Thanks to the government of Anambra State, many of them are obtaining low interest loans. We are happy to collaborate with food security options available to our community.
Poor road network and its effect in bringing out products
No. Though we haven't gotten a lot of roads, I still think the present administration is trying to open up a lot of areas. If you go to Anambra West, there is a road going to different communities, up to Kogi State. There's another that goes through Mmiata, which leads to other areas. You know that the whole of Anambra West area is a fertile land for rice yam, fish and so on. These roads are available for us to bring out our farm produce, especially the Omor rice mill, where I understand the state government has gotten a partner to help make it work. That axis have been opened up, because there's a road that now go to Ifite-Ogwari, where there's a school of Agriculture, up to Anaku, Omasi and the rest. These road networks enable farmers to bring out their products to the market.
In the case of Anambra East and Anambra West, we haven't seen much, maybe because the governor is concentrating on the areas he thinks are more impoverished. Communities here have not benefited so much, especially Nando, which is a farming community. Igbariam has gotten one, though the one awarded Nteje, my community, is still to start. The government is trying, but we want them to do more.
Cry about state government marginalization of Nteje
I don't think it's true. I think we are doing that to ourselves because we never want to come together. It is only in our area that somebody becomes rich and blares sirens everywhere. Nobody wants to defer to another person.
If you look at how politics is being played, it is the turn of Anambra North to produce the governor; for us to do this, we must come together first. We must work together, bringing our technocrats and elite back home. It is not just for moneybags, but we need good people to collaborate so that quality people will be chosen, and then the rest of the state will see that we can get it.
Talking about marginalization, nobody gives anybody power. You work for power. In terms of infrastructural development, it is true that when people get into power, they favour more of their people and zone, but this is not the case here. Peter Obi in my estimation has done more than that. He has dealt with all communities, and what he has done in Anambra West in particular amazes me. When I hear somebody saying he has been marginalizing the zone, I tend to think the person is talking blatant nonsense. Maybe the person is writing from Nantucket (USA), not from Nigeria.
In terms of appointment, everybody wants more, like Oliver Twist. We had a chief judge, a current secretary to the state government, commissioners for housing and finance, Chief Press Secretary to the governor, to mention but a few. Every community won't benefit at the same time, it is turn by turn. My point is, we have never had it so good.
Conducting LG elections in Anambra State
The idea is for allocations for local governments to go direct to them in order to trickle down and push the local economy. I don't know why that is not happening. It is an issue that is still being talked about by the powers that be. I hope to see one day when local government authorities become very powerful in the governance of Nigeria.
For the first time in Nigeria, I get to hear about academic doctors and PhD holders coming out to become chairmen of caretaker committees of our local governments; that shows that those willing to serve this time are performers who want things to get better. Let's hope that with the upcoming elections, things will get themselves sorted out so that we will have more development coming down to the third tier of the government.