ABIA STATE AND NON-INDIGENE WORKERS!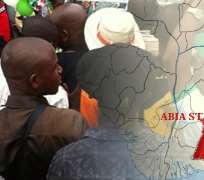 It is shameful to hear from very senior members of the state executive that the only option left for the Abia State Government to pay the new minimum wage and meet the pressure of returnees from troubled states is to disengage non-indigene staffs of the state civil service which will create space for their own. It goes to show that indeed the governor and his team of state executive who sat to deliberate and take this decision went for the lazy way out. They did not do a thorough job. A bit of patience, serious thinking would have gotten them a better idea to the solution.
The Abia State Government is sowing the seed of hatred, vindictiveness, discrimination against Abia sons and daughters living and working in other states of the South East and Nigeria as a whole. The men in power in Abia state did not ponder at the effect if other states in the region or country decide to retaliate with this sort of senseless and insincere policy of theirs. At this stage of our history in Igboland, we should see ourselves as one people. The excuse that such a policy was done to Abians in the past by neighboring states is too childish to brandish.
The Ibos are known to be one, we share a common history, affinity, language, culture, and as such a slap to one is a slap to all. Consequently, the history of sack of non-indigenes in the South East, did not start with Abia State Governor, TA Orji, it all began according to available records in 2002, by Chimaraoke Nnamani, former Enugu State Governor, who then sent back non Enugu indigene civil servants back to their states of origin. It was roundly condemned, in fact, the then Abia State Governor, Orji Uzor Kalu, condemned it but, did not retaliate.
The argument being presented by the official aides of Abia State Governor, Chief TA Orji, for this irrational behavior is very regrettable, appalling, ridiculous, and fails all logical analysis. It is the responsibility of government to think, plan and open new doors for economic development of their people. Agreed that South Eastern states do not receive much in the usual Federal Government monthly allocation compared to other states, but if mismanagement, misappropriation, corruption, irrelevant trips, over-bloated aides are checked, there will be enough to pay the minimum wage and still develop infrastructures in the states.
If all the governors of the South East will look inwards to raise their Internally Generated Revenue, they will surely create jobs for their people. Often, I have challenged the present and past Abia state government on the development of Aba, this city holds the magic wand on the economic development and financial muscle of Abia. Why has every government ignored it?
This non-indigene sack may no doubt affect the political unity of the South East states. Perhaps, those who are promoting this are not looking at the political future of Ndigbo in the country's political space? This case has attracted enough criticisms that would have necessitated the governor to rescind the decision rather than allow it mar the unity of brothers. In Lagos, for instance, the state's civil service is filled with mostly people from neighboring states and far yet, there is no hue and cry over it.
The Abians who returned to the state were in no way sacked by the states they returned from. It was due to the crisis in such places hence, other south east states may have also witnessed such returnees and are battling to cope with it, so why is Abia government making issues out of this?
Let the government of Abia State recall and reinstate these sacked workers in the interest of peace, love, unity and progress of Igbo land. It is not wise to chase other children who for many years have served you because your children have just returned home; you can accommodate all of them in the interest of love and fairness.
Uzodinma Nwaogbe, Maitama – Abuja. 0803.841.9391.
Disclaimer:

"The views/contents expressed in this article are the sole responsibility of

thewillnigeria.com

and do not necessarily reflect those of The Nigerian Voice. The Nigerian Voice will not be responsible or liable for any inaccurate or incorrect statements contained in this article."
Articles by thewillnigeria.com