CHIGOZIE ATUNAYA: WHY I DUMPED MY EX-GIRLFRIEND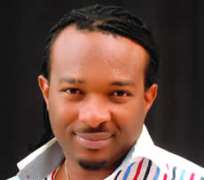 •Atuanya
Whenever handsome men in Nollywood are talked about, Chigozie Atunaya features prominently. He's fair in complexion and looks like prince charming. But this budding actor is not only about good looks. He's a great actor, who interprets roles given to him well enough.
In this interview, Atunaya revealed how he attended a seminary and all about his acting career.
You wore dreadlocks when we met earlier. Now you're wearing a low cut. Do you have dreadlocks or what?
Actually, that is not my kind of hairstyle. I wore it for a movie production entitled, Lady Gaga, produced by Simony Productions. I believe, as an artiste, you are obliged to change your looks once in a while, for creativity. But as a person, I prefer looking simple in low cut. However, I don't mind wearing any hairstyle that fits movie role I am playing. After shooting the movie, I always remove it. People watch us on screen. Some may not know that one's true character is quite different from the roles one plays.
There is a notion that a bit of an artiste's character reflects on role he plays in movies. How true is this with you?
I don't believe so, because an artiste is a messenger to the people, just like the prophets to his followers. As artistes, we wear other people's characters just to pass a message to our viewers. We are seen as a mirror to the people. If you watch most of our movies, you will agree with me that we use those stories to touch the lives of people, especially giving solutions to their problems and how to handle them. The fact that I play a criminal role in a movie doesn't make me a criminal; that I play a rapist doesn't make me a rapist, as a person. As a professional, you are expected to depict every role given to you convincingly. I disagree with that notion because we are doing what we know how to do.
What was your growing up experiences?
I attended primary school in Aba, while my secondary school was at a seminary school. I studied Public Administration at the Enugu State University of Science and Technology (ESUT). I didn't attend the seminary school because I wished to be a priest. The school is not just for aspiring priests. Most parents send their kids to seminary schools for different reasons. It might be because of stubbornness, like some people say they want their children to imbibe good moral values. Seminary school experience distinguishes you among your peers. The way you behave in public is expected to be different because of the upbringing. You have a calm nature and your approach to life will be quite different from others.
Were you then stubborn as a child?
I was not a rough child but was very possessive. I didn't allow someone to take my things without my notice. But as an adult, I have realised it was a childish character. I have embraced maturity because being hot tempered doesn't make you useful in life. I was hot tempered until God heard my prayers some years back and delivered me from the spirit of anger. Though I don't easily get angry, when am annoyed I walk away from the person. I have realised the danger behind anger because it could make you react negatively. I thank God that maturity has taken over. I am now looking forward to building a family as a responsible man. I appreciate God for all the wonderful work He has done in my life, from taking me from nobody to someone. Indeed I am happy for everything, but I wouldn't like to disclose the details. However, people who know me very well will understand my testimony.
Would it be right to assume that you had a rough beginning in life?
Not, really. However, at a point, I decided to leave my father to face life's challenges without his interference. I didn't want to depend on him for pocket money. Every reasonable adult should endeavour to have a story to tell his kids concerning his life as well as strive to be independent because that is the only way you will realise those challenges of being a man and how to face them to be successful in life. If you continue to depend on your parents or relations, you will be worthless. What happens when they are no more there? It's obvious that you will be in trouble. So you need to be hardworking and independent, as a grown man, rather than exhibiting laziness, which would destroy you. You may not understand the danger until it is too late. I believe every young man, between 26 and 28 should be independent. If you don't strive to suffer and therefore rely on people to survive, you wouldn't have a story to tell your kids on how industrious you were as a young man.
How did you venture into the movie industry?
A friend of mine, Ebube, introduced me into the movie industry some years back in Enugu during one of my secondary school holidays. On that day of auditioning my friend was not among those chosen but I was lucky to be chosen. I was applying for admission into the university when I started my acting career. I featured in Rattle Snake, King Jaja of Opobo, Evil Men and others. In fact, I was among the artistes who started Nollywood.
What were your experiences in the first movie you featured?
It wasn't easy as a beginner. We earned little money. Sometimes I felt like quitting because the monetary gain was not encouraging. However, the fact that one didn't have any other job made one to continue facing the challenges. Some of us decided to go into it for the fun of it. Others just wanted to hang on until they got another thing doing. My vision was to be a renowned actor, like Will Smiths and Morris Cheanor, who actually inspired me.
Had there been anytime in your career that you felt like quitting?
I had actually done it before. It was not because I enjoyed quitting for a while but to enable me concentrate more on my business. At a point, it was difficult handling other businesses with acting. Imagine handling business on movie location, on phone. Aside acting, I have a branding company.
Is this why you were away from acting for sometime. What were you doing then?
I guess that was when people rumoured that I travelled outside the country. The truth is that I was travelling outside the country now and then to do business. The fact remains that I am restricted to acting. I can do other things to secure my future. I have been shooting movies since I resumed acting and I am enjoying every bit of my acting career because of my strong passion for acting.
You are seen as one of the hottest actors in Nollywood. What accounts for this?
Well, I don't see myself as one of the hottest actors considering the standard of the movie industry, but I received compliments from people regarding my acting styles. As a human being, you are not expected to exhaust yourself but allow God lift you to the standard He has destined for you. I am a humble person. I don't allow stardom to take over my true character; so the people are the best judge. I appreciate them for giving me credit for my hard work, especially being nominated as the City People Magazine best actor of the year. I didn't expect the award. I would say that people love the movies entitled, Blackberry Babies and Ladies Men, which gave me the award. In fact, I was in Asaba when I got a call on my nomination. I appreciate my fans for their love. Whenever I watch that movie, the joy in my heart is so much that words cannot express it.
Who is your role model in the industry?
I respect Zack Orji. I love his acting style and the way he carries himself in the industry. I also admire his attitude towards life.
What is the secret of your success?
My success is attributed to God because He is the master planner of my life. I think, in any case, that this is just the beginning of my success. God has made me a happy man.
How do you relax?
I like swimming at my leisure and spending time with my friends. I am not a club freak, but I go to club once in a while. I don't see it as a sinful act. It's a normal way of catching fun as well as exercising your muscles.
You featured in a gospel music. Could you tell us about it?
My younger brother, who is based in America, actually featured me in his second album, in a track entitled, Orule by C.C. Onyeze. My company here recorded the album and video in Nigeria. I decided to sing along with him in the Igbo gospel music because it is a way of showing love to him, and also to project his music in the Nigerian music industry, since he is not based in Nigeria.
With your good voice, do you intend veering into music in future?
I don't intend going into music, because I need quality time for my acting career as well as my business. However, if it is the will of God for me to veer into music, I don't have to question God. For now, I have recorded a single for my fans. It is entitiled: Money can't buy love. Most people think money can buy anything in the world, which is a misconception. Money may buy material thing, but it cannot buy true love.
How many times have you been jilted by women?
None. I don't allow women to play with my heart. Once I discover that you are not interested in loving me, I quit the relationship to save myself from emotional trauma. I do this maturely, without making trouble or making enemies. You don't know where you meet tomorrow, as your ex may be the messiah you may need to succeed in life. Instead of creating unnecessary friction, it's better to be friends and go your separate ways. The closest I came to that was a few years ago, when I was still in the higher institution. This girl's mother mounted so much pressure on her to get married. Since I was not ready for marriage, we parted ways for her to get married. We are still friends. In fact, she always calls me on my birthdays even when we have not seen face to face for over six years.
Have you had any embarrassing moment as an actor?
Embarrassing moments occur daily for celebrities. The remarkable one, for me, was my experience in Italy when I walked into a hall. There were some ladies there. Immediately they sighted me, they screamed. This swept me off my feet. That experience showed me that I have many African-American ladies as fans.
You are among the handsome actors in Nollywood. How do you cope with women?
I must confess that I appreciate my female admirers or fans. I know that without their support there wouldn't be Chigozie Atunaya as the best actor. I dedicated the award given to me recently by Golden Groove to my female fans, for all their love and support.
You play romantic roles in movies. How romantic are you?
I am highly emotional. I don't pretend when it comes to matters concerning love. As an adult, you cannot do without falling in love with someone, because you need a woman as a comforter. I don't expect my woman to pretend. The Bible preaches love because God is love.
There is this notion that immorality is high in Nollywood. What do you think and have you dated any actress?
Well, personally, I don't think dating one's colleague is the best. However, I don't consider it a sinful act. I appreciate actresses, just the way I see my sister. Actresses should be respected for their creativity and hard work. There are decent girls in the movie industry. Most of them are getting married.
Who is your ideal woman?
She is a woman who will always be there for me. She must be real because I despise fakes. She has to be honest, understanding, respectable, well manner, beautiful and intelligent. She must have the fear of God because I love God so much.
Who is the woman in your life and when are you getting married?
I don't wish to talk about my private life. On the second question, I believe in God's time. When it's time I will send you my wedding card.
Some people see you as a power dresser. What is your style?
I like wearing simple clothes that look good on me. However, when I am going to some events I may dress to kill. I am fashionable and I love looking good all the times.
What would make you act in pornographic movie?
As African, there are certain roles you don't expect a young man or lady to play, in the name of acting or earning a living. Our culture is quite different from the western world's. Why then should I play a porno flick, when I know it unprofessional in Africa? Having said that, I will add that as a professional, I would feature in any movie that would challenge me and bring out the best in me.