Hague Court Says Talks On Gaddafi Son Surrender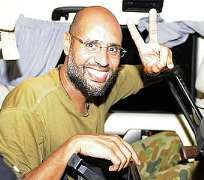 International war crimes prosecutors are in touch with Saif al-Islam Gaddafi, urging him to give himself up and warning him on Friday he risks a mid-air interception if he tries to flee by plane to an African safe haven.
Confirming reports from Libya's new leadership to Reuters that the fugitive son and heir-apparent of slain strongman Muammar Gaddafi has been negotiating a possible surrender, the International Criminal Court said in a statement: "Through intermediaries, we have informal contact with Saif."
It gave no details on the younger Gaddafi's whereabouts but said it was "galvanising efforts" to arrest him and former intelligence chief Abdullah al-Senussi, both of whom Libyan officials have said are being sheltered by Tuareg nomads in the Sahara, in the borderlands of Libya and Niger.
"Additionally," ICC Prosecutor Luis Moreno-Ocampo said, "We have learnt through informal channels that there is a group of mercenaries who are offering to move Saif to an African (country) not party to the Rome Statute of the ICC.
"The Office of the Prosecutor is also exploring the possibility to intercept any plane within the air space of a state party in order to make an arrest."
Some observers suggest surrendering to the ICC may be only one option for Saif al-Islam, 39, who may alternatively hope for a welcome in one of the African states his father helped. NTC officials have said Saif al-Islam might consider surrender his safest option given his father's killing.
Officials with Libya's National Transitional Council (NTC) have said they believe African mercenaries, including from South Africa, were acting as bodyguards for Saif al-Islam as he took refuge in Bani Walid, a pro-Gaddafi bastion near Tripoli, and then fled south as his father was captured, abused and killed.
A South African newspaper said on Thursday that a plane was on standby there to fly north and rescue Saif al-Islam along with a group of South Africans working for him. This could not be independently verified.
"If we reach agreement, logistical measures for his transfer will be taken," ICC spokesman Fadi El Abdallah said in The Hague on Friday, adding that a transfer might still "require some time" to be arranged.
"It is not possible to discuss logistics or make presumptions about what is needed at this stage. There are different scenarios depending on what country he is in."
The ICC has no police force of its own, and therefore has to rely on state co-operation to have suspects arrested.
AFRICAN OPTIONS
Niger, where another of the elder Gaddafi's sons has found refuge, has said it will honour treaty commitments with the ICC, meaning it should extradite any indicted suspect. The ICC has indicted the elder Gaddafi, Saif al-Islam and Senussi for crimes against humanity after the killing of protesters who demonstrated against Gaddafi's 42-year rule in February.
Among other neighbouring states on which Gaddafi lavished some of Libya's oil wealth in pursuit of an anti-colonial, pan-African policy, Chad, Burkina Faso and Mali are also signatories to the Rome Statute of the ICC. So are South Africa and Tunisia.
Those which are not signatories, and so might be in a position to ignore extradition requests, include Algeria, Angola, Equatorial Guinea, Sudan and Zimbabwe. It is not clear any of those nations would welcome the fugitive Gaddafi.
Algeria has taken in the wife and three surviving children of Muammar Gaddafi, angering its Libyan neighbours.
In France, one of the key initial backers of the revolt against Gaddafi, Foreign Ministry spokesman Bernard Valero was asked about reports that Saif al-Islam might have made it across Algeria or Niger to Mali, a former French colony. He said Paris had little information but added:
"This man's place is before the international criminal court ... We don't care whether he goes on foot, by plane, by boat, by car or on a camel, the only thing that matters is that he belongs in the ICC.
"We don't have many details, but the sooner the better."
FAIR TRIAL
The ICC's Moreno-Ocampo said in his statement: "If he surrenders to the ICC, he has the right to be heard in court, he is innocent until proven guilty. The judges will decide.
"This is a legal process and if the judges decide that Saif is innocent, or has served his sentence, he can request the judges to send him to a different country as long as that country accepts him."
Earlier this week a senior Libyan NTC official told Reuters that the London-educated Saif al-Islam was trying to arrange for an aircraft to fly him out of his desert refuge and into the custody of the war crimes court.
Details are sketchy but a picture has built up since his father's killing while in the hands of NTC fighters a week ago that suggests the man once seen as heir-apparent has taken refuge among Sahara nomads and is seeking a safe haven abroad.
One NTC official said on Thursday that Saif al-Islam had crossed into Niger but had not yet found a way to hand himself in: "There is a contact with Mali and with South Africa and with another neighbouring country to organise his exit.
"He hasn't got confirmation yet, he's still waiting."
WIN OR DIE
Even if Saif can still draw on some of the fortune the Gaddafi clan built up during 42 years in control of North Africa's main oilfields, his indictment by the ICC over his part in trying to crush this year's revolt limits his options.
That may explain an apparent willingness, in communications monitored by intelligence services and shared with Libya's interim rulers, to discuss a surrender to the ICC, whereas his mother and surviving siblings simply fled to Algeria and Niger.
Saif al-Islam was once seen as a potential liberal reformer but who adopted a belligerent, win-or-die persona at his father's side this year. The ICC accuses him of hiring mercenaries to carry out a predetermined plan to kill protesters.
Rhissa Ag Boula, a former Tuareg rebel leader who is now a presidential adviser in Niger, told Reuters on Thursday: "Abdullah al-Senussi is now in northern Mali. He crossed Niger north of Arlit escorted by Malian Tuareg as well as some from Niger. They were well protected, which is to say armed. As for Saif, he is hesitant and is indeed in Niger. He is trying to decide whether to continue to Mali or stay in Niger."
A member of the Malian parliament who has been in charge of relations with Libya's NTC discounted some reports that Gaddafi and Senussi had crossed Algeria or Niger into Mali.
The African Union, and powerful members like South Africa, grumble about the nine-year-old ICC's focus so far on Africans and some of them may prove sympathetic.
Even if arrested on charges relating to his role in attacks on protesters in February and March, Saif could make defence arguments that might limit any sentence, lawyers said.
REUTERS