Jonathan Back Calls For Africa Infrastructure Fund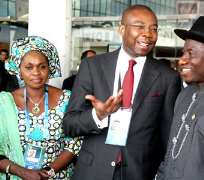 SAN FRANCISCO, October 27, (THEWILL) - President Goodluck Ebele Jonathan Thursday in Perth, Western Australia gave Nigeria's support to calls for the urgent establishment of an Africa Infrastructure Fund.
Speaking at a roundtable with other participating Heads of Government and business leaders at the Commonwealth Business Forum, President Jonathan said that such an international fund was needed to help African countries address their infrastructural deficit, which is hindering economic growth and development on the continent.
"Africa needs to build its infrastructure and such a fund will definitely help in this regard. Transport infrastructure is particularly important. It is currently cheaper to bring goods from Europe, than to transport the same goods from one African country to another. A fresh source of funding and partnerships that will build trade-related infrastructure in Africa is essential for quickening the process of sustainable development in Africa.
"Our countries have enormous potentials, but for the 19 African countries in the Commonwealth, what is needed for sustainable development is trade and investment to address the challenges of poverty, unemployment and to create wealth. This can only be done if the challenge of infrastructure deficit is promptly addressed," President Jonathan said.
While commending the Commonwealth Business Council and the Australian Government for facilitating the discussion of economic development at the forum, the President noted that such discussions make the Commonwealth Heads of Government Meetings significant and meaningful because "to make our countries grow, we need to discuss development."
In a communiqué issued at the end of the 3-day deliberations which attracted over 1400 business and government leaders from 54 countries, including 16 Heads of Government and 150 Global business leaders, the Commonwealth Business Leaders Forum urged "heads of Government to reshape the way the Commonwealth works and focus more on cooperation for trade and investment, jobs and growth.
The Forum resulted in a number of actions and initiatives including the establishment of a Commonwealth Mining Network, the Australia-Nigeria Trade and Investment Council and proposed follow up actions on public-private sector partnerships, SME development, Commonwealth Businesswomen's network, Commonwealth-China co-operation, and Investment Promotion Agencies.
The Commonwealth Business Forum is part of a series of activities preceding the official opening of the Commonwealth Heads of Government Meeting.
Her Majesty, Queen Elizabeth II is expected to declare the Summit open on Friday at the Perth Convention and Exhibition Centre.