Lawmakers Query Management Of Export Funds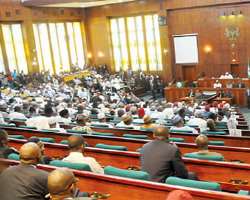 ABUJA, October 26, (THEWILL) - Representatives Wednesday directed its committee on Customs and Excise to investigate the administration and utilization of the Export Expansion Grants by the Nigerian Export Promotion Council, over alleged misuse of the scheme's grant by some Industrialists.
The committee has one month to complete the assignment.
According to the House, over 90 per cent of the grants are received by only 10 per cent of the exporters, adding that the misuse of the grants has led to drastic reductions and shortfalls in the revenue expected from the Nigerian Customs Service.

Sponsoring a motion to that effect, Hon. Nasiru Baballe Ila said although the Export Expansion Grant scheme is a very vital incentive required for the stimulation of Export-Oriented activities that will lead to significant growth of the non-oil export sector in Nigeria, the aim has been defeated by the activities of some corrupt persons.
He maintained that, " between 1999 to 2006, the total value of the scheme disbursed to beneficiaries was N7 billion and gradually there have been tremendous increase in the amount disbursed in the subsequent years. While the total disbursement in the period 1999 to 2006 was N7 billion. The Nigerian Export Promotion Council requires a total of N150 billion for disbursement for the year 2011."
Hon. Baballe further told his colleagues that, "countries that had succeeded in boosting Exports utilized multiple macroeconomics tools and innovative incentives, rather than 30 per cent cash disbursement designed to be perpetual, knowing the fact that the Export Expansion Grant is a very vital incentive and policy tool of the Federal Government of Nigeria to boost the non-oil sector and manufacturing industries."
Supporting the motion, the House Deputy Leader, Hon. Leo Ogor said the activities by the operators are criminal and must be investigated for the country to move forward.
This was also the position of the chairman of the House committee on Appropriations, Hon. John Enoh who also condemned the activities of the exporters.