CONTROVERSY OVER LOVERS CO-JOINED DURING SEXUAL ROMP AT IKIRUN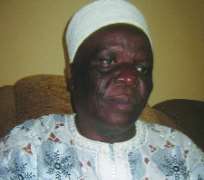 Oba Rauf Olayiwola Adedeji II
At the moment, controversy is the word at Ikirun a sleepy community in Osun State. The police, the town's monarch, Oba Rauf Olayiwola Adedeji (II) and some residents are trading words over two lovers who allegedly got mysteriously joined like Siamese twins after a sexual romp in a hotel in the community.
Right now, the question on the lips of many in the town in Ifelodun Local Government is 'did it happen?' But on the contrary, some people are insisting: 'No it didn't happen?' The controversy over the incident is so intense. It is so thick and so visible with many describing the incident as very shameful act – a very rare thing to happen in the community.
Daily Sun gathered that the story had its setting at a hotel in the town. The two lovers at the centre of the theatre of absurd were a mother of four and a retired educationist. She and her 'lover man' were said to have paid for a 'quickie' as usual, in their regular love nest.
To have a maximum, unhindered affair, the duo had shed their clothes fully set to perform the act but quit oblivious of what the next minute held for them. Tragedy struck while they were at the peak of the mountain. They allegedly glued together to their own surprise and that of everyone. They made spirited efforts to free themselves, but everything came to naught.
A taxi driver Mr.Ola Iyanda and a petty trader, Mrs Arike Esan who insisted on authenticity of the story told Daily Sun that the duo struggle to separate themselves all through the night to no avail. Then they raised the alarm when it became obvious to them that the worse had happened. The owner of the hotel and close associates of the 'big man' were contacted for intervention. But no one succeeded.
Iyanda said: 'Many people are privy to everything that happened. The man was a prominent person at Ikirun. He loves to use his richness and connections to cheat others. He has been having illicit affairs with many women. The married woman has four children for her husband but it was her amorous life that made her to divorce her husband at the Customary Court last May.
'Her husband was embittered but made no trouble when the divorce came. He knew the man at the centre of it all. He had warned him several times earlier to leave his wife for him but the man did not care a hoot. We thought the husband of the woman had forgotten about the woman until news filtered that the lovers had glued together,' he narrated.
Another witness who did not want his name in print said: 'The lovers were taken to the Oba's palace on Thursday morning. A small commercial bus 'korope' was used to convey them. They were wrapped with the hotel's bed sheet and ankara cloth. It was the man who insisted that they should be taken there under cover because he is a community leader and a close pal of Akirun.'
Like a wild fire, the news of the incident spread all over the town and beyond. Daily Sun further gathered that the incident happened on an Alamisi market; soon, a crowd built up. They were eager to see the spectacle.
'I was there when the husband of the woman was called' a man who identified himself as Esan insisted. 'But he refused to come, saying that he was in a far away land. Police had hectic time controlling the crowd and in the evening, canisters of tear gas were fired to disperse them.'
Speaking with Daily Sun at his palace on Saturday, the town's monarch, Oba Rauf Olayiwola Adedeji II confirmed that he invited police to assist in dispersing an unduly restive crowd, but insisted that no there was no conjoined lovers brought to his palace.
He said: 'Nothing of such happened here. I travelled out of town but returned on Thursday evening to meet the crowd. At the end of day, my findings were that there was couple glued together. It was all a rumour, a blatant lie. Whoever says it happened should tell you the identities of those involved.
'At my age and with my position as a king, I cannot tell lies. I can't cover evil. Such never happened in Ikirun. People should stop tarnishing the good name of Ikirun,' he warned.
Another monarch, Onirun of Oke-Irun, Oba Adetoyi Adetuluese Olokose (II) also denied that nothing of such happened. The Onirun was being it was alleged, was present when desperate attempts being made on Friday afternoon to separate the lovers by traditionalists in Ikirun failed.
The owner of the hotel (name withheld), where the incident allegedly happened, also denied knowledge of the incident.
He said: 'Like every other person, I heard the rumour. It's wicked for anybody to link such to my hotel. I have been operating for over 15 years and no such thing has ever happened here. It's true that sometimes lovers come here to do 'short time.' On Thursday police came here to investigate the rumour. They checked around and found nothing against us,' he disclosed.
The state's Commissioner of Police, Solomon Olusegun after calling the Divisional Police Officer at Ikirun also denied that no lovers were glued together in Ikirun or its suburbs.
'It's sad that people here thrive on rumour. You just spoke with my man at Ikirun and he told you that nothing like that happened. Police had to disperse the crowd for the safety of lives and property in the town. We have nothing to cover. However, that may have served as a good lesson to fornicators and other evil doers in the town.'
To corroborate the monarch of the town and the police, some residents spoken to, such as Mr. Najeem Olawuyi, Chief Gbadebo Adeyemi, Miss Mufuli Sodiq among others maintained that no lovers were brought to the palace. 'Who has time to place charms on his wife nowadays? It existed in the past when men place charms on their wives to protect them and then punish fornicators. However, today some women are so stupid and cheap through their wayward behaviour. Government nowadays is even worsening things by promoting the usage of condom,' Adeyemi, the Are Ikolaba of Ikirun declared.
However, more residents insisted that the incident happened stating strongly that the monarch, police, hotelier and others were simply being economical with the truth.
'It's one of the community heads that was involved in that shameful act. Those saying it didn't happen should tell us what really happened. People did not gather at the palace a day before or a day after. They should stop covering up evil. I saw the lovers with my own eyes joined together. It served them right; it's a lesson to fornicators,' a commercial bus driver declared.
Daily Sun gathered that the lovers were separated on Friday at Oke-Irun near Igbajo town. They are now receiving medical and spiritual help at an undisclosed hospital. The incident is now being used in mosques, churches and other places to admonish people not to misuse their positions and to desist from evil practices.