HOW JOURNALISTS CAN MAXIMISE FOI ACT BENEFITS -OKPARADIKE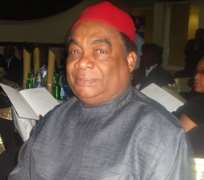 • Chief Okparadike
Veteran journalist Chief Innocent Oparadike, says time has come for journalists to rise and take fuller advantage of the 2011 Freedom of Information (FoI) Act.
He believes that the act recently signed into law by President Goodluck Jonathan on May 28, 2011, offers Nigerians especially journalists a broader window of opportunity to practise unfettered journalism.
The struggle to have a law guaranteeing freedom of information it would be recalled, was sustained for 11 years by activists and some civil society organisations in the country before it was finally passed and signed into law. Earlier in 2007, it would further be recalled, both chambers of the national legislature passed the FoI bill and forward it to Chief Olusegun Obasanjo for his assent. But the then president vetoed it.
However, promoters of the act remained undaunted, believing that someday, their struggle would be rewarded. And indeed, they were rewarded when President Jonathan finally gave his accent to it about five months ago.
According to public commentators, part of the provision of the act among other things, 'makes public records and information more freely available, provide for public access to public records and information, protect public records and information to the extent consistent with the public interest and the protection of personal privacy, protect serving public officers from adverse consequences for disclosing certain kinds of official information without authorisation and establish procedures for the achievement of those purposes.'
Many Nigerians strongly believe that now freedom of information is a legal instrument, it will aid the long drawn but feeble fight against corruption in the country.
Chief Okparadike a former editor of the Kaduna based new Nigerian Newspaper who later became the general manager of Daily Times Plc believes the act is capable of fighting corruption and checking excesses in the conduct of government affairs. He told Daily Sun that, 'what most Nigerians believe is that the Freedom of Information Act which was recently signed into law is there to benefit journalists only. This is wrong. The act is there for every Nigerian. It empowers every Nigerian to work into any government department or agency and ask for records. It means that unlike before, Nigerians can now walk into offices and demand to be shown how government business has been or is being conducted over time. The act makes access to government information a right to every Nigerian.
'Like every other Nigerian, I believe that the act will add real value to our system. What it means now is that those who are conducting government business will be a lot more careful. They now know that the books of government departments and agencies can be demanded for and verified any time by interested Nigerians. To that extent, the act will help to check corruption and other forms of unfair dealings.'
Chief Okparadike says journalists in the country have a big role to play in ensuring that Nigerians begin to maximise the benefits of the act. According to him, apart from providing more awareness on the act, they need to play pivotal role in making sure that more and more Nigerians begin to utilise the act. What that means is that since the job of journalists involves a lot of investigation and cross checking of facts, they should take the lead by approaching governmental agencies and organisations for information they need to so their work.
However, he is of the opinion that since the act is just new in the country, there is great need for the journalists and their employees to embark on massive training to be able to navigate the likely bumps that would be erected by unscrupulous Nigerians in public places.
'Journalists in the country can show the way by ensuring that the benefit of the Freedom of Information Act is full realised. Their jobs involve a lot of investigations and cross checking of facts. Nigerians will be taking a cue from them once they start besieging government offices in search of facts they need in various government agencies and departments.
'But I believe that since the act is still new in the country, they need a lot of training to be able to take fuller benefit of the advantage it offers. To this end, they need a lot of training on how to go about this new role. Expectedly, there will be very many people in government offices that will not be willing to give out information about their departments. Such people will be putting obstacles in the way. Therefore our journalist need training to be able to tackle such persons in order to get what they want.
'It is for this reason that I would urge all the media houses in the country to embark on massive training of their workers for them to be in tune with the provisions of the act. Their managers need to invite exerts to show them how they can go about extracting information from government departments without offending the rules. They need to be trained on how to be professional about this, how to do it employing the best practice. That is why I insist that training is of utmost importance at this point tin time.'
Chief Okparadike recalled that Freedom of Information was non existent in his active days in the industry and therefore urged the present crop of journalists in the country to key into the provisions of the act in order to continue to give journalism its time hallowed dynamism.
He hinted that although he had not been in active practice in the recent past, but he was returning to the industry more fully to turn around one of the ailing national newspapers in the country.
'It is true that I have not been in main stream journalism for a while, but now I'm around. I will be working as a consultant. We are working to turn around the fortunes of one of the biggest brands in the industry. It is my pleasure to be part of this development. We will be contributing our quota toward ensuring that the industry remains as vibrant as ever' he assured.