Netflix Plummets On Weak Outlook, Downgrades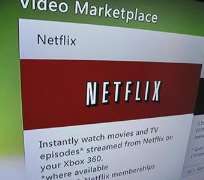 Shares of one-time Wall Street darling Netflix Inc plunged 34 percent in heavy trading on Tuesday, a day after the battered movie rental company warned of more subscriber defections and mounting costs.
On Monday, Netflix said it would see more cancellations as it grapples with the fallout from a price increase and other unpopular moves, including a failed attempt to split its online and DVD services into two separate companies.
"We believe the (Netflix) model is unsustainable, as the company faces rising costs that it hoped it could pass onto its (subscribers), who appear unwilling to do so," Janney Capital Markets said in a note to clients. The brokerage cut its rating on the stock to "sell."
Netflix shares fell 34 percent to $77.93 in morning trading on Nasdaq, 73 percent lower than their high of just under $300 in July.
The downward spiral for the shares started in July when the company that shook up Hollywood with its DVD-by-mail service announced a price increase for subscribers who wanted both DVDs and online streaming of movies and television shows. Since then, its market value has shrunk by about $9.76 billion.
More than 20 million shares had already changed hands in Netflix by 10:35 a.m. Eastern time, putting it on track for its heaviest day of trading in history.
Netflix -- which is trying to recover from the roughest patch in its nearly 15-year history as it moves to emphasize online streaming of television and movies -- forecast a loss for the first quarter of 2012 as it spends more to expand into Europe.
"Expansion into the U.K. and Ireland - a positive longer-term - comes at the same time domestic growth is slowing and content costs are building," said J.P. Morgan Securities, which expects a combination of these factors to significantly pressure 2012 profitability.
JP Morgan downgraded the stock to "neutral" from "overweight," and slashed its price target to $67 from $205. Citigroup downgraded the stock to "neutral."
Netflix told investors on Monday that DVD subscriptions would "decline sharply this quarter" but total U.S. subscribers, which includes customers who pay for its online streaming service, would be "slightly up."
Coming into the session options traders had been expecting positive news. In the 10 trading sessions heading into Netflix earnings beginning with October 11, investors bought 1.24 call options - an option to buy the stock by a given date at a specific price - for every put option on major U.S. options exchanges, according to Joe Bell, senior equity analyst at Schaeffer's Investment Research.
"People were betting on a better report than what was released," Bell said.
Schaeffer's total put-to-call open interest ratio (SOIR) based on the front three months of Netflix options stood at 0.99 as of Monday. That's lower than 90 percent of the readings over the past year, which shows more calls added than puts in recent months, suggesting expectations for gains in the stock in coming months.
Wedbush analyst Michael Pachter said the company's cost of subscription expense -- the amount Netflix pays for its content partnerships -- outpaced its revenue growth in the third quarter and is expected to continue to be grow at a higher pace "for the foreseeable future."
Netflix has long enjoyed a near-monopoly in the online streaming space but the recent entry of new players Amazon.com Inc and Google Inc's Youtube could lead to subscribers switching to alternative services.
REUTERS