What Libyans Would Miss About Gaddafi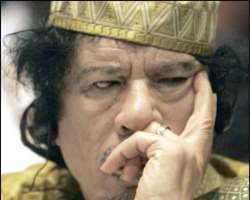 The 42-year-old dictatorial reign of Libyan leader, Col Muammar Gaddafi came to a sad end on Thursday October 20, following his brutal killing. Libya has been engulfed in socio-political revolution since February 15 when a rebel group, the National Transitional Council (NTC) borrowed a leaf from the North African nations of Tunisia and Egypt and insisted that Gaddafi had ruled the country long enough to quit. But, like all tyrants, Gaddafi swore to die fighting than to give up power. So, what started like a gentle revolution to force him out of power later turned violent with Gaddafi's men launching the first air strike in April.
However, with countries like America, Britain and France backing the NTC to oust Gaddafi, it was only evident that his days were numbered. And so on August 21, Tripoli fell into the hands of the rebels. And Libya that was once peaceful became a war theatre where hundreds of people, mostly blacks were killed and property worth millions destroyed.
With the exit of Gaddafi, the big poser is: 'What would the Libyans miss about the man who ruled them with so much iron hand for 42 years?'
Alhjai Yerima Shettima - Gaddafi's death is the beginning of trouble for Libyans
For the President of Arewa Youth Consultative Forum, (AYCF) Alhjai Yerima Shettima, the death of Gaddafi is the beginning of trouble for the Libyans. He likened what would follow Gaddafi's death to what happened in Iraq after the fall of Saddam Hussein, where suicide bombing became the order of the day.
He accused the western power of deceiving the people of Libya into fighting their leader who had done so much to bring meaningful development to their country.
'The western world refused to tell them the truth. They were not happy with Gaddafi because of the way he was trying to encourage the African Union to do things without relying on western powers. Those who fought him were not Libyans. They were foreigners who disguised as Libyans,' he stated.
He said Libyans would soon realize that they have lost their leader. He said they would no longer enjoy what they have been enjoying because the western world would soon begin to exploit them and take their oil.
Still lamenting that the Libyans had been deceived, he said: 'If leaders in Nigeria could do half of what Gaddafi did for the Libyans, Nigerians would not be complaining as they are doing today. Gaddafi made life meaningful for his people. An average Libyan was very comfortable. The western world has deceived them and they would soon realize that. It would equally take them about 15 years to rebuild Libya.'
Clement Oronsaye (Libyan returnee) - Libyans'll begin to suffer
Clement Oransanye lived in Libya and worked for Mohammed Gaddafi, Col Muammar Gaddafi's first son for close to 16 years. Following the death of Col Gaddafi, on Thursday, Sunday Sun approached him as a person who had lived in Libya and experienced Gaddafi's rule for his views on what he thinks Libyans would miss about Gaddafi.
And he said: 'With Gaddafi's death, I know the Islamic world will be cold just like when Saddam Hussein of Iraq died. Both men were heroes in Islamic world.
The city of Libya can never get a man like Gaddafi again. He was a hero; he was a revolutionary leader in the whole Arab world. With what has happened now, it will take Libyan economy some years to stabilize, because as far as I know and as far as Libyans know, Gaddafi disgraced poverty in Libya. He made home for the homeless and assisted not only the Libyan citizens but also homeless people from Morocco, Algeria and other gulf countries; he opened the door for them to come into Libya. Even the people who claimed to be from Benghazi, Bidha are mostly foreigners but Gaddafi allowed them to settle in Libya. He gave them uniform to work as soldiers for him; he gave them position so they could support him to rule Libya. I believe that it would be very difficult for Libyans to have a president like him again.
'As a person that has lived in Libya for some years, I know that with his death, there will be confusion in the town especially for Nigerians. I remember how Nigerians were massacred when there was riot in 2001/2002 in Libya. Most of the 'Asma' boys in Libya have said time and again that the day Gaddafi would go would signal the end of existence of blacks in that country. What I am saying is that people called me on phone on Thursday from Abukamash, Tripoli, Tunis, Sahba, Gatrum and told me that blacks were running into Gadamisa because Gaddafi is dead. Nigerians in Zuwara are running to Tunis now because Gaddafi is dead. Libyans hate Nigerians living in their country; it's Gaddafi that has been protecting them.
'Libyans will miss their source of living because Gaddafi made living easy for them. For example, the 'Shepans' which means old people are not allowed to work by Gaddafi. He gave them $1000 every month to take care of their families and they have their ticket with which they go to the store house to take food, drinks and whatever they need. And every year, he changes their cars for them; these are people aged 60 years and above.
'And for the young boys, as soon as they graduate from the university, he gives them the best cars; he gives them $40, 000 each to get married and provides them houses to live in; what government anywhere in the world can do that?
'During the Ramadan period, every mosque is entitled to two cows per week throughout the fasting period. Whether you are a Muslim or not, once you get to the mosque during Ramadan, Gaddafi would order them to give everybody $1, 500 for fasting.
He goes to China, Italy to buy things, bring them home and subsidizes the price so that the common man can afford them. In Libya, there is no difference between the poor and the rich; everybody is equal.
'Nigerians in Libya should try as much as possible to leave that territory immediately, even if it takes the last drop of their blood, because they are no longer safe with the death of Gaddafi. There is no hope for Nigerians living in Libya any longer.
'As for the Libyan, they will begin to suffer because it can never be the same for them again. Between now and 20 years to come, things will never be the same again for them. They should brace up for hard times with the exit of Gaddafi.'
Fredrick Faseun - Gaddafi was a Pan Africanist; who says Libyans won't miss him?
The founder and leader of O'dua Peoples' Congress (OPC), Fredrick Faseun saw Gaddafi's demise as a big loss not only to Libyans but also to the entire African continent.
Speaking to Sunday Sun in a telephone chat, he said: 'Gaddafi was a true African, a Pan Africanist. He exerted so much energy to promote Africa. He originated African Union (AU) when the moribund Organization of African Unity (OAU) was tottering. He is somebody all African will miss. Libyans will surely miss him. They are still under the influence of the western world. They don't know that Gaddafi was a hero they should worship.
'Libya is a desert; Gaddafi created artificial water from the Mediterranean Sea to provide water for Libyans. They have forgotten about that. Libya is at war and a litre of petrol still sells at N19 but over here Nigeria is thrown into crisis because of removal of fuel subsidy. When that is done, the price per litre of petrol in an OPEC nation (Nigeria) will be N120; that will be six times more than what it is in Libya in war time. Who says Libyans will not miss Gaddafi? They have been listening too much to America.'
Dr Yinka Odumakin - Gaddafi was a benevolent dictator
Commenting on Libya without Gaddafi, the spokesperson to Gen Muhammed Buhari, Dr Yinka Odumakin said: 'Gaddafi, no doubt, was a benevolent dictator who provided massive infrastructure for Libyans with their wealth unlike dictators in other African countries. But I don't think any man should rule for that long no matter how good he may be.'
He said the Western world that supported the NTC to oust Gaddafi did not do so for the good of Libyans but for their own interest. The lesson to be learnt by those who want to hold on to power, according to Odumakin, is that surely, there will be an end someday.