GIVE ME NFF'S NATIONS CUP MONEY, GET 2 OLYMPIC GOLD MEDALS - EJIOGU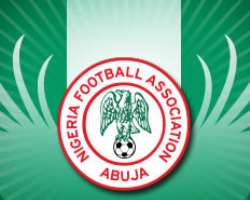 The President of Nigeria Weightlifting Federation (NWF), Mazi Chimdi Ejiogu, has challenged the National Sports Commission (NSC) to release the over N500 million that would have been spent on the Super Eagles during next year's Nations Cup, where Eagles would have fumbled to his Federation and that he was guaranteeing the country at least two gold medals at the London 2012 Olympics.
The weightlifting boss, explained that the lifters, who are just back from South Africa, would do the country proud in London if they were well motivated.
He says if the NSC should channel the over N500 million that would have been spent in the prosecution of the Nations Cup that would be co-hosted by Equatorial Guinea and Gabon to his Federation, that he would reposition the camp of the lifters in Owerri with modern equipment and as well as employ the services of dieticians, who would place the lifters on good food that would place them in a better position to do well at the London Games.
Speaking further, Ejiogu explained that his athletes are doing the country proud with little or no motivation even as he challenged the NSC to try his Federation and athletes by making money available to them. Mazi Ejiogu recalled the achievement of the Nigerian lifters at the last Commonwealth Games in New Delhi, India, saying given the right funding, Nigerian weightlifters have the capacity to put smiles on the faces of Nigerians.
Ejiogu added that if the organisers of the last All Africa Games in Maputo, Mozambique had not excluded weightlifting from among the sports that were competed for, Nigeria would have won the Games as he declared that Nigerian weightlifters would have carted home more than 80 per cent of medals at stake, saying that his athletes would have inspired the country's victory at the Games.
Meanwhile, good outing, that is what the nation's weightlifters had at the just-concluded London 2012 Olympic qualifiers in Cape Town, South Africa. The weightlifters, who breezed into the country early this week won a total of 20 gold, 3 silver and 5 bronze medals to rule Africa, even as they finished second at the commonwealth level.
Some of the athletes that did the country proud include Nkechi Opara, who won gold in the 48 kg category, Augustina Nwokolo (gold), and Razaq Tanimowo (gold) 56 kg.