POOR FUNDING HOLDS DOWN REFINERIES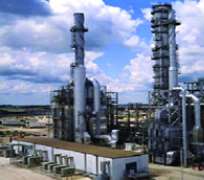 The nation's desire to meet her petroleum products needs may remain a wishful thinking for a long time due to avoidable dwindling fortunes of its refineries, in Port Harcourt, Warri and Kaduna.
Checks by Saturday Sun at the Port Harcourt, Kaduna and Warri refineries, revealed that official talks of improved services are more on paper than in reality.
Although officials of the refineries would not be drawn into confessing the obvious, sources hinted of diminishing productivity induced by grossly inadequate funding and the consequent poor maintenance of available facilities.
At the Port Harcourt Refining Company, officials of the Public Affairs Department bluntly refused to speak on the state of the establishment and referred Saturday Sun to the Nigerian National Petroleum Corporation (NNPC) group manager in-charge of public affairs, Dr. Levi Ajuonuma, for comments and necessary statistics.
However, unofficial sources alleged neglect of some basic needs essential for increased productivity. It was gathered that past official recommendations on how to shore up the capacity of the outfit had either been partially implemented or ignored.
'The result is that we are far below where we ought to be,' said a source in one of the Port Harcourt refineries.
Another source enthused that the refining companies in the country may have been deliberately held down to justify the controversial plan to remove fuel subsidy next year.
At the Warri Refining and Petro-chemical Company (WRPC), operations have nose-dived due to malfunctioning of some vital facilities.
Investigation revealed that the refinery that used to be the envy of others in the country has become a shadow of itself due to half-hearted attempts to remedy the situation.
It was gathered that worse hit is the catalyst fluid system, regarded as the nerve center of the production department, which has since given way.
Lamenting the 'pathetic' state of structures at the company, an official, who would not want his name in point, told Saturday Sun that sharp practices, erratic power supply and worrisome loading system have not helped the refinery.
'In fact, the refinery has been in the doldrums because no serious effort has been effected to revive the failing parts,' the source said.
In Kaduna, the Kaduna Refinery & Petrochemical Company (KRPC) is currently producing fuel at 60 per cent capacity, which translates to 1.4 million litres per day.
This was disclosed to Saturday Sun by the Manager, Public Affairs Department of the KRPC, Abdullahi Idris.
Idris added that the fuel so produced was being supplied to all the northern states through, 'our sister company, PPMC,.' He pointed out that the KRPC was producing at full capacity until early 1990s.
He said with the present workforce of 1478, the company's production capacity at the moment stands at 60 per cent.