SPORTS DEVELOPMENT: PLIGHT OF FEMALE PARTICIPANTS AND NEED FOR EQUITABLE REWARD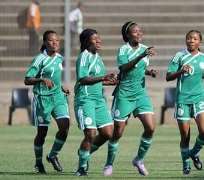 It is most disturbing to note that Super Falcons of Nigeria that have won every edition but one of the African women Championship (AWC) titles, still has not been given a matching reward for performance. It was heart warming when the Super Eagles won the Nations Cup in 1994 a national holiday was declared, houses and cars were freely given to players and officials. In Tunisia again in 2004, the Eagles bronze became "golden". Yet the Falcons are perennial African Women Champions (AWC), there has been no corresponding reward. We are not even sure if the pledge made by Mr. President after the last win was fulfilled. This can negatively affects development of female football if not readdressed. Meanwhile our Super Eagles could not even qualify for the January 2012 nation's cup in Equatorial Guinea and Gabon which will be co-hosting the biennial soccer fiesta.
Sports is expected to be beneficial to all, and at every levels. Awesome is its generic essence aimed at improving health and self-confidence and to bringing honour and pride to one's fatherland. It is also a way of learning how to show solidarity and how to excel oneself, especially for those who build career out of it. As sports becomes increasingly part of humanitarian and development work, as well as a part of the corporate social responsibility practices of some private sector actors, interested parties should be anxious to explore the potential, as well as the limitations, of sports in their work. For these very different actors to understand each other better, it becomes necessary to develop common definitions and frameworks for action in order to improve practice. But the harsh reality is that in Nigeria a lot of factors are militating against these lofty objectives. Of course, there's always the possibility that some people just don't think women belong in the world of football association, whether it's males or females on the pitch. But that's another debate entirely.
Sadly it seems that women suffer frequent discrimination in their access to, and practice of, both amateur and professional sports. This discrimination manifests itself in the persistence of stereotyping, the lack of a back-up and support structure for sportswomen and for girls who show potential in their sports, the difficulty of reconciling work/sport and family life, the problem of reintegrating into the world of work, inadequate media coverage of women's sports and the limited nature of private funding. Government and other stakeholders in sports should actively involved in the vanguard of encouraging women and girls to take part in sports from their school days onwards and all their lives, promote gender mainstreaming in public policy concerning sports, support women's sport and women's participation in top-level sport, favour women playing a greater part in sport's ruling bodies and encourage better media coverage of women's sport to garner optimum yields.
Although in recent times some concerned parliamentarians who share people oriented ideas are poised with the zeal to turn things around for our women such that due recognition and compensation can be granted them with respect to their superlative performance at the local and international scenes. One of the parliamentarians is Hon. Joseph Akinlaja representing Ondo East/West federal constituency, he is also the deputy chairman house committee on Women Affairs and members of other key committees in the House of Representatives. According to this reputable icon who doubles as deputy national chairman of Labour party in Nigeria, at a public presentation recently in Lagos, affirmed that Parliamentary Assembly should engage relevant authorities in the Sports circle to instruct the competent intergovernmental committee to make an in-depth study of national sports policies and their impact on women's and girls' participation in sports activities and work out a "Nigerian Strategy for Women and Sports", which according to him includes:
A. Physical education should be accorded more importance in school curricula and women and girls should be encouraged to take part in sports from their schooldays onwards, while respecting the principle of co-education.
B. Responsible officials in the departments of sports, education and health should be mandated in awareness-raising and information campaigns on the necessity of practising sports, in particular for women of all ages, including handicapped women;
C. Gender should be taken into consideration in the definition of public action to promote sports (gender mainstreaming) and in the allocation of funds intended for sports activities (gender budgeting).
D. Purposeful action should be taken to promote women's sports, particularly in respect of highly popular sports.
E. There should be support for women's participation in top-level sports;
F. Equal treatment and compensation for women and men in terms of pay, prize-money and bonuses derived from professional sports.
G. Women should be accorded with the rights to play greater part in sport's ruling bodies in Nigeria.
H. Also gender-specific statistics should be collated relating to the granting of funds and the practice of sports, enabling the impact on women and men of sports promotion policies to be gauged.
I. There should also be increased media coverage of the sports played by women and athlete representation more in conformity with the spirit of sports.
On an encouraging note women are increasingly taking their destiny in their hands, getting recognised due to their energetic efforts to organise, articulate their concerns and make their voices heard. At both grassroots and national levels, more women associations have been formed. They have taken advantage of the political openings to assert their leadership and developmental roles. They are also pressing for an expansion of women's economic and social opportunities, and the advancement of women's rights. By improving their own positions, they are simultaneously strengthening society as a whole, as well as enhancing the nation's broader development prospects. In this new order for the rejuvenation of women participation and due compensation in sports, Mrs Barong Tony-Uranta, wife of Tony Ipriye Uranta (a key stakeholder in Federal Government's Technical Committee on Niger Delta) has taken a visionary and purposeful drive by floating Female Football Foundation (FFF), a non-governmental organisation which is keenly devoted to the development of women's football in Nigeria. This broadcast veteran turned sports ambassador is truly lucky as she thankfully has the support of her spouse who gave her the necessary wherewithal for the success of her brainchild in sports development in Nigeria.
While extolling the virtues of the foundation, she emphasised that it is a child of necessity considering the treatment meted out to female footballers in this country, noting that the foundation is out to correct the discriminatory treatment suffered by national team players compared to their men counterparts. She said all efforts aimed at enhancing the welfare of female national players came to nothing as the male dominated board of Nigeria Football Association was not willing to give a listening ear to the up-liftment of the female players. Giving reason for the foundation, she said, "The catalogue of crises and problems in Nigeria Women football in terms of the low remuneration to the girls is an open secret. The less performing male teams get better treatment than the girls. This foundation is to correct all these."
According to Barong Tony-Uranta, FFF goals will be to advocate for, and help boost, the welfare of female footballers in global and national sides, with a view to narrowing the ever widening gap favouring of male national teams. The foundation, she also added will advocate for, encourage, develop, and expand insurance schemes for these female footballers in anticipation of career mishaps and accidental truncation of their playing careers; to advocate for, develop and help ensure the implementation of post-career empowerment programmes for these female footballers before their earning power as athlete ends. She also added that the foundation would advocate specifically for, and help establish, educational development and business development programmes for these hitherto neglected heroines.
To her credit once more, Barong Tony-Uranta convened a ''Walk'' in Lagos state sometime in June 2011, with the assistance of Bola Jegede, a former member of the board of the Nigeria Football Federation (NFF). The foundation succeeded in drawing the attention of the public and government to what they believe is the second class treatment meted to the Falcons despite their achievements. Female footballers, who turned out in their hundreds and celebrities, included Mr Tony Ipriye Uranta, Jimi Agbaje, a former governorship candidate in Lagos State, Patrick Doyle and Agatha Amatha, television personalities, the group, which also had among them, Jarret Tenebe, and Harrison Jalla, president of the National Association of Nigerian Footballers, marched to the office of the governor of Lagos State, Babatunde Fashola, and the legislative arm of Lagos State government.
Besides another stakeholder in Sports broadcasting Mr Rotimi Pedro, the CEO of Optima Sports Management International, also cleared the air on the gray areas concerning this gender imbalance in sports using the Super Falcons and Falconets as key examples. In an ecclesiastical tone through a television interview in Lagos, Mr pedro canvassed for attractive and equitable reward formula for our women in Sports, and that there is need for government to do more in sports development which to him can fast-track development to a large extent.
Our government should realize that where a gender balance is encouraged in sports activities it would foster development for growth for the nation. Sports should be a way of bringing boys and girls together socially, teaching them to base the lives they share on common rules centred on respect for one another and on fair play. Involvement in sports therefore has to be regarded as a preventive factor against risky behaviour (such as drug abuse), as an integrating factor and as an opportunity to promote gender balance, particularly at school, where physical education lessons must continue to be opened to all and to offer activities for boys and girls together. Awareness-raising action should be targeted at families, to ensure that girls take part in sports, wherever they come from. It is also very important to underline the necessity of providing free access to sports activities and facilities, in particular in poor neighbourhoods. At the same time, it is important to underline that all measures must be taken to fight against the unacceptable downhill. A comprehensive approach must be taken by governments in conjunction with development agencies and women themselves to remove the social, economic and legal bottlenecks on women. Productive and meaningful actions are also needed for implementing common position for the advancement of women in sports and regarding everything that affects them. National action plans must be designed in broad consultation with women's groups to complement regional and national initiatives. God bless Nigeria.
*Emmanuel Ajibulu is media aide to Hon. Joseph Akinlaja, a member of the House of Reps (Ondo East/West) and Deputy National Chairman of Labour Party, Nigeria. [email protected]
Disclaimer:

"The views/contents expressed in this article are the sole responsibility of

thewillnigeria.com

and do not necessarily reflect those of The Nigerian Voice. The Nigerian Voice will not be responsible or liable for any inaccurate or incorrect statements contained in this article."
Articles by thewillnigeria.com