Buhari, Bakare In Court As Election Tribunal Defers Judgement Day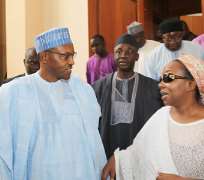 ABUJA, October 20, (THEWILL) – On a day the Presidential Election Tribunal deferred its ruling in the petition filed by the Congress for Progressive Change (CPC), challenging the victory of President Goodluck Ebele Jonathan in the April 16, 2011 Presidential election, the Presidential Candidate of the CPC, General Muhammadu Buhari and his running mate, Pastor Tunde Bakare were in court for the first time since the Tribunal opened.
Recall that the CPC had petitioned the Tribunal sitting in Abuja seeking to invalidate the victory of President Jonathan.
Chairman of the tribunal, Justice Kumai Akaahs in his address to the counsels at today's session, said, "Judgment would be delivered on a date to be communicated to counsel." Justice Akaahs expressed the Tribunal's appreciation to the lawyers representing all the parties in the suit and cautioned journalists on their reporting.
The Tribunal also pardoned CPC's Spokesman, Mr. Rotimi Fashakin who was alleged to have issued a contemptuous statement that maligned the integrity of the tribunal members.
However, before he was pardoned, Fashakin, through his lawyer, Mr. Femi Falana, had apologized to the judges for his offensive outburst.
Also in court were leaders of the CPC including its national chairman, Prince Tony Momoh.
Recall that Buhari had earlier been quoted to have said he would not bother challenging the victory of Jonathan in court, so journalists were a bit surprised to see him at Thursday's sitting.
But when accosted by reporters he said, "I have never distanced myself from the CPC petition. I am part of the party and subscribed to the petition. I have confidence in the judiciary. I have never said I don't have confidence in the judiciary.'
Also speaking to journalists, the Acting National Publicity Secretary of PDP, Dr. Musa Babayo said he was pleased with the proceedings at the tribunal "except that the opponent over dramatized the situation. Quite a number of times our opponent has over dramatized the situation in an attempt to achieve a predetermined political objective.
"The Presiding Justice reminded everybody in court that we do not have any other country except Nigeria. If you destroy our institutions, you are invariably destroying our country," he said the judges told the audience.
Going by the provision of the 2010 Electoral Act, the Tribunal has 6 months to hear the petition and deliver its ruling. It is expected that it would deliver its ruling this month or very early in November.