Baba Suwe Sues NDLEA For N1B Over Detention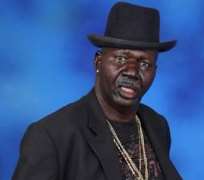 SAN FRANCISCO, October 19, (THEWILL) – Detained popular Nollywood actor/comedian, Babatunde Omidina, 53, whose screen name is Baba Suwe is set to sue the National Drug Law Enforcement Agency (NDLEA), which arrested him more than a week ago for allegedly trying to export hard drugs.
Recall Baba Suwe was detained at the Murtala Muhammed International Airport last Wednesday night after airport HD scanning machines detected what the NDLEA said were images of wraps of drugs inside his stomach.
The actor's lawyer, Mohammed Bashir told state owned News Agency of Nigeria (NAN) in a phone interview that a suit seeking N1 billion naira as damages from the drug enforcement agency would be filed at a Federal High Court between today and Monday.
"We will be filing the suit before a Federal High Court in Lagos and we will be asking for N1 billion as compensation for damages suffered by him due to his illegal arrest and detention, as well as the embarrassment and defamation done to his reputation as a result of the incident," Bashir told the news agency.
Bashir said the agency has frustrated efforts to reach his client.
The NDLEA insists it needs more time to prove its suspicion that Baba Suwe indeed has hard drugs in his stomach.
Reports say so far there have been no traces of any hard substances in his stool even though he has relieved himself twice since his detention.
Baba Suwe until his arrest was one of Nollywood's most popular actors often playing comic roles either as a butler or a gateman.
The NDLEA has come under pressure to either prove its suspicion or release the actor. If the NDLEA does not find traces of drugs in the actor, the agency may have not only Baba Suwe's lawsuit to worry about but also its credibility and image which would have been dealt a huge and devastating blow.