House Of Reps Approves Life Imprisonment For Kidnappers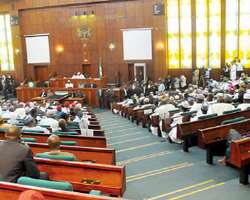 ABUJA, October 19, (THEWILL) - Hard times awaits kidnappers in the country as the House of Representatives Wednesday approve life imprisonment sentence for perpetrators of the crime by pushing an anti-kidnapping bill through the crucial second reading.
The House unanimously voted for the passage of the bill following favourable contributions on the document. Before its passage, a member of the House, Hon. Rotimi Makinde (ACN, Ekiti) narrated his harrowing experience in the hands of kidnappers. He told his colleagues that he was held hostage for five days and during those five days, it was hell on earth.
He submitted that from his experience with kidnappers, no amount of punishment will be too big for perpetrators of the crime. According to the lawmaker, what victims go through in the hands of kidnappers is inexplicable and cannot be quantified with whatever punishment that is meted out to the perpetrators.
All the lawmakers that spoke were in support of the bill and condemned the act of kidnapping, commending sponsors of the bill saying, it was long overdue in view of the worsening security challenge across the length and breadth of the country.
The legislation titled a "bill for an act to prohibit kidnapping, hostage taking, prescribe punishment for its contravention and other related matters relating thereto", is being sponsored by Hon. Friday Itulah (PDP, Edo), Hon. Samson Osagie (ACN, Edo) and Hon. Dickson Henry Seriake (PDP, Bayelsa). With the passage of second reading, it will now be rechristened kidnapping and hostage taking (prohibition) bill, 2011.
With the passage of the bill, sections 364 and 365 of the Criminal Code, Cap C38 of the Laws of the Federation 2004 have been repealed accordingly.
Section 1 (1) of the bill states that, "As from the commencement of this act, any person who seizes, confines, entices, decoys, abducts, conceals, kidnaps or carries away another person by any means whatsoever with intent to hold or detain, or who holds or detains, that person for ransom, reward or to commit extortion or to exact from another person any money or valuable thing, or any person who aids or abets any such act, commits an offence and is liable on conviction to life imprisonment."
Section 2 states that, "Any person who seizes or detains and threatens to kill, to injure, or to continue to detain another person in order to compel a third person or a governmental organization to do or abstain from doing any act as an explicit or implicit condition for the release of the person detained, or attempts or conspires to do so, commits an offence and is liable on conviction to life imprisonment."
Section 3 states that, "Any person who receives, possesses, or disposes of any money or other property, or any portion thereof, which has at any time been delivered as ransom or reward in connection with an offence under this act, knowing the same to be money or property which has been at any time delivered as such ransom or reward commits an offence and is liable on conviction to imprisonment for a term of not more than five years or a fine not exceeding five hundred thousand naira (N500,000) or to both."
The act does not however apply to any person who steals, takes, entices away, detains, conceals, or harbors any child, if that act is taken to protect the child from danger of imminent harm.