Adamawa: Atiku Says Will Campaign Enthusiastically For Nyako's Re-Election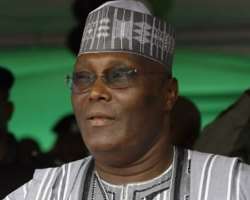 FORMER VICE PRESIDENT ATIKU ABUBAKAR
SAN FRANCISCO, October 19, (THEWILL) – Former Vice President Atiku Abubakar has said he would campaign enthusiastically for the re-election of the present Governor of Adamawa State, Admiral Murtala Nyako in the Adamawa State Governorship election slated for January 2011.
The Adamawa born former Vice President whose relationship with Nyako was strained during the buildup to the last Presidential primary of the Peoples Democratic Party (PDP), where Atiku was defeated by incumbent President, Dr. Goodluck Ebele Jonathan, in a statement in Abuja Wednesday said his announcement followed 'persistent media enquiries.'
"Former Vice President Atiku Abubakar has confirmed that he would enthusiastically work for the re-election campaign bid of Governor Murtala Nyako of Adamawa State in the forthcoming gubernatorial election, slated for January next year.
"The former Vice President noted that he and Nyako are working closely to ensure the success of the PDP in the coming election," Atiku's media office said.
The statement, which comes amid media speculation about the direction Atiku is taking in Adamawa and national politics, re-affirmed his commitment to the success of the PDP at all levels.
According to the former Vice President, the future of the PDP is greater than the perceived rivalries or acrimonies among politicians.
"Our common interest to transform the PDP and re-mould it according to the ideals and objective for which it was formed in 1998 transcends personals interests.
"Until now, the former Vice President has not uttered any word personally about Adamawa politics," the former Vice President stated.
His newfound alliance with Governor Nyako is believed to be a major boost for the Adamawa State PDP chapter, which has been torn apart by divided loyalties to different actors.