Confident Romney On Attack At Republican Debate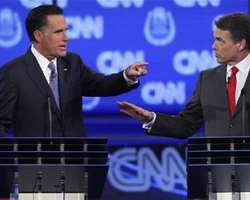 GOP PRESIDENTIAL CANDIDATES FORMER MASSACHUSETTS GOVERNOR MITT ROMNEY (L) AND TEXAS GOVERNOR RICK PERRY DEBATE ILLEGAL IMMIGRATION IN LAS VAGAS NEVADA, 18 OCTOBER 2011
A confident Mitt Romney criticized his Republican rivals and fended off attacks on Tuesday at a feisty debate that could help reinstall him as the party's presidential front-runner.
Romney, the former Massachusetts governor, slugged it out with Texas Governor Rick Perry and overshadowed Herman Cain, his two main challengers for the nomination to take on President Barack Obama in 2012. But Perry showed signs of life after four shaky debates and Cain suffered no knock-out blows.
Seeking to convince skeptical conservatives to get behind him, Romney fought off attacks from Perry, who brought up an old charge that he hired illegal immigrants to cut his lawn.
During a testy exchange, Romney hit back.
"Texas has had a 60 percent increase in illegal immigrants in Texas. If there's someone who has a record as governor with regards to illegal immigration that doesn't stand up to muster, it's you, not me," he said.
Polls show Romney has the best chance of any Republican of defeating Obama, whose approval ratings have dropped as he struggles to revive the economy and cut the U.S. unemployment rate from 9 percent.
But pizza magnate Cain has headed recent polls of Republicans, many of whom think Romney is not conservative enough to deserve the nomination. Cain struggled to explain how middle-income Americans would avoid paying higher taxes under his signature "9-9-9" tax reform plan.
Romney, a far more confident and polished debater than in his 2008 presidential run, put Perry on the defensive over an evangelical pastor with ties to the Texas governor who criticized Mormonism.
"The idea that we should choose people, based on their religion, for public office is what I find to be most troubling," said Romney, a Mormon.
Perry replied that he did not agree with what the preacher had said, but felt he had the right to express his opinion.
IMMIGRATION
Tempers boiled over on the issue of illegal immigration.
The two men pointed fingers and shouted over each other as Perry brought up a story from Romney's 2008 campaign, that he had hired a contractor that employed illegal Latin American workers to work on Romney's lawn. Romney fired the company when he found out about the undocumented workers.
"Mitt, you lose all of your standing, from my perspective, because you hired illegals in your home and you knew about it for a year," said Perry, directly facing his opponent standing next to him.
The bickering spilled over into the after-debate "spin" room where aides to both candidates spoke to reporters.
"Rick Perry is desperate. He is trying to revive a candidacy that has sunk beneath the waves," said Romney senior aide Eric Fehrnstrom.
Perry spokesman Ray Sullivan said of the Texan: "He's passionate about calling folks out every now and then on their record."
CAIN UNDER ATTACK
Cain and his 9-9-9 plan were a central target at the debate, where CNN moderator Anderson Cooper let the candidates fight it out.
"Herman, I love you brother, but let me tell you something. You don't need to have a big analysis to figure this out," said Perry, who showed a more robust performance than in recent debates.
Cain, the former Godfather's Pizza CEO who has shot to the top of Republican opinion polls in the last few weeks, found himself taken seriously by rivals who had previously believed he would simply fade as time wore on.
Cain insisted his plan to reduce personal income and corporate taxes to 9 percent and create a 9 percent national sales tax would not raise taxes on middle-income Americans despite expert analysis that it would.
But instead of specifically explaining how his plan would bring in more revenue than the current tax system and why middle Americans would not pay higher taxes, he simply said his rivals were wrong and that they should read through his plan on his campaign website.
The flaw cited by the candidates in Cain's plan is the 9 percent national sales tax, which would hit all Americans who already pay state sales taxes. A U.S. national sales tax does not exist and Republicans are wary of any effort to craft a European-style value-added tax.
After the debate, Cain said he felt he had come through unscathed because the candidates are having a hard time puncturing his 9-9-9 proposal.
"Their only strategy is to attack me," said Cain.
Romney's rivals again brought up the healthcare plan Romney fathered as governor of Massachusetts that Democrat Obama has said was a model for the 2010 overhaul the White House engineered, which conservatives want to repeal.
The Massachusetts plan is perhaps Romney's biggest Achilles heel in persuading conservatives he is one of them.
REUTERS