News Corp key shareholders mull ditching Murdoch board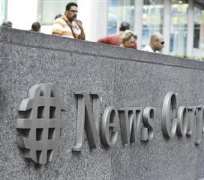 A growing number of News Corp shareholders with voting rights are considering sending a strong message of discontent to Chief Executive Rupert Murdoch by voting against several long-standing board members including his sons James and Lachlan.
In the run up to Friday's annual general meeting, holders of News Corp B stock including normally compliant supporters of Murdoch and his family, are closely examining recommendations by proxy advisory groups ISS and Glass Lewis to vote out as many as 13 of the media conglomerate's current 15 directors.
"Ninety-nine percent of the time we vote with Glass Lewis on these kind of matters," said Donald Yacktman, president and co-chief investment officer of Yacktman Asset Management Co in Austin, Texas referring to the proxy advisory firm.
Glass Lewis specifically recommended their fund clients withhold their votes for six directors including James and Lachlan Murdoch along with other News Corp insiders David Devoe, chief financial officer, and Arthur Siskind, a senior adviser to Murdoch.
While most major shareholders declined to comment publicly on their specific voting strategy, several said privately that the proxy advisory groups' comments would be an important factor in their decision. It follows the high profile and damaging fallout from the phone hacking scandal at News Corp's now defunct UK paper News of the World.
The scandal has rocked the parent of Fox TV, Wall Street Journal and The Sun in the UK, and raised serious questions about the leadership of its News Corp founder Rupert Murdoch, 80. It has also undermined an unspoken succession plan once thought to involve one of his children.
After the furor of the last few months, this year's shareholder meeting is being more carefully stage-managed than in recent years, with a strict and limited number of shareholders only able to attend the meeting at the Zanuck Theater on the Fox Studios lot in Hollywood by using News Corp-provided transportation.
Simon Burge, Chief Investment Officer at Above the Index Asset Management, a top 20 investor in News Corp's Australian shares, said the fund is leaning toward voting against James, Lachlan and Rupert Murdoch.
"We always try to make our own decisions," said Burge referring to proxy advisors. But he added it would be silly to vote against 13 out of 15 directors as recommended by ISS.
"If you vote against them all, you wouldn't have a board. Then you'd really have a governance problem," Burge said.
News Corp declined to comment for this article.
The phone hacking scandal saw the company lose out on its biggest ever deal with BSkyB and nearly 20 former staffers and executives arrested in the UK has given even strong Murdoch supporters pause for thought.
"This is one of those meetings that galvanizes shareholders to have a closer look," said a senior person at one proxy advisory group not permitted to talk about a specific case.
Major pension fund holders and advisory services including Calpers and Calstrs in the United States, Hermes Equity Ownership in the United Kingdom and Australian Council of Superannuation Investors in Australia have come out against the Murdoch-controlled board with similar criticism of poor corporate governance and the need for a board shake-up.
Yet even though the rumbling of dissent is growing it is unlikely to have an immediate impact on the board's membership. Murdoch and his family control 40 percent of the voting stock with the next largest B shareholder being Saudi Prince Al Waleed with 7 percent. The prince has publicly thrown his support behind Murdoch making it even more unlikely that Murdoch or his family could be shifted.
But proxy watchers and shareholders said they'd be paying attention to the percentage of the vote of non-Murdoch affiliated B shareholders. If support for key board members drops significantly below the usual 90 to 99 percent range it could be a damaging signal for Murdoch.
"No one realistically expects any director to be voted off the board at the AGM," said a person at a UK proxy advisory firm. "What will be closely watched is whether a majority of the non-Murdoch vote is cast against key board directors. If that happens it will be an indication of major shareholder unease."
News Corp and Murdoch are sensitive to suggestions of its poor corporate governance and overpaying management. The company hit back against criticism saying it "vehemently disagrees" with ISS proposals. But the company acknowledged the phone hacking scandal could affect the wider business' operations.
In a letter to shareholders last week, News Corp pointed to its strong performance despite the difficult global economy. Revenue rose 2 percent to $33.4 billion in the year ended on June 30, while operating profit increased 23 percent to $4.85 billion.
REUTERS