'60 Percent Of Prostitutes In Italy Are Nigerians'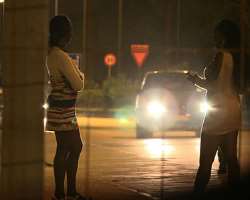 ABUJA, October 18, (THEWILL) - The National Agency for the Prohibition of Traffic in Persons and other related matters (NAPTIP) Tuesday disclosed that sixty percent of the prostitutes in Turin, Italy and Antwerp in Belgium are Nigerian girls.
Executive secretary of NAPTIP, Mrs. Beatrice Jedy-Agba who disclosed this today at an interactive session with the House of Representatives Committee on Diaspora also said over 50,000 girls aged between 9 to 17 years have been trafficked for sexual exploitation from the country.
Mrs. Jedy-Agba explained that the statistics were generated by TAMPEP, an Italian non-governmental orgainsation working on anti trafficking reports, adding that about five of these girls die every quarter under explicable circumstances traced to 'tavern brawls, mafia terrorist groups, extortionist madams, serial killers, location fights, race quarrels, HIV/AIDS and drug abuse.'
She revealed that a recent fact finding mission conducted by the agency confirmed the existence of many brothels in Bamako, Mopti, Kayes, Sikasso, Gao all in Mali populated by young Nigerian girls mostly between the ages of 14 and 17.
According to her, there are large number of Nigerian women regularly taken to other West and Central African countries, primarily Gabon, Cameroon, Ghana, Chad, Benin, Togo, Niger, Burkina Faso and The Gambia for sexual exploitation under the guise of taking them to abroad for employment opportunities.
The executive secretary lamented that there was an increased trafficking activity under the cover of the annual pilgrimage saying 'it appears that the traffickers have devised an insidious plan to desecrate the Holy land of Mecca with trafficked victims.
She noted that 'over 1000 Nigerians were deported from the Kingdom of Saudi Arabia for trafficking related offences. Among the deportees were over three hundred and seventy minors between the ages of six and thirteen."

Speaking on child labour in the country, Jedy-Agba disclosed that UNICEF estimates shows that there are more than three million children engaged in forced labour in Nigeria who work in quarries, plantations, child prostitution and domestic servitude.
She appealed to the House to strengthen anti trafficking laws and domesticate provisions of the smuggling migrants' protocol to enable NAPTIP work more effectively.
Meanwhile, chairman of committee on diaspora, Hon. Abike Dabiri-Erewa has assured that the House would strengthen relevant laws and mount pressure on the executive arm of government to domesticate international immigration policy to enable NAPTIP fight trafficking easily.
The chairman noted that there was need for massive awareness campaign on the dangers of trafficking. 'We will need to do our job as a committee and we have to educate the younger ones about trafficking,' she stated.

Deputy chairman of the committee, Hon. Betty Apiafi suggested that there was need to amend the constitution to make it possible for National Assembly to domesticate laws without recourse to the executive.