LACK OF COOPERATION KILLING AFRICAN CARRIERS- CHINGOSHO, SECRETARY GENERAL/CEO, AFRAA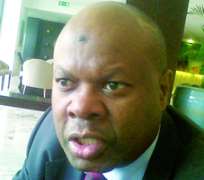 Dr Elijah Chingosho, Secretary General and Chief Executive Officer of African Airlines Association (AFRAA), has one word solution to the myriads of challenges plaguing airlines on the continent - cooperation. Chingosho, a seasoned Zimbabwean aviation expert, said the time has come for African airlines to come together and reap from the synergies of operation.
He wondered why massive European airlines and their counterparts in Asia and the United States (US) of America deemed it necessary to cooperate and have robust codeshare and interlining deals, while African carriers, with predominantly small airlines, are abhorring the partnership option.
He said most of the airlines in Africa are government owned and, as such, each country wants to boast with its airlines, their parlous economic state notwithstanding.
Aside being financially flat footed, the AFRAA chief further said that African airlines need to evolve better business plans that would be in tune with the realities of today's aviation world.
He also called on African presidents and experts to develop greater interest in aviation as it remains the catalyst that will speed up the socio-economic development of the continent. Chingosho, who has been with AFRAA for about nine years, also said African leaders need to implement various air treaties aimed at liberalizing the skies and encourage growth. He said there is need to emulate Europe that  has compressed its aviation business into a single domestic market, such that a lot of restrictions experienced in international air travel are off.
In this interview, the AFRAA chi ef, who was formerly its Technical/Traning director, speaks about his experience in leading the continent's airlines body.
What I met on ground on assumption of duties
There are several issues on ground airline members of AFRAA want to be addressed. We are just coming out of recession and there are issues of funds, maintenance, blacklisting, liberalization among others that need to be sorted out.
How would you assess African airlines holistically?
Well, the first thing about African airlines is that they tend to be very small in size compared with the average size of airlines worldwide. Our carriers are really very small and this impacts on their operation. With that, it means they cannot reap the economies of scale; it means the cost structures tend to be much higher than their competitors, which tend to put them at competitive disadvantage.
However, there are some airlines, which are well managed, and these airlines are able to compete effectively in the world market. I can say quite a number, such as Ethiopian Airlines, Kenyan Airways, South African Airways, Egypt Air, Royal Air Maroc and Arik Air in Nigeria are really coming up. Yes, there are some airlines which are well, even some small airlines like Precision Air are not doing too badly. But those who are doing well tend to be linked or cooperate with others like Ethiopian, Kenya Airways, Egypt Air among others. They are all part of global airline alliances.
So because of that, there are synergies and cooperation on all fronts.
Kenyan Airways is part of Skyteam, Egypt Air and South African Airways are members of the Star Alliance network. So, you can see they benefit from their linkages with KLM, Air France and the whole network in the alliance. So, this is what is lacking with most of the airlines in Africa, they think that they can make it on their own. It is not possible at this time; you need to work in partnership with others. We need to get into alliances. We might not be into alliances with the big players but we can have alliances with other African partners like what we have seen with Kenyan Airways with Precision Air.
Sourcing funds for African carriers
I might just want to put it differently, I really don't think funding is the key problem. The key problem is an airline having a viable business plan. What is a viable business plan? Something workable and feasible. There are many funding agencies who will be willing to help. So, you find for instance Rwandan Air, Rwandan Airlines was a very small airline about some years ago. They only leased one aircraft.
Now they have a fleet of six aircraft and by the end of the year, they will be seven. They have just delivered the first Boeing 737-800 recently, with the Boeing sky interior. Where did they get funding? Rwanda is a small country but they always manage their resources and they got funding, and the funding was not by the government; it was the airline. How did the airline get funding? Because it has a very good business plan. The airline is well managed so you find that funding agencies have the will to help.
What sort of business plan should an airline have, say in West Africa?
The person who is assisting to plan would be looking at the vision of the airline. He/she will ask; what is your mission…What are your objectives…What do you want to achieve…And what is your network? Did you come up with a plan based on data…Which market are you planning to serve…And why are you going there? Is there demand for those services…What type of aircraft are you looking for…
What is you organisational structure like…And what is your corporate governance? Do you want to do operation independently? I know in Nigeria, most of these airlines are private operators. There is no issue like interference in the operations of the airlines, but for some government departments. Are you a safe operator and what kind of maintenance and safety structure do you have to show that you are a safe airline? For example, are you adopting IOSA? Are you adopting industry-based standards in safety and security, and quality? When they look at all those things, then they can say this airline is serious; this is viable airline. I think they require funding and funding will always come. I can assure you that.
African airlines and government ownership
In my view who owns the airline doesn't really matter, as long as we are both professional managers running the airlines. Take Ethiopian Airlines, for instance. It is 100 per cent owned by the government but the government insisted that they need professionals to run the airline…and they left the professionals to run the airline. Once you do that, then the airline can be viable. Also, in my view, I think we need to encourage the setting up of private airlines, create a conducive environment for them to grow and prosper. So, either government owned or private owned, in my view, it doesn't really matter, as long as you get professional managers who can guide the operation of the airline.
EU ban list; what is really happening and what is the way forward?
You know the airline industry is very competitive. Now, when you are very competitive, people look for tricks to put the other parties into competitive disadvantage. Unfortunately, the European Union (EU) is using the issue of safety, which we believe is wrong. You don't say your airspace is not safe, don't fly to the EU…and you are saying that to an airline in Swaziland, for instance.
That airline in Swaziland is a small airline and this airline has no interest in flying to the EU. It is operating as a small airline. It will need to stop, change arm before reaching Europe. So the question is why would the EU be banning this airline? I think the whole issue is just to create an impression that African airlines are not safe. Now, by creating that impression, the passenger coming from Europe to Africa would rather be flying an European airline.
They are just creating doubt that these African airlines, you never know, they may be 99 per cent safe but you know it is not 100 per cent. So, the question is, are you going to risk your life by trying them? That is why you will find that they will be putting some many airlines, which are very tiny together. Imagine if someone in Europe is hearing that there over 100 airlines on the blacklist do you think this person is going to check whether Kenyan Airways, Ethiopian Airline, or Egypt Air are also on the list or not?
I have met people who will tell me that they are not flying African airlines because they have travel urgency or they have heard that this airline is on the blacklist. This person is not going to check one by one to see whether the airline is on the blacklist. Why would he do that when he knows that there are so many European airlines coming to Africa? And more and more are coming to Africa, that is why they are putting that just to create a wrong impression about Africa. And they put airlines like Mozambique Airline which has IOSA, Air Madagascar IOSA certified and these airlines they have never had any accident for the past 25 years.
Air France in the last 20 years more than 23 major accidents. So that is why we are opposed to this blacklist. We think that it is stooping very low if you continue using the tactics of creating fear among people, it is unfair. How can you say the airspace in one country is unsafe then you increase air fare to that country? It means you are not being honest. So, if a country is not safe, then it means you should not fly there until they put the safety requirements in place.
What is Africa doing now, what are you going to do to stop this blacklisting?
We are sympathising with many stakeholders, especially at very senior government levels, so that they understand the issues. Quite often and because the European press have been creating this impression that Africa is unsafe so that everyone would think that way. But one thing I have to tell you is that there are a lot of countries in Africa where safety needs to be improved, where the safety oversight needs to be improved, so we as AFRAA are also calling upon African government to ensure that we adhere to industry best practices in terms of safety and security, that civil aviation authorities should take their safety oversight responsibilities seriously.
If we really think that there are some countries where accidents often occur and you don't see any action the government is taking to try to improve the situation in the country, we say other African governments should tell them to put their house in order. Nigeria used to be like that where you find so many accidents taking place but the government and the stakeholders said we need to improve on our safety level. Now Nigeria is very exemplary not just in Africa. Russia used to be like that, China used to be like that.
If you remember in the early 2000, there used to be many accidents in China and Russia but the government said no, we care about the safety of all people, we want our airline to operate safely and they undertook stringent safety oversight functions. Since then, you find that Russia and China have reduced in terms of accidents. They have improved safety to almost world-class standard. We can do that in Africa, all we need is, for example in Nigeria, an independent CAA with a strong professional leader at the top like Dr. Demuren. That is why Nigeria is where it is right now, we can also do that.
AFRAA's call for airlines merger
I think the major problem that we have is that we don't trust each other. What we need to do is if you want to go into partnership. You need to understand each other's operations. You also need to come into some legal arrangement. Unless we do that, unless we can pull our resources together, we will not make it. It is much better in my view to own 30 per cent of a 1 billion dollar entity than to own 100 per cent of an entity that is worth 10 million dollars. So you don't need to use self, if you are repose something 12 billion miles, what you need is to use your business. We need to get that culture of business, this is what people do worldwide, take people from America partnering with the Chinese and get people from the UK partnering with the Russians. So why can't we within Africa partner amongst ourselves?
Maintenance and fuel
In terms of aircraft maintenance, first we have got some excellent world class Maintenance, Repair and Overhaul (MRO) facilities in Africa. We have South African Airways Technical, we've got Ethiopian Airlines, Egypt Air, Air Algeria, Royal Air Maroc, Tunis Air just to mention some of the few world-class maintenance facilities where you get people from Europe, Asia sending aircraft to these entities for overhaul. So, I think African airlines need to make use of those ones.
These entities give very good rates and many of our carriers fly to these countries. So, in terms of flying empty, there are many savings you can get by just using them. The rates of course in Africa are very, very low compared with Europe. So there is no way you cab go wrong, you can also demand if you think you need your aircraft to be ready within a certain time, you can contact them. If my aircraft going for a C-check is not ready within such a time, these are the penalties. They would make sure that they produce quality service, the same service you get if you go outside the continent, the only thing is that you will get it much, much cheaper than if you go outside the continent.
Advice to operators
My advice to airlines is at this day and age, small is not the issue. We have to corporate, we need home partnership, we need to invest into each other. And for the big airlines, we say allow the smaller carriers to buy shareholdings in your own airline. Also, be willing to invest in the smaller airlines so that the governments are willing to open up Africa and everyone in the process will benefit. So unless we corporate our markets are going to continue to be taking over by entities from outside Africa. We need good corporate governance, we need professional management in our airlines, people who can strategize, who can come up with a vision to guide the operations of our airlines to move forward.
Implementing the Yamoussoukro Decision
The Yamoussoukro Decision (YD) is perfect. It's excellent and I think it is a very progressive instrument. In any case, if you go to Europe for example, Europe is one market. If you are flying within Europe, you are just flying like a domestic operation. Everything like visa, movement of people, movement of cargo is very much facilitated and in the process, many airlines have benefited; the big airlines and the smaller airlines alike.
Quite often, those airlines who are afraid of Yamoussoukro Decision are those who think their markets would be taken over by the big airlines but on the contrary, when you open up, like when the United States opened up, you find that the smaller airlines benefited, the big airlines benefited. The market grew because you make it easy and create more market and by creating more market, opportunities arise for everybody.
Take a country for instance with a small airline and then you get some of the big airlines like Ethiopian Airline, Egypt Air, Kenyan Airways flying there, instead of flying four times a week, they are now twice a day. Can you imagine, you are a small airline, you are the ones who is going to fly them to various tourist destinations in all countries. This mean there is an opportunity to grow. Some of these fears are just fears of the unknown for us to open up for Africa. In any case, how do we compete with the EU when EU is one market and we are tiny markets? So, as far as we are concerned, we need to open up Africa for African carriers under the Yamoussoukro Decision.