STUDENTS, OTHERS CLASH AS EFCC ARRAIGNS DANIEL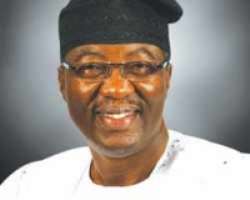 Ex-gov in custody, argues bail bid tomorrow
Doma's trial starts next week
Alao-Akala knows fate on bail today
Anti-graft agency files charges against Goje
AFTER a two-day delay, the Economic and Financial Crimes Commission (EFCC) yesterday brought former Ogun State Governor, Gbenga Daniel, before an Abeokuta High Court on a 16-count charge bordering on stealing and diversion of funds up to the tune of N7 billion during his tenure as the chief executive officer of the state.
The former governor's arraignment did not, however, go without hitches as hundreds of his supporters and students from some higher institutions in the state clashed during and after the court session, a development that made communication difficult for the trial judge and both parties in the matter.
After the court proceeding, pandemonium almost broke out when the students started chanting 'ole, ole' (thief, thief), which did not go down well with the handful supporters of the embattled former governor, leading to a face-off.
Daniel's supporters chased the students, who came in seven buses to the court premises. A detachment of police at the arraignment was forced to shoot sporadically in the air to break up the melee.
In the course of the bedlam, an alleged Daniel's hangers-on outside the court simply identified as Dickson allegedly accused former Ogun Police Spokesman, Femi Awoyale, of aiding the students to have a field day abusing the former governor during the proceedings.
Dickson, it was claimed, pointedly confronted Awoyale, a Chief Superintendent of Police, which prompted the latter's subordinates to pounce on him, stripping him naked before whisking him away.
In a related development, former Governor of Nasarawa State, Aliyu Akwe Doma, is expected to be arraigned at the Federal High Court, Lafia next Tuesday, according to a statement by Head of Media and Publicity, EFCC, Femi Babafemi.
Babafemi also confirmed to The Guardian that charges have been filed against Senator Danjuma Goje, former governor of Gombe State.
And, an Ibadan High Court will today determine whether or not to grant bail to former Governor of Oyo State, Christopher Adebayo Alao-Akala, his erstwhile Commissioner and current Senate Deputy Chief Whip, Hosea Ayoola Agboola and an engineer, Femi Babalola, currently standing trial for alleged financial misappropriation and gross misconduct, which charges were filed against them by the EFCC.
This came as the trial Judge, Moshood Abass warned the parties and their agents against attempting to influence him, saying he would not hesitate to order the arrest of such persons no matter how highly placed.
Alao-Akala, who was on Tuesday arraigned with the other two accused persons on 11-count charge had pleaded not guilty and filed an application for bail, which was adjourned for hearing yesterday.
Calling the court's attention to the commotion outside, lead counsel to the EFCC in the case against Daniel, Rotimi Jacobs (SAN): 'My lord sir, the scenario outside the court today prevents my lord from hearing most of what we are saying and we are also not getting what my lord has been saying.
'I want to say that this is not a political game. This is a criminal case holding in a serious court. We should not be celebrating criminalities. I want to appeal that you talk to the accused person not to hire supporters to the court.'
But one of Daniel's lawyer, Tayo Oyetibo (SAN), defended his client of the allegation of retting a crowd for the proceedings, saying that what was happening outside was as a show of love of the people for their former governor.
Oyetibo added: 'My lord, you need to know that my client has been in EFCC custody in Abuja since Thursday when he was arrested. How would he now arrange for these people? If someone is loved, what is bad in showing that he is being loved? It is the EFCC that always arranged for that.'
Charges brought against Daniel by the EFCC also include fraudulently converting $3 million from Ogun State domiciliary account with First City Monument Bank (FCMB), to acquire equity stake in a private company, Glanvill Enthoven & Company Nigeria Limited; an offence which is punishable under section 390(4) of the Criminal Code Law CAP 29, Laws of Ogun State, 1978.
The former governor was also alleged to have fraudulently converted $1 million from the Ogun State domiciliary account with FCMB to acquire shares in 21st Century Technology Limited.
Daniel was also alleged to have fraudulently converted the Judges Quarters in Sagamu, Ogun State to his personal use by building his private house, known as Asoludero Court, on the property and thereby committed an offence punishable under Section 434 of the Criminal Code Law, CAP 29, Laws of Ogun State, 1978.
He also allegedly converted with intent to defraud, 2.011 hectares of land situated within the Secretariat Complex along IBB Boulevard, Abeokuta to the use of the Golf Place Resort Hotels Limited, a company in which he purportedly has interest.
Daniel also allegedly converted several billions of naira from the statutory allocation to Ogun State local councils to personal use.
The accused, who was accompanied to court by his wife, Olufunke, pleaded not guilty to all the charges and was remanded in EFCC custody until tomorrow when his bail application is expected to be heard.
The former governor, spotting a cream colour flowing attire with a black cap and eyeglasses, was brought to the Isabo Court at exactly 9.04 a.m. in a coaster bus marked Abuja BR 737 BWR by stern-looking EFCC officials.
A visibly worried Daniel entered the courtroom at about 9.12 a.m. and quickly rushed to have a chat in low tones with his counsel, Prof. Taiwo Osipitan (SAN), Oyetibo (SAN) and Yemi Oke for about 10 minutes.
Mr. Olutayo Olukotun (SAN) also represented the EFCC in the matter.
In the cause of the proceedings, the defence team asked for a 30-minute adjournment to enable them study some documents and have a word with their client, which was granted by the court.
On resumption, all the 16-count charges were read to Daniel and he pleaded not guilty to all of them.
Oyetibo, who took over from Osipitan at this point, told the court that they had filed a bail application on behalf of his client yesterday, which he disclosed had already been served on the prosecution counsel.
The prosecution team confirmed receiving the bail application but explained that a written document was attached to it and urged the court to give them time to study it to enable them to file a counter-affidavit.
Consequently, the prosecution pleaded that the case be adjourned till tomorrow for the hearing of the bail application.
Counsel to the accused pleaded that Daniel be remanded in the EFCC custody since he had been there following his arrest last Thursday.
In his reaction to this, Jacobs referred to a newspaper publication (not in The Guardian) in which he alleged that the anti-graft commission was accused of maltreating Daniel in its custody.
He described Daniel's wish to still be kept in EFCC custody despite the 'totally false' publication as 'an irony'.
A hot argument ensued between both parties over the said publication as one of Daniel's lawyers, Oyetibo, also accused the EFCC spokesman, Babafemi of 'convicting our client in the media' and urged the court to call him to order.
In his ruling, Justice Olanrewaju Mabekoje granted Daniel's plea to be remanded in EFCC custody and adjourned the case till tomorrow.
Author of this article: From Iyabo Lawal (Ibadan) Charles Coffie-Gyamfi, Gbenga Akinfenwa (Abeokuta) and Abosede Musari (Abuja)