WHO REALLY IS NDI OKEREKE-ONYUIKE?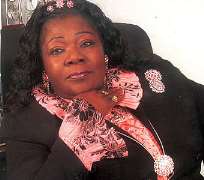 Many people think they know Ndi Okereke-Onyiuke especially as she was a permanent fixture on corporate Nigeria for so long. But just like most public personalities, they don't know her.When the young and ebullient Dr. (Mrs.) Ndi Okereke Onyiuke assumed duty as the Manager and Head of Research and Information Services Department (now Research and Infotech Department) of the Nigerian Stock Exchange in January 1983, little did she realize that come January 2000, she would be at the apex of the corporate Ladder as the Director-General and Chief Executive Officer.
To some operators, Okereke-Onyiuke was one of the best things that had happened to the Nigeria Stock Exchange (NSE) and her contributions to the development of the exchange and the capital market are quite sterling and colossal. For example, within two years of assuming duties at the Exchange as Director General, she strengthened the research base of the Exchange and influenced the computerisation of the Exchange leading to the creation of The Nigerian Stock Exchange All Shares Index. Also during this period, she spearheaded the training of potential stockbrokers by starting off The Stock Exchange Authorised Clerkship Examination.
Born in Bonny, Rivers State on November 2, 1950, Okereke-Onyiuke had her elementary education at Queens College, Enugu before proceeding to City University of New York, USA where she also obtained her MBA, specializing in Finance and Computer Science. She later earned a Doctor of Philosophy as well as Doctor of Administration in Finance and Securities Market from the Graduate School of the City University. Okereke-Onyiuke had been Exchange Services Manager, System Consultant at the New York Stock Exchange before joining the NSE and rose to become its Director General in 2000.
While she has been dogged by controversies since she left the Nigerian Stock Exchange, industry analysts insist that two issues demand close scrutiny. First, the emerging story that she never worked in New York Stock Exchange and then the revelation that there are some gaps in her academic credentials. The two issues need thorough and forensic investigations especially as it was on the basis of those claims that she got into Nigeria Stock Exchange in the first place. The City University of New York has no records or data that Ndi Okereke–Onyiuke ever obtained a doctorate degree from the institution, either in Business or any other discipline. Another search of the NYSE's personnel records also reveal that Ndi Okereke–Onyiuke never worked there in any capacity as she claimed.
In a letter dated January 18, 2011 and written in response to routine enquiries initiated by the US Securities and Exchange Commission, (SEC), in furtherance of its regular due diligence on notable Stock Exchanges around the world, Vincent J. De Luca, Director of Student Services, Senior Registrar at the university's Graduate School and custodian of student records at the Graduate Centre, averred under oath of perjury that: "On January 18, 2011, I caused a search to be conducted of our student records (including graduation records) at The Graduate Center, at the request of the United States Securities and Exchange Commission, to determine if Ms. Ndi Okereke–Onyiuke was ever enrolled in the Ph.D Program in Business and if she received a Ph.D in Business at The Graduate Center". Her career at the Nigerian Stock Exchange, which took off via letter with Reference Number NSE / 11 / 86 and dated Jan. 4, 1983, and signed by Apostle Hayford Alile, then Director – General of the NSE may have been predicated on perjury. The issue revolves around low integrity threshold.
There are also some points in her stewardship at the Nigerian Stock Exchange that deserve more than just a passing look. We know that the Economic and Financial Crimes Commission (EFCC) quizzed her in connection with Transcorp, a company that acquired 75 per cent equity in the Nigerian Telecommunications Limited (NITEL), for $750 million through a "negotiated bidding", but that's just one of the many quizzes the public never gets to know the outcome.
Her Africa for Obama pet project was another case in point. She coerced Corporate Nigeria into the project and they reportedly raised about N100m. Okereke-Onyiuke lived in America for 14 years, She should be aware that the US political candidates do not legally accept donations from individuals who are neither US citizens nor permanent US residents. However, the Obama Campaign group and the Democratic National Committee distanced themselves from the project. Okereke-Onyiuke's grand standing response to barrage of criticism for the project was quite unfortunate; "I want to make it clear that I am a Nigerian and I have the right to do anything I want with my time and my money." Again, the EFCC quizzed her on this project. Before the Obama for Africa show, was her controversial abduction of Corporate Nigeria towards the funding of former President Obasanjo's 2003 campaign and her role in the contentious Obasanjo library project.
While a lot of the controversies that trailed her had nothing to do with her job or performance of it; she equally etched as much controversies in course of doing her job. A lot of times, she has responded to the controversies that trailed her with boasts of her accomplishments. But then a second look paints a different scenario.
True, the Nigerian stock market was virtually sleeping when Okereke-Onyiuke became DG in 2000. The All-Share Index rose from 100 units in 1984, the base year to 1,107.60 in 1992, and to the 10,000 mark in 2001, before rising to 20,128.94 in 2003, 23,844.45 points in 2004 and by 31 December 2007, jumped to 57,990.22. Market capitalization closed at N13.29trn in 2007. By the end of 2005, the number of listed securities stood at 288. Today, there are over 300 listed securities on the stock exchange. Until the NSE hit a downturn in the second quarter of 2008, it had been a long bull-run which made it one of the most profitable exchanges in the world.
Whatever gains it recorded up till then were, however, wiped out fast within two years. By 2009, it had witnessed a 34 per cent decline, making it the world's worst performing equity index, according to Bloomberg. In the first three weeks of 2009 alone, the NSE recorded 14 percent fall in capitalization, the world's second largest in share price depreciation after the Qatar Stock Exchange, which lost 18 per cent within the same period.
There are other dark clouds about Okereke-Onyiuke's stewardship in relation to the setting up and funding of Adonai Net and Exchange Data Services. Perhaps, Nigerians still need to be educated more on the business and operational model which made the two organizations which rely on funding from Nigerian Stock Exchange smile to banks without being accountable to the board of the exchange.
The 2008 Auditors' report authored by KPMG, an audit firm and Aluko Oyebode & Co., a legal firm chronicled some putrid actions of the Exchange. Among these is the fact that the Exchange spent N186 million on Rolex watches for its staff in 2008 for presentation to employees who had served the Exchange for 10 years. Interestingly, the report revealed that only 73 out of the 165 Rolex watches were actually presented to the awardees meaning that 92, valued at N99.5 million remain unaccounted for. Also, the report said, "Our investigation so far reveals that the following allegations may have merit: Total expenses of the NSE are too high, 2006 to 2008 expenses consumed more than 80 per cent of income/undisciplined spending and financial imprudence; That there has been sharing of money among council members, That the sum of N400 million were paid to the past president of the Council, That wages, training and IT expenses were overstated."
Okereke-Onyiuke made attempts to either extend her tenure or manipulate the selection process that would bring in her crony. Many stakeholders in the market were worried by that disturbing signals on the succession issue then and voiced out their preference for due process be followed in picking the new Director General.
As things evolve, perhaps she will borrow a leaf from President Barack Obama, whom she once floated a pet project for. At a point when Obama's birth place became so controversial, his response was to publish his birth certificate and put a stop to the controversy. It will not take much effort to publish the details about the Doctorate degree from City University of New York, USA and tour of duty in New York Stock Exchange. Just the will power.
* Written by Innocent Badmus.

Disclaimer:

"The views/contents expressed in this article are the sole responsibility of

thewillnigeria.com

and do not necessarily reflect those of The Nigerian Voice. The Nigerian Voice will not be responsible or liable for any inaccurate or incorrect statements contained in this article."
Articles by thewillnigeria.com