The Aftermath Of Mushin Day: Saheed Osupa and Pasuma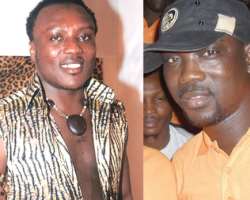 It is no longer a news that the annual mushin day has come gone living behind a controversy that is yet to be settled.
The duo of pasuma and saheed osupa are known to be a sworn enemy and are ready to tear their flesh apart with the power of music. Their rivalry began decades ago with lots of counter acquisitions coming from their stables.
Although the two leading Fuji stars are doing well in their music career with multitude fans nationwide.
The recent of their rift is the just concluded Mushin carnival which Pasuma was unavailable to performed at show because of his slated grand show at Dubai. In one of his live Cds, he explained that it was the organizers that misunderstood him because they claimed that they are not convinced of his readiness and presence. The orobokibo Fuji king lamented that the organizers later called to notified him of change of their choice to opted for his closet rivalry,Saheed Osupa. Pasuma wonder described this incident as the handiwork of his enemy who taught is no longer interested in mushin carnival.
However Saheed osupa, who performed at the carnival,thrilled the mushin fans to the full capacity and demonstrated that fuji music could be sang in its original form.
His superlative performance earned him a new titled as Olu omo of mushin courtesy of oba of mushin, His Royal Majesty , Oba Fatai Aileru.
Since this installation, controversy has continuing thralling the new title. It was gathered that this title conferred on saheed osupa, did not go down with pasuma and his die-hard fans because obama of fuji music, is a self-acclaimed Golden son of mushin which literally mean the same as Olu omo. With this another cold war is bound to re-surface between the two elephants of fuji music.
It would be recalled that despite the efforts of prominent personalities to unite these two Fuji celebrities, no positive result has been archived.