I WAS TAUNTED IN AMERICA-TIWA SAVAGE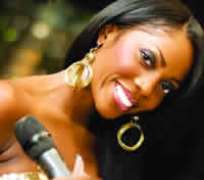 She has experienced contemptuous treatment and been ridiculed on account of her slight frame. Countless times in America, when she went for auditions, this girl from Isale Eko was told she was not good looking. But somehow the constant taunting did not break her spirit or her resolve to succeed in the vocation she had chosen. Her story is like the biblical case of the stone that was rejected by the builders, which later became the corner stone. In this interview, Tiwa Savage recalls those early days and her journey to success.
What have you been up to lately?
I have been doing a lot of shows, promoting my songs and myself as a brand. Recently too, I finished my second video titled, Love me, Love Me. In addition, I have finished working on my third single, which will be released anytime from now.
You just mentioned that you have been promoting yourself as a brand, that's great. So how did 'Brand Tiwa Savage' land a deal with Hennessy Artistry?
Well, I got a call from the team and they had selected a few artistes and I was fortunate to be one of them. So, they approached me and as soon as they told me I was really excited because Hennessey is a classy brand and household name. I knew it was something I would definitely love to be a part of.
Also when they told me the names of some of the other artistes - Banky W, Jesse Jags and Eldee - I was even more elated. You know these are people I greatly admire and respect in the industry.
What was it like working with other artistes to produce the song for the Hennessy brand?
It was really fun. As I said earlier, Banky W, Jesse Jags, etc, are people I really admire a lot, but I must confess that I was a little nervous initially. You know I was the newest one among them and the only female, but they made me feel very comfortable. It didn't really take us long to compose the song because the chemistry was just instant. It was fun and it wasn't tedious working with them.
Considering the fact that you are still fresh in the industry, how has it been so far?
It has been exciting even though I am still fresh like you said. There are a lot of things that I am still learning. I am learning how to deal with my hectic schedule. But I have been fortunate to learn so much in such a short time.
How would you describe the acceptance of your song?
I would say it was very good. The female fans really accepted it and the men loved it too. The song is doing well and getting good air time on radio. Honestly for a first song, it is really doing well. It opened a lot of doors for me.
For a person who lived overseas, how have you been able to integrate into the local music industry?
The fact is that even when I lived abroad I regularly visited home every year. My parents are still based here. I remained very connected with Nigeria and true to my culture. More importantly, I'm a Nigerian. So blending into the local music scene was not really difficult. It wasn't really too much of a drastic change. It was really quite exciting for me to move back here.
Can you compare your experience here and abroad?
There are two different experiences. While I lived abroad I was allowed to explore music, and that was really where I learned to develop my gift and I turned it into a career. It is now that I am fully living out my dream, and deploying all the skills I learnt over there. So you could say that I am actually practicing what I learnt overseas.
If you were in America would you have done a song like 'Kele, Kele'?
I actually did the song over there.
Don't you think you would be better off as a musician in America than here, considering the exposure and the technical know-how over there?
I don't know if it would have been better there. But I am a Nigerian and not American - regardless of how long I lived there, at some point I would have to move back home whether at 40 or 80 years. Notwithstanding that I lived in America, I do not see myself as an American. Or British, even though I have lived there too.
Were you born over there?
No, I was born here in Nigeria.
How old were you when you left?
I was about 10 or 11 years.
What was your growing up like?
Growing up was fun. I was the youngest and the only girl. I used to get into a lot of trouble and my mum always said I had a big mouth. Growing up among boys I got into all the boy games - in fact I was a tomboy. I would gather the other girls like me and we would make dolls. So my childhood was very creative.
What inspires your songs?
True life experiences sometimes inspire me. It could be because of what I have seen people do. But more often, God inspires. I could be sleeping and a melody would come into my head and I know that it was something supernatural and not what I thought of.
Do you write songs too?
Yes.
Have you written any song for another artiste here in Nigeria?
No, not yet because most artistes in Nigeria are very talented and gifted. And so there is really no market for a songwriter here, which is good.
Don't you think it would be better for some of our singers to get good songwriters here?
I don't know, but I am sure some of them do. But I must really commend our artistes they know the market, what their people want and they know what they write. Now, that is not a good thing for professional songwriters. But that is great for the artistes because they end up producing what they want, what they want to say instead of having someone else writing songs for them.
You were on X-Factor. What was the experience like?
It was bitter-sweet really. I say bitter because I didn't get to the final stage. It was sweet because I got to experience and taste what fame could be like. Also I worked with an amazing crew, you know X-Factor is a huge franchise and over 600,000 people were auditioned. I got out to the last 16, which is amazing. It was also a blessing in disguise that I didn't get through because I wouldn't be able to do the kind of music that I am doing now. And I am sure that they won't let me do a song like Kele Kele for instance. It was actually a blessing in disguise for me.
Why did you branch into music after studying business administration?
I studied business administration because my parents, like most Nigerian parents, insisted that I must get a degree, you become a lawyer, accountant, etc. So they made sure I went to school and I got a degree in something substantial.
Like an obedient child I listened and obeyed, and I am actually thankful that I did, at least I have something to fall back on. It also helps me in my music when I am reading contracts or when I am in a meeting. I am able to articulate my words and also I am educated. I know the business side and not just the music side alone and I am able of look into my affairs myself.
Did your parents ever discourage you from going into music?
No, they never did. My parents and brothers always encouraged me. They also encouraged me to get a degree. They always came to my talent competitions when I was young; even now my family members are my biggest supporters, and if my picture or story is in a magazine or newspaper they can buy like 50 copies. My mum is on Twitter, on Facebook, she follows me and my career. So they are very supportive.
One of the songs you wrote got a Grammy Award nomination. Please share the experience with us.
It was a song I wrote for Fantasia, which was nominated for the Grammy Award. That was amazing and I didn't expect it at all.
Did you get credit for that?
Yes, I was credited for writing the song. It really encouraged me, that wow that this little skinny girl from lsale Eko could go as far as that. I am really encouraged now and the next one I want it to be my own personal nomination.
So you are also looking forward to winning the Grammy Award soon?
Definitely, it is something I am working towards. Not just for me but I want to make Nigeria proud. This not about me alone, I want to work on behalf of other artistes. I think we all collectively can work hard and be pioneers and make Nigeria cross over internationally. I mean Dbanj and Don Jazzy have already started that kind of connection, Tuface too. Internationally people are looking up to Nigeria, and they are starting to appreciate our music. And I also want to work harder to get Nigerian music well accepted internationally.
As the only girl in the family, would it be right to describe you as 'Daddy's girl'?
Well, I am both. When I was growing up I was more of a daddy's girl but when I got older I got really close to my mum. Like my mum was the disciplinarian then, and so I would run to my dad and my dad would be 'like don't worry I would buy you choco milo' and such stuff (laughs). But as I was growing up I got closer to my mum and she became truly my best friend; I could tell her about having boyfriends and stuff. Even when I got my tattoos, I told her, but unlike the typical Nigerian mother, who would have flared up, she was not upset.
Are you in any relationship now?
Right now, I am really focused on my music and so I am having a relationship with my music. We are having 'Kele, Kele Love'
How do you handle your male fans?
A lot of people ask me that, obviously it is flattering. My schedule is so hectic, I never really get to experience this because my parents and management team have really made sure that I am grounded and stay humble. So stuff like that don't really get to me. It doesn't really make me have a big head.
As a woman in the music industry, which is dominated by men, how have you been able to put your foot down?
Before I moved here people thought I would only waste my time. They never believed that female artistes could make the A-List. Stubbornly I came back anyway. In just nine months, I have been able to perform with the A-List artistes. Also I have been able to have as much crowd reaction as some of the biggest male artistes today. So things are changing, although the Industry is still dominated by men, but notwithstanding it is changing.
How would you describe your relationship with other female artistes?
We are really cool. I am really close to a lot of them – Omawunmi, Waje, Sasha, Chydinma and Weird Mc. There is really no rivalry, as people would think when it comes to women. We are all really cool and it is healthy competition. We all have different styles and we target different audiences. So we support each other.
What major challenges have you faced in the Industry?
I think when I first came in, like most artistes, it was financial because it wasn't easy traveling from one radio station to the other, trying to promote, take pictures and shoot videos. But to be honest I have been really blessed in my journey so far.
Was there a time you wanted to pull out of music?
Yes, so many times. It was not in Nigeria here but when I was in America. You know they told me when I went for auditions, that my voice was not strong enough, that I was too dark or that I wasn't pretty enough. Those were times I thought I should listen to those people, just marry and have children and then sing in a local pub (laughs). But for some reason, I kept going, kept pushing and thank God I never gave up.