I MISS THAT SPECIAL BOND WITH MY DAD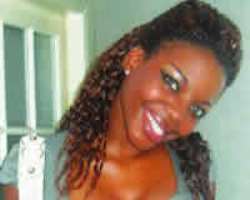 For Esther Agbamuche, grand daughter of late Justice Agbamuche, her ideal family is a home where both parents live together under the same roof to bring up their children. Her crave for this, stems from her peculiar parental background. She is a product of a youthful relationship between Christopher Agbamuche, son of late Justice Agbamuche and Iku Omokpai who were quite young then and still in school.
They both went their separate ways afterwards leaving their little Esther in the care of uncles and aunties who took her off to England when she was barely three years old as is often the tradition expected of children from such privileged family. The young lady returned to Nigeria about two years ago to explore the vast opportunities in her native country. Esther Agbamuche is presently the Personal Assistant to Mrs. Joan Okorodudu of ISIS Model, Lagos.
There may have been obvious benefits of living abroad, more than anything else, the young woman definitely feels that her life in Queensland has almost alienated her culturally and is eager to fill in the missing gap. In this interview, Esther Agbamuche talks about what she misses most about not living with either of her parents, discovering her own individual in the course of living with relatives, menial jobs she did while in England and her aspirations now that she is back home
Can you give me an insight into your person?
My dad is Christopher Agbamuche. He is the son of late Justice Agbamuche. My mum is Iku Omokpai. She is the daughter of late Emokpai. They both had me when they were pretty young and were in school but after that, she got married. My step dad is an amazing man. She has six other kids.
I grew up in England. I have been there since I was a child. Although, I wasn't born there, I think I went there when I was two or three years old. I only returned to Nigeria when I was 13, spent three years and went back again because my mum asked me to come back here to finish my high school and thereafter college. I just got back about two years ago.
What informed your decision to return home?
While I was there, I was studying and working as the same time but decided to come back to Nigeria because I felt that there are more opportunities here for me than over there.
Would you say that you still have a good sense of the Nigerian culture?
I may not have had it as much as the average African who has lived here all her life would have or know about the culture but I don't think that I completely lack that sense of my African roots and Africanness. My family is Nigerian. We speak the Nigerian language over there. We still have that sense of our Nigerian culture and I grew up around my people. I don't think that I have lost it, rather, I feel it is more intact. There are things that I might not have learnt here that I have learnt over there because of my exposure
Since your return, what have been up to?
When I came back, I worked for a while but when I was done with that, I started helping my mum out with the running of the store since she runs a shop. But for some time now, she has stopped the business .
However, I want to follow what has been my passion since I was young, which is fashion. I love the verve of the fashion and entertainment industry which was how I came in contact with Mrs. Joan Okorodudu.
Can you give me a sense of the differences between England and Nigeria in terms of opportunities?
I don't think there are much differences. The thing is that back in England, you are sort of boxed in. There is a certain limit where you can reach. It is like a sort of roof where you can get to and can't move any further.
But in Nigeria, it is like the sky is the limit. What you can do is limitless. You can be whatever you want to be. You can do whatever your heart desires. Here, you have opportunities to do more while over there, you are constrained.
You said that you want to explore what seems to have been your childhood passion, fashion. Have you ever done anything in relation to that area?
I have not done anything big in fashion or modeling before, but in my high school days, I was in a drama club. Although, I don't think acting is my strongest point, but I enjoy it. I have also been involved in a mini-fashion show, where I had to model some stuff. Even though, I have not really done something big in fashion or modeling before, like I said, I just love the verve of the fashion and entertainment world.
Can you recall what growing overseas was for you? Growing up in England was exciting and challenging as well. Obviously, I didn't grow up with my mum. She was back here in Nigeria. I also didn't live with my dad.
So, I lived and grew up with uncles and aunties, moving from place to place and trying to discover my own person. You know, like I had to work at some points. Like I said, it was exciting too. There were the good and bad parts just like what life offers to every other person.
What would you say about racism out there?
Yes, there may not be very obvious signals of racism but you can still feel some slight traces of it and an unspoken air about it, especially if you live in a predominantly all white neighbourhood. Sometimes, you feel it, at other times, you may not feel it. It depends on the environment where you live. Where I had lived earlier with my auntie, it was predominantly a white area, so you felt that sharp distinction but it wasn't a place anyone could vocalize yet you could still tell the difference but later on I moved to yet another relative 's place in another part of England where people there can actually come up to you and give it to you. I had once had someone who came up to me and say, 'you, go back home'.
So, you still had one thing or the other like that. However, because I had become older when I started experiencing such things, I could handle it as compared to a much younger person. If it is directed at younger children, it can really hurt and stir up unbelievable and nasty issues. Again, it is about your surroundings, how you grew up and knowing how to deal with such sensitive issues.
But do you think that you would been better in terms of knowing your culture if you were here?
Definitely, my sense of culture would have been better and greater if I had grown up here. There is no doubt about that. It is not as if I am not a better person but it would have made me a more better person to have that connection and bonding with my root. Even if I know where I come from now, there is still a difference between someone who has been here all her life and myself.
Like my siblings, my step-sisters and brothers. They grew up here, although, they came to England but they grew up here and have been to their villages and that sort of gives them an edge, knowing their cultural values and norms
So, there is something you miss?
Definitely, like I said earlier, I have missed out by not staying here. No matter how one tries to paint a picture about being a Nigerian and knowing where she comes from and all other stuff, I still feel that I have missed out a great deal on certain vital areas
Where do you think you would pick the bits and pieces now?
Honestly, I don't know how or where but I know that somehow and as time goes on, by socializing and meeting people, I will get to know some more. Like I have learnt a few things about my people from Mrs. Joan Okorodudu since I met her. And I hope to continue to learn that way.
Can you tell me one thing you think you took away from England?
One thing that I pride myself that I took away from England, one can also get it from other parts of the world. Essentially, it was on account of the kind of job that I did. I was exposed to people from diverse backgrounds. People don't really take this into account but it means so much to me. It is really difficult. People actually go to learn this as human relations management. From that job, I can easily adapt and relate well with all kinds of people, despite the differences.
Can you also talk about the challenges you faced there?
I would say before the challenges, let me first talk about the good sides. One good thing there is that anyone can work. In Nigeria, you really have to first acquire a certain level of education or a degree before working. But in England, everyone can work. It might not be the upscale job but you can work and earn a living on a small scale. It may not be like someone who has a degree but you still can earn a decent living. There are menial jobs and all kind of jobs that anyone can do.
Now, to the challenges, there were but obviously in terms of getting a job. As a black person you would work harder to earn your pay. Again, there is still some elements of racism, even though, they wouldn't spell it out on your work sheet. And because I am a black lady working in a white- dominated environment, you tend to exact it off and work harder because their eyes are always on you. And you want to do yourself proud by proving your worth.
You said you had to work at some point. Tell me about some menial or odd jobs you did to survive?
I started working at the age of 13. I would pick the newspapers and take it round everywhere, delivering newspapers every morning before I went to school. My grand mother had actually kicked against it but I insisted. On my way to school early in the morning, I used to leave early and she would wonder why but I had to deliver the papers in a few streets and that would fetch me about 10 pounds and it was a good pocket money to buy sweets and stuff. Again, at 16, I worked at a corner shop, some kinds of menial job. I did some other menial jobs like working in an elderly home but the climax of my work experience was working at Selfriges.
Can you give a brief insight into the working environment there as compared to Nigeria for young people?
There is a certainly huge difference. In England, like I said that I had to deliver Newspapers to some neighbourhoods at the age of 13, I didn't do it blindly. I certainly had a list of where to deliver the papers and so it was easy to do but here, it is difficult and pretty hazardous for kids. They face bigger risks.
What does it feel like earning a living as an African woman Overseas?
The African woman is a great hard working woman. It is so respectable and honourable to see African women working hard and earning a living for themselves. Even here, as well, it is amazing seeing women working hard to pay their bills even as single parents.
What you miss most in life?
My dad, he got married. We never had that father daughter relationship because I didn't grow up with him. I really miss that closeness with him. I wish so much that I had that special relationship. And that's why I cherish families that are together. I didn't get that and I miss it greatly. There are things that I might not have learnt here that I have learnt there because of exposure
Given your family background, where you grew up practically not living with either parent, who is your ideal man?
My ideal man is a man who will drive me. I want a man whom I will look up to and respect him. I also want a man who will be there for his family and kids ande who will also respect me as a woman.