Ogun Slashes Salaries Of Political Appointees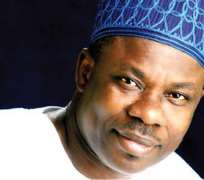 ABEOKUTA, October 05, (THEWILL) - Governor Ibikunle Amosun has disclosed that salaries and allowances of political office holders and appointees in the state have been slashed in a deliberate attempt to save funds for infrastructural development of the state.
The governor revealed that he had already tabled a law before the State House of Assembly to give the action the needed legal backing.
Senator Amosun, who was speaking at the 2011 World Teachers Day at the MKO Abiola stadium, noted that he initiated the move in a deliberate attempt to conserve funds to pursue his dream of massive infrastructural development of the state.
The governor added that his government had kept faith with its workers by implementing the National Minimum Wage stressing that, "In spite of the poor financial position of the state, we pay salaries and even at that we are the first state to pay the new minimum wage. We also added N250 on top of it to show that we love our workers. We ensured that we obeyed the law on minimum wage.
"The least you will expect in that regard is that the workers would cooperate with us by being dedicated to their duties and paying all levies and taxes as stipulated by the law. The tax has a law that governs it and it must be obeyed. We are all affected by it too; it is not as if we, who are politicians, are living in opulence," Amosun stated.
The governor also spoke on the need to motivate teachers as a way of uplifting their morale; he promised to look into the case of stalled promotion of teachers.
Amosun said his administration planned to move education to enviable heights with its planned construction of 50 new model schools across the three senatorial districts of the state.
Earlier, the State Commissioner for Education, Barrister Segun Odubela, spoke of government's determination to raise the level of education in the state by motivating teachers and developing infrastructure in schools.
The chairman of the State Universal Basic Education Board, Chief Mufutau Akande Ajibola, had earlier told the teachers that the government had approved the payment of two years of their accumulated five-year leave bonuses.