A TRIP WITH AMBIVALENCE (2)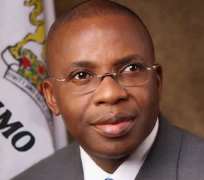 Luke 6:27 "But I tell you who hear me: Love your enemies, do good to those who hate you, Luke 6:28 Bless those who curse you, pray for those who mistreat you. Luke 6:36 Be merciful, just as your Father is merciful." These verses captured the central theme of a scintillating sermon at St. Michaels Anglican Church, Okohia in Mbano on August 7, 2011.
But first, while the earliest part of my story provoked unnecessary forays on the internet due to a reference to Owelle Rochas Okorocha's performance or lack thereof as seen by the people on the ground, I hope that this concluding part will be soothing for its religiously-tinged overtone. In any case, mom was getting stronger and eager to resume her church activities that were so dear to her—as she gets older, mom's life revolves around our local church.
Interestingly, speaking of church activities, by happenstance I attended a special service during my two-week hiatus in Nigeria. Upon realizing that I was in Owerri during my first week in the country, a special chum, Gov. Ikedi Ohakim, sent for me. When I arrived at his residence in Okohia, Isiala, Mbano, many people were there—trooping in and out—rarely genuflecting.
As I stepped down from the truck that picked me up, Ohakim's Personal Assistant recognized me, immediately took me to the governor's private sitting room, and left to inform his boss of my arrival. The governor asked him to bring me to the general parlor where he was meeting with scores of people. As I sat there looking around, people were flowing in and out reminiscent of a market square—but in this case they were neither buying nor selling. Gov. Ikedi Ohakim, in jeans and a casual long sleeved shirt, walked toward me and hugged me in welcome to his residence. After exchanging pleasantries, he introduced me as his pal from America to some people there. I saw some familiar faces, including Prof. Obioma Iheduru, who was living in the same city with me when both of us were in our respective doctoral programs. It was really nice to see some other friends. Ikedi was cordial and the environment was conducive for the candid and unfettered discussions that I relish and savor.
What struck me most was the manner in which Ikedi Ohakim personalized his contact with each person that came in—both men and women, young and old, including children. Surreptitiously, as I was making a mental note of what was happening there, I was contrasting my experience at his residence with some trenchant negative stories I read about him. I concluded that the negative stories were based on fallacies. In fact, I was amazed at Ohakim's energy and demeanor—the down-to-earth attitude he exhibited throughout my stay. As a matter of fact, when I was sitting with him privately in a corner, two individuals came to tell him that they were about to leave. Ikedi viscerally pleaded with them in a soft manner for them to stay a little while so that he could see them before they departed. I was moved by his attitude of concern—relating to individuals with a modest, unassuming nature. I was struck by the spontaneity and sincerity of Ikedi Ohakim's countenance. He welcomed everyone with open arms. I did not see an iota of arrogance in his attitude. Needless to say that Ohakim's wife, Atty. Chioma Ohakim, showed an unparalleled grace as she personally served people with her loving heart and consummate humility.
Before I left that Saturday evening, Ohakim invited me to a church service to mark the celebration of his 54th birthday. The next day, I was at his residence at about 8:00 a.m. From there we went to the church service at St. Michael's Anglican Church, Okohia in Isiala, Mbano. Unknown to me at the time, the officiating Bishop, Our Lord Bishop Godson Ukanwa, began his career as a Catechist in my town.
The church was filled to the brim with an overflow of people on the upstairs balcony and surrounding spaces around the church. Many dignitaries, including HRH Eze Cletus Ilomuanya, were there for the thanksgiving service—indicative of a person who still attracts the love and admiration of his people.
The moving sermon with occasional echoes of harmony, Love for Enemies, which centered on Luke 6:27-36, was befitting for the occasion because it provided a window through which most people viewed Dr. Ikedi Godson Ohakim. The Bishop crystallized the sermon with the following excerpts: 27 "But to you who are listening I say: Love your enemies, do good to those who hate you, 28 Bless those who curse you, pray for those who mistreat you. 29 If someone slaps you on one cheek, turn to them the other also. If someone takes your coat, do not withhold your shirt from them. 30 Give to everyone who asks you, and if anyone takes what belongs to you, do not demand it back. …34 And if you lend to those from whom you expect repayment, what credit is that to you? …35 But love your enemies, do good to them, and lend to them without expecting to get anything back. Then your reward will be great, and you will be children of the Most High, because he is kind to the ungrateful and wicked. 36 Be merciful, just as your Father is merciful.
In the pew and without compunction, Bishop Godson Ukanwa reminded the congregation of the character of Ikedi Ohakim emphasizing that the man Ohakim lives his life with the aforementioned guiding principles. He said, "Ikedi is a churchman, a spiritual man," indicating that Ikedi loved his enemies and would not hesitate to do good for them. Bishop Ukanwa also reminded people that Ikedi Ohakim has continuously exhibited the Christian principles; Ikedi gave and continues to give to people, including those who hate him. He further stated that Ikedi Ohakim has a forgiving heart and has never been at war with anyone. "We thank God that Ikedi is not at war with anyone," Bishop Ukanwa said. He assured the congregation that whatever may be the setback, it is temporary. Realizing that Ohakim has a strong character and personality, Ukanwa opined, "Tough times never last, but tough people do." He knew full well that Ikedi Ohakim would eventually re-emerge because he was a tough man, and he reassured the audience that the man, Ikedi, would be vindicated with the passing of time. The recurring theme was that Ohakim's reemergence was seemingly eminent.
Although, Bishop Ukanwa attributed the problem in Imo State to overheated polity and warned of pretenders that he referred to as "Belgium rats in religious garbs". "Our problem is only with the masqueraders in Imo State," Ukanwa alarmed. Perhaps, that was a veiled criticism of religious leaders who delved too much into politics of Imo State at the expense of their religious obligations—just like vermin prowling for a sop. "Beware of religious Belgium rats," he admonished the Governor Rochas Okorocha. He cautioned that these individuals would bring any political leader down for venality.
Ohakim, who spoke in a melodious, charismatic tone, as he recapped his well known and established accomplishments as Imo State governor, expressed profound gratitude to his community and Imo citizens in general for the opportunity to serve them. Ikedi appealed to all, not to be bitter about what happened in the past election, but to have a joyous heart and abide by the principles enumerated in Luke 6:27-36. He shared with the congregation that he and his family are happy and thankful to God for His blessings. Ohakim used the opportunity to reassure the community that as long as he lives, he would continue to give scholarships to the youths who qualify to attend any university. He said, "No youth who qualifies to enter a university should stay home for lack of finance." "I will fund the university education of our youth who qualify to attend university," he asserted. Ohakim concluded his remarks, much to the admiration of the congregation, with a song, "This is my story, this is my song…" I was delighted to be a part of an important historical moment. Indeed, it was a Sunday to cherish!
Dr. Acho Orabuchi, an Opinion Writer/Commentator and Analyst, lives in USA.
Disclaimer:

"The views/contents expressed in this article are the sole responsibility of

thewillnigeria.com

and do not necessarily reflect those of The Nigerian Voice. The Nigerian Voice will not be responsible or liable for any inaccurate or incorrect statements contained in this article."
Articles by thewillnigeria.com