BILLY ELLIOT MUSICAL TO CLOSE ON BROADWAY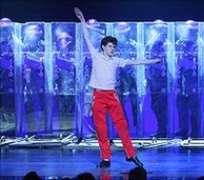 Billy Elliot was the toast of the 2009 Tony Awards
Hit musical Billy Elliot is to close on the New York stage next year, three years after it began its Broadway run.
The last performance of the show, which successfully transferred from London's West End, will be on 8 January.
With music written by Sir Elton John, the production has been seen by an estimated 1.65 million people in New York and won 10 Tony Awards in 2009.
Its tour across the US is due to continue, while the London stage version will remain open.
The original production in the West End opened in 2005 and won three Laurence Olivier awards the following year.
The musical, based on the 2000 film about a miner's son who finds escape in ballet, proved an early success on Broadway, regaining its initial $18m (£11.6m) outlay after a year.
It regularly turned over weekly box office receipts of around $1m (£647,425).
In recent weeks, the show's audience has been at around 70%, although discounted tickets have cut box office potential to around 50%.
And in the August week in which New York was hit by Tropical Storm Irene, the musical's takings were severely affected, in line with other Broadway shows.
It made $358,485 (£220,000) in the wake of the storm, down from $731,895 (£449,000) the previous week, according to figures released by the Broadway League.
Refunds also had to be offered to theatre-goers whose performances had been cancelled due to adverse weather conditions.
Trade publication Variety said that the show's young and constantly rotating cast had created a sustained expense, which it described as "an unusual cost for a Broadway show to bear".
The magazine's writer Gordon Cox also said that some people in the theatre industry have speculated that Billy Elliot's setting, in 1980s England beset with industrial strife, had prevented it from becoming a long-running hit in the US.