Celebrating A Young Ghanaian Lawyer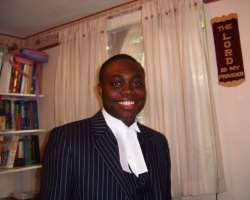 Where credit is due, it must accordingly be given. And if anyone has not already, I am proud and indeed very honoured to be the one giving credit to this young man, Kow Essuman. In fact, it is about time Ghana started acknowledging its young professionals and encouraging them to even greater heights. That in itself will challenge the younger generation to achieve similar success or even better.
I chose to acknowledge and celebrate Kow Essuman in this note but there are many more Ghanaians out there who can serve as young role models for the younger generation. However, the timing of this note on Kow Essuman is impeccable. It comes at a time when he has just been admitted to the Bar of Ghana together with those who successfully passed the Ghana Bar Exam. But Kow Essuman stands for the following reasons. Just type 'Kow Essuman' into any search engine and you will be amazed at how much such a young man has achieved in the 25 years of his life.
I have closely studied and followed the progress of Kow Essuman since he arrived in England in September 2003. He was one of the three prize winners in law at Holborn College in 2004. He obtained his Bachelor of Laws degree from the University of Westminster in London. During his final year at Westminster, he was selected as one of the participants in the internship programme organised by Kirkland Ellis LLP. Kow was placed in Tooks Chambers (Chambers of Michael Mansfield Q.C.), one of London's top set of chambersn due to his interest in a career at the bar.
Also, during his final year, Kow secured a place on the Masters of Law programme at Cornell University Law School. This programme is ranked first amongst the LLM programmes in the US and is therefore the most competitive. Kow also secured a place on the Bar Vocational Course at the top bar school in all of England and Wales, BPP Law School. He deferred his LLM and studied towards becoming an English barrister.
On 24 July 2008, Kow Essuman was admitted to the Bar of England and Wales having successfully completed the BVC and the necessary qualifying sessions (dinners). He was graded as Very Competent on the BVC.
He then went on to Cornell (an Ivy League institution) to obtain his Masters in Law, which he did successfully on 24 May 2009 with Honors in Financial Institutions and International Mergers and Acquisitions. He sat the New York Bar Exam in July 2009 and passed on a first attempt; a rare but possible event for foreign trained lawyers. He was admitted to the prestigious New York State Bar on 21 January 2010.
He returned to London and practised for over a year before returning to Ghana. Whilst in London, he spent some time in top commercial sets of chambers including 3 Verulam Buildings and 3 Stone Buildings. In Ghana, he joined DLA Piper's affiliate, Reindorf Chambers where he worked until taking the Ghana Bar Exam in August 2011. I hope readers will join me in celebrating the young man, Kow Essuman for his success in a quarter of a century and wish him all the best in his international legal career.
Timeline of Kow Essuman's achievements:
Kow at 21 - Awarded a Bachelor of Laws degree by University of Westminster
Kow at 22 - Awarded a Very Competent on the Bar Vocational Course by BPP Law School. Admitted to the Bar of England and Wales by the Honourable Society of Lincoln's Inn
Kow at 23 - Awarded a Master of Laws degree by Cornell University Law School
Kow at 24 - Admitted to the New York State Bar as an attorney and counselor-at-law
Kow at 25 - Admitted to the Ghana Bar