Africa.com, Arik Strike Discount Deal for Clients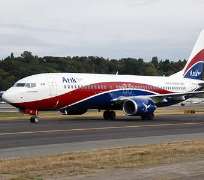 SAN FRANCISCSO, SEPTEMBER 30, (THEWILL) – African and Africa-oriented travellers are set to pay heavily discounted prices for their flights along the New York-Nigeria route, as one of a series of benefits of an interesting deal struck on Thursday by Arik Airline and Africa.com, a fast growing Africa-focused social coupon website.
The first package of the deal, tagged 'Africa.comDEALS,' gives $500 reduction in flight price on Arik Air between New York and Nigeria. From today, the first 100 Africa.comDEALS members who respond will pay just $99 in exchange for a $500 discount coupon off a roundtrip ticket for travel between New York, JFK and Lagos, Nigeria.
"We are pleased to work with Africa.com to be the launch partner for Africa.comDEALS," said Robert Brunner, Arik Air's Vice President for the Americas. "It's a win-win situation. For us, this is a great chance to promote Arik Air to Africa.com's large, global audience as well as an opportunity to be allied with a highly respected brand like Africa.com. For travellers, Africa.comDEALS provides a chance to experience Arik Air's World Class service at an unprecedented value!"
Chief executive Officer of Africa.com, Teresa Clarke described the deal as a bold step towards the mission of the group to change world perception of Africa and to be the online platform for that change. "Recognising the strong ties that Africa.com's visitors have to the continent and all things African, it was only natural that we would design a group buying site that spotlights a company like Arik Air, Nigeria's most successful airline," she said.
"The African Diaspora includes some of the most affluent, best-educated people in the world. At Africa.com, we are excited to be bringing this community together through Africa.comDEALS. We're equally thrilled to be providing a taste of Africa to the ever-growing audience of non-Africans, who are simply fascinated by Africa itself."
Future deals will include South African wines and jewelry, designed and created by Rwandan artisans; clothing designed by some of the top African fashion designers; as well as additional travel deals. There will also be "phenomenal bargains" on discounted air fares to Nigeria, Ghana, South Africa and other African destinations, hotels, car rentals, traveler health insurance, international calling cards, cell phones and cell phone services, money transfers, theater/music/sports events, museum memberships, subscriptions, restaurants, food and even hair styling.
Frank Webb, Director of Business Development at Africa.com, revealed that there were expectations that Africa.comDEALS would go "viral." "This is an exciting moment, for we plan to use the power of collective buying to demonstrate the rapidly expanding interest in Africa and its unique and varied products," he said
Travellers and others willing to benefit from the package have to sign up to membership of Africa.comDEALS network by clicking on http://www.africa.com/deals. Each week, members receive notice on a steeply discounted (usually 50 percent) product or service. If enough people sign up for the deal, the winning members receive a voucher that can be redeemed through the Africa.comDEALS partner. Vendors can also participate in Africa.comDEALS by e-mailing [email protected] In return, they will receive unique access to a growing and increasingly wealthy market niche, the African Diaspora; opportunity to collaborate on design of their deals; easy and quick distribution of proceeds; freedom to partner with another social coupon site as deemed necessary, despite participation in Africa.comDEALS.