IGBO DAY CELEBRATION: POLICE ARREST 100 MASSOB MEMBERS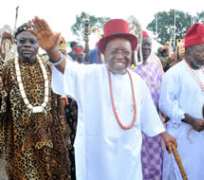 • Eze Igbo 1 of Abuja, Eze Nwosu Ibe (middle), arriving for the 2011 Igbo Day celebration in Abuja yesterday.
No fewer than 100 MASSOB members were yesterday beaten up and arrested at the entrance gate of Abakaliki Township Stadium during the Igbo Day celebration by the police in Abakaliki, Ebonyi State
Four of them who were wounded during the police action were later rushed to an undisclosed private hospital in Abakaliki for medical attention.
The National President of Ohanaeze Ndigbo, Ralph Uwechue had stated that no matter how big or small, people should be allowed free-play and equitable access to the country's resources and strategic political posts, including the presidency.
According to the Ebonyi State Police Public Relations Officer, ASP John Eluu, who confirmed the arrest, they were arrested to avoid breach of peace at the venue. Though those arrested at the stadium and detained at the State CID were released but Mr. Uchenna Madu, the organisation's director of information told Daily Sun that others arrested outside the stadium and held at two other police stations were still being held by the police.
The arrested MASSOB members who wore Biafran uniform and displayed Biafran flags were seen marching into the Abakaliki Stadium when they were confronted by the police. The spiritual leader who represented leader of the MASSOB, Chief Ralph Uwazurike, Bishop Chinedu Okeke, director of religious affairs said they were duly invited, as a result, did not constitute nuisance.
According to Okeke, as at the time of arrest no weapon was found on them and there was no sign of violence exhibited by them as they were in peaceful procession marching into the stadium when they were confronted by the police who manhandled and bundled them into the police van and took them to the police station.
Daily Sun reliably learnt that it was on the instruction of the Ebonyi State Governor, Chief Martin Elechi, who was said to have called on the state Police Commissioner, Mr. Adeniyi Adeola, for the immediate release of the MASSOB members.
The Director of Information, MASSOB Mr. Uchenna Madu who later spoke called on South-east governors to be careful in handling the affairs of MASSOB in the zone arguing that in the West the Yorubas treat their OPC courteously same with the North where the Hausas treat the AREWA ethnic nationalities with care.