Confusion Behind Delay In PIB Passage, Mark Explains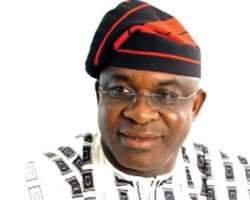 SENATE PRESIDENT, DAVID MARK
ABUJA, SEPTEMBER 28, (THEWILL) – Confusion spawned by the circulation of various versions stalled the passage of the Petroleum Industry Bill during the last legislative session despite sailing through all legislative procedures at the two chambers of the National Assembly, President of the Nigerian Senate, David mark revealed on Wednesday during the inauguration of the Senate Committee on Petroleum (downstream). But he described the piece of legislature as a necessity.
"The problem with the PIB was that when it showed up, there were so many versions. As many as three or four versions were in the hands of senators and members of the House of Representatives," he lamented. "The PIB is like the Bible for the industry and if we are to build the sector, we have to get the Bill off the ground and this is why cooperation between the Legislative and the Executive is necessary. Since the entire economy of the country depends on the petroleum industry, if we don't get it right in the sector, then the much-talked-about Vision 2020-20 would remain a dream."
He charged the committee to expedite work on the Bill and resolve associated bottlenecks so that the seventh National Assembly could pass into law without further delay.
Speaking earlier, chairman of the Committee, Senator Magnus Abe, assured of the group's understanding of issues surrounding the PIB and promised to deliberate with stakeholders to harmonise all existing versions into one.
In a related development, government has been urged to intervene in the ongoing warning industrial action embarked upon by the Academic Staff Union of Universities (ASUU). Senate President David Mark made the call while inaugurating Senate Committee on Employment and Labour, to be chaired by Wilson Ake. He lamented the situation where workers get agitated whenever government fails to keep to signed agreements with labour leaders, advising that dialogue remains the best solution to labour disputes. "I hope we would not get to the level of no-work, no-pay," he said.
He urged the committee to liaise with the Labour Ministry to compile realistic data on the level of unemployment, and challenged them to create substantial job opportunities before the end of the year.
Inaugurating the Committee on Environment and Ecology, headed by Senator Bukola Saraki, he charged the members to thoroughly examine issues of deforestation and erosion, because "environment has taken centre-stage in the world and has become a major cause for concern. Other committees also inaugurated yesterday include Privatization; Establishment; Drugs and Narcotics; and Employment and Labour.