Tevez never refused to play.. City striker denies claims that he snubbed Mancini sub request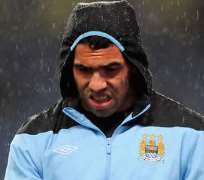 Carlos Tevez has denied accusations claiming he refused to come on in Manchester City's 2-0 defeat to Bayern Munich on Tuesday.
The Argentine striker appeared to have refused to leave the substitutes' bench during a UEFA Champions League clash at the Allianz Arena.
Roberto Mancini was said to be keen to bring the striker on and was left angered when it became clear that no change would be happening.
The Italian coach later claimed that Tevez was 'finished' at City and would never play for him again.
Mancini revealed that he would be speaking with the club's owner and board before deciding what action to take.
Tevez, though, insists that he did not refuse to play and is ready to be called upon when required.
Misunderstanding
He said in his statement: "I would like to apologise to all Manchester City fans, with whom I have always had a strong relationship, for any misunderstanding that occurred in Munich.
"They understand that when I am on the pitch I have always given my best for the club.
"In Munich on Tuesday I had warmed up and was ready to play. This is not the right time to get into specific details as to why this did not happen. But I wish to state that I never refused to play.
"There was some confusion on the bench and I believe my position may have been misunderstood.
"Going forward I am ready to play when required and to fulfil my obligations."