OKOROCHA BEHIND CRISIS IN IMO APGA -PRINCE NWAKA, STATE PARTY CHAIRMAN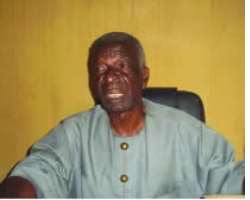 The Imo State chapter of the All Progressives Grand Alliance (APGA) has been engrossed in crisis following the purported dissolution of the state party executive by a group referred to as 'outsiders' and not established members of the party.
The group purportedly sacked Cletus Nwaka led - state executives and constituted a 15-man interim committee headed by Udo Agoha.
In a chat with Nwaka, the state chairman of the party accused the state governor, Owelle Rochas Okorocha of fueling the crisis having written to the National Chairman of the party Chief Victor Umeh on July 8, 2011, reference No. GH/GOV/S.001/1/1, ten days after his inauguration to dissolve the state executives.
Nwaka also disclosed that governor Okorocha and his Anambra State counterpart, Mr. Peter Obi, on July 15, 2011 jointly wrote a letter to Umeh requesting him to dissolve party executives at all levels.
According to him, Okorocha has refused to carry the state party executives along, having turned down the party nominees for offices three times.
Who is in charge of APGA in Imo State?
Prince Cletus Chukwuemeka Nwaka is incharge of APGA in Imo State. He is the state chairman of the party and he has the executives. There is no crack in the state executives of the party and for somebody to say that he is this or that, is neither here nor there. Somebody cannot just get up one day and nominate any group of people to replace a constitutionally elected executive to run the affairs of the party. What they do is just a farce and the big joke about this thing is that a lot of these people who have been named as interim members of the excos of their own party are not established members of APGA. They are not members of APGA. You don't form the executive of a party from non-party members. You don't just wake up one morning and dissolve a constitutionally elected executive of a party. I don't even know who organized it, or rather somebody was said to have inaugurated a body. Who is that body? Is he an APGA member? Of course, he is not.
Who are members of this group?
They are members of Agenda group of Owelle Rochas Okorocha. You know that before the election, Governor Okorocha and his group stormed my office to beat up both Dr. Iwuagwu, the Owerri Zonal Chairman and myself in this particular office. Even they broke some chairs and tables. He still has some grudges against us, and individually. One would have thought that as somebody who has won an election he is expected to carry everybody along with him, but he did not do that. When he was forming his cabinet, the party submitted a list to him up to three times, and nobody from the list submitted by the party was considered for an appointment.
We can only count on one member of the National Working Committee (NWC) of the party from the state that was appointed a commissioner, and the state Publicity Secretary was also appointed. No other person was appointed either a Commissioner or Special Adviser into his cabinet. The third end of his appointment, when the pressure was on him, he called on the Orlu Zonal Chairman and gave him an appointment.
Because of personal hatred for me he (Governor Rochas Okorocha) doesn't pick my calls. I have no access to him either on phone, or face to face discussion. I am subjected to unruly protocol resistance at the gate. He requested the National Executives of our party to dissolve the State Executives. He had written to the National Chairman of the Party Chief Victor Umeh on July 8, 2011 to send the current state party exco packing and setup a 15-man caretaker committee to replace it. He is involved in this plot to sack the current party state executives. If the National Working Committee (NWC) had refused granting him the permission as an authority, he has now devised another means to use some disgruntled people to actualize his ambition.
Since this crisis enveloped in your party, what is the role of Chief Martins Agbaso as the leader of the party?
Chief Martins Agbaso still remains the state party leader in view of an understanding before, during and after elections. So he is the Imo State APGA Leader. We discussed with him over our feelings with the governor, but as a father, he tried to mediate and advised us to avoid confrontation. He tried as he could, but if you advises somebody not to be confrontational he has his own way of ensuring that peace prevails in the party.
Rumours are making rounds that the two elected governors under APGA are trying to destroy APGA before defecting to PDP to actualize their 2015 presidential ambitions?
If a governor wants to build a party, the governor should cooperate with the party leadership, party structures and build it for good. If on the other side, the governor disregards the party, and carries out any plan to destroy the party, then he doesn't have APGA spirit in his mind. I would want to say that he (Okorocha) tries to convert individuals into APGA so that when he eventually quits and joins PDP the whole lot of them will follow him.