Senators Vote Against Same Sex Marriage ...Bill Scales Second Reading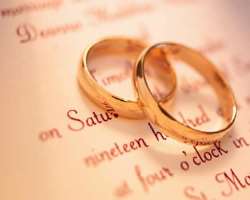 ABUJA, September 27, (THEWILL) - The Senate on Tuesday voted against same sex marriage as senators pushed the bill for an act to prohibit marriage of persons of same sex and solemnization of same and other related matters through the crucial second reading.
However, the bill, which was sponsored by Senate Domingo Obende and 13 other senators nearly suffered a stillbirth when Senator Eta Enang (PDP, Akwa Ibom) argued that the criminal code has already criminalized the act.
But the intervention of the Senate President saved the day when he allowed the bill to proceed.
His position was that the bill should be allowed to go through the second reading and during the committee stage, people who have observations against the bill could table same at that stage. Subsequently, after a very exhaustive debate the bill passed the second reading and committee to the standing committee on Judiciary, Human rights and legal matters, as well as the committee on health and interior.
In his lead debate Sen. Obende observed that same sex marriage cannot be allowed on both moral and religious grounds, noting that, "Even the Muslim religion forbids it, Christianity forbids it and the African traditional religion forbids it." He argued that same sex marriage should not be allowed because it will lead to the breakdown of the society.
While defining marriage as the institution where man and woman are joined in a special kind of social and legal dependence for the purpose of founding and maintaining family the distinguished senator noted that by admitting homosexual and lesbian relationship to the privilege of the married state Nigerians would be devaluing and weakening the duties and the sense of obligation that marriage entails.
According to him, "No same sex marriage is best. The problem associated with it, causes more sexually transmitted diseases, more childless relationships, more mental health problems and other major social problems especially deprivation at old age."
Other senators who supported the bill included senators Victor Lar, George Thompson Sekibo, Ajayi Boroface, Gbenga Kaka, Emmanuel Bwacha and Remi Tinubu. Lar noted that from the religious point of view same sex was ungodly, satanic and desecrates the institution of marriage as ordained by God. He said the whole essence of marriage as ordained by God was for procreation and wondered that if same sex was allowed who would fill the world tomorrow and who would replace them in the future as senators?