Ogun Swears In First Female Chief Judge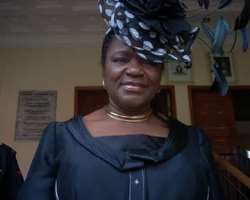 CHIEF JUDGE, OLATOKUNBO OLUYINKA OLOPADE
ABEOKUTA, SEPTEMBER 27, (THEWILL) – Decades of male dominance at the headship of Ogun State judiciary was broken on Monday with the swearing-in of its first female Chief Judge, Olatokunbo Oluyinka Olopade.
At the Obas Complex at Oke-Mosan in Abeokuta, the state capital, where the ceremony took place, governor of the state, Ibikunle Amosun urged the judiciary to maintain its relevance to governance and to the people; and commended the immediate past Chief Judge, Oluremi Jacobs, for his meritorious service. Reminding his successor of the huge expectations of her, he warned that there was no room for disappointment, as she has now become a record breaker and an ambassador to a segment of the population.
"From the days of the prophets, judges have been chosen over the people to ensure justice. This is to protect the ordinary citizen from oppression, sanction the oppressor and provide reformatory services for the hardened mind," Amosun said. "In our own peculiar situation, and without prejudice to the other arms of government, the judiciary has been a pillar for the survival of our democracy when the Executive and the Legislative shirk their responsibilities."
Born in 1953, Olopade attended Queens School, in Ede, Osun State; Adeola Odutola College, Ijebu-Ode, Ogun State; and the then University of Ife (now Obafemi Awolowo university), where she studied Law. She was called to the Bar in 1976.
During the compulsory national youth service, she was State Counsel in the Ministry of Justice, Benin, Edo State, from where she joined the Lagos State Development and Property Corporation as Legal Officer. She then moved to Ogun State Ministry of Justice, where she was State Counsel in 1978, rising through the ranks to become the Director of Public Prosecution, until 1993 when she was appointed a judge of the Ogun State High Court.