I Forget I'm A Wife On Set -Uche Elendu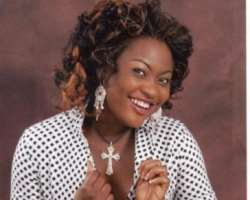 Dark-skinned and sultry Nollywood actress, Uche Elendu, has changed her name. She will now be known as Uche Elendu-Igweanyiba.
"I'm Mrs. Uche Elendu-Igweanyiba and please don't even call the Miss when my husband is around because he would not like it," she giggled when Klieglights approached her for an interview.
For a young lady who has had so many male and female fans in the last eight years, after the father of her friend, actor Larry Koldsweat, introduced her to the world of make-believe, how has she been able to cope as a married actress?
"Well, when I'm on set, I'm an actress and when I return home I become a mother of an eight-month-old and a wife to my darling husband. I've been able to distinguish the two so as to be able to fulfil my obligations adequately.
"So, when I'm on set, I sincerely do all I can and forget that I'm a mother or wife but when I'm at home, I'm the wife and mother," she quipped.
Unknown to many, Uche had met and fallen in love with her businessman hubby while at the top of her career. So how are the male fans behaving?
"My hubby was actually a fan and he understands what it takes for fans to pester you. I'm a celebrated actress and I expect fans, men and ladies, to want to talk to me but I know how to draw the line because I'm married and I don't engage in extra marital affairs.
"The man I married is my number one fan and he knew me through my movies and started talking to me and after sometime, I decided to give him a chance and that was it. He is my kind of man and till date he watches my films," Uche said.
But some films, which Uche starred in as a lead act might have warranted questions and bad blood from her husband as a result of the kissing and romance on set. So, how does her he react to this?
"My husband understands my job because he knows what I do and as such, he loves me unconditionally. And since I got married to him, I don't think I have noticed anything different in his reaction when he is watching my movies, he's just cool and okay. Even if he doesn't like it, he has never for once shown it in words or actions. So, I believe he understands my job and flows with it," was her response.
Known to have distinctively made her mark despite the crowded movie industry-with female stars rising every now and then-Uche strongly believes that her breakthrough was as a result of God's love and her ability to interpret roles efficiently.
In her words: "Well, I would say God and my ability to interpret, roles gave me the break. If you know my story into Nollywood, you would know that I only went to drop something for my friend when her father and a colleague asked me to try out a role and because I was not camera shy and just myself, I was able to do what they required and that was it. I stopped along the line because I had to complete my education and then my father wasn't in full support. I came back fully after I finished my education in 2004 and since then, it's been a sweet story all the way."
Speaking further on her ability to interpret roles and win the heart of fans worldwide, the mother of one, who readily boasts that she's back to reclaim her fame called to mind some of the toughest roles she has had to play.
"When it comes to interpretation of roles, I'm always able to be as diligent as possible because I know this is what I love doing and what I have always craved for, so, I do my films very well.
"The one I would say was tough was on the location, which took us through the bushes.
It was so tough adapting to the bush and the village setting but I was able to interpret my role to the best of my knowledge and delight of the director. Another was when I had to play the role of a witch goddess in Last Occultic, it was quite tough," Uche reminisced.
Uche, whose luscious lips have stood her out on the set of many a movie, once had a crush on a dashing young man and family friend.
"I once had a crush when I was still very little, it was on a neighbour and family friend. He's now grown though and all that is gone.
"But then he never really got to know about the crush because I was just crazy over him and anytime he walked pass, I went crazy.
"We are friends now but when I see him, I wonder why I was so crazy about him then. It's so crazy back then and even now, he doesn't know," she recalled.
She knows like many people who admire her that her lips are probably her greatest assets.
"I cherish my lips. I love my lips a lot and I'm happy I'm blessed with my lips."
Uche is one of the Nollywood players who sincerely believe the industry is not growing as fast as it should.
"Before now, Nollywood used to be the best and was fast-growing. At least I know that when I started, the industry was in its growing stage but as it is at the moment, all I can say is that the industry is so stagnant, neither moving forward nor backward. And I think this is as a result of indecision (on the part of the practitioners)."