OKONJO-IWEALA SEEKS DEBT RELIEF FOR AFRICAN COUNTRIES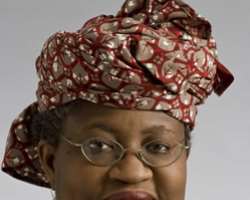 Coordinating Minister of the Economy and the Minister of Finance, Dr Ngozi Okonjo-Iweala, has called for debt relief for African countries, most of which are in the low income bracket.
Addressing journalists in Washington DC., United States (US) of America, venue of the on-going Annual General Meetings of the World Bank and International Monetary Fund (IMF), Okonjo-Iweala said Low Income countries (LICs) are facing high and unsustainable debt burdens, which is stagnating their growth, urging the IMF to further strengthen its engagements with African countries through enhanced financing, using its various lending facilities, policy advice and technical assistance.
Specifically, she called on the Fund to increase the concessionality of fund lending to LICs and extend the interest-free moratoriumon fund concession resources beyond 2011. Equally important, she said, was the need for the IMF to actively support LICs' efforts to access international markets and also review the sustainability framework in order to accommodate the higher investment needs of most LICs, while preserving the soundness of public finances.
The minister expressed happiness at the rapid recovery of the majority of LCIs from the global economic crises which she said reflect their strong structural reforms efforts,pre-crisis macroeconomic policybuffers built during the good old days and increased ownership of policies and flexibility in the funds financing and engagement with the authorities.
The reform efforts, she said are instrumental to attracting investment inflows into the African region. However, she said continuing the trend would hing on robust growth and recovery in advanced economies, even as she lamented the negative effect of rising flood prices which has put upward pressure on inflationary trends and exacerbated food insecurity for many countries in the region, particularly net food importing countries.
For emerging markets and developing economies, there is a need to accelerate the unwinding of accommodative macroeconomic policies to avoid overheating in the face of strong economic activity, while ensuring that the poor are protected from the effects of higher food and fuel prices.
Okonjo-Iweala said that while growth has remained robust, some vulnerability still exists, noting that many LICs remain vulnerable to the resurgnce of the global fuel and food price increases which is slowing down growth. LCIs, she lamented, also face inadequate financing of priority development projects in the face of possible decline in aid flows as well as slow recovery in exports with the persistent slow recovery in advanced economies.