Here come Nigeria's heartthrobs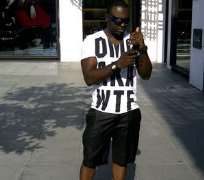 Although many men in show business appeal to most ladies, some are attractive to more ladies than others. Ladies are said to have a crush on men in showbiz to the extent some women superimpose the photographs of such artistes on their phones. Here, then, are some of the heartthrobs in the Nigerian entertainment industry that many ladies are dying for.
Tuface
Tuface began to worm his way into the hearts of Nigerian women with the emergence of his song, African Queen, in 2005. Ever since that song, Nigerian ladies have had a huge crush on the bald-headed singer. Tuface is one artiste whose lyrics bear on love and this, many think, has increased the love he gets from ladies.
The Implication crooner is probably the only musician in Nigerian that sends the feedback of love to his female fans. He is said to have four children out of wedlock from different women.
D'banj
Although D'banj goes by a lot of nicknames including Koko Master, Mr. Entertainer and others, one of his nicknames the ladies love to call him is Mr. Endowed. So much is the crush ladies have for the Why me crooner who gave babes the tag, Kokolet, that he is a regular feature on the display picture for ladies using blackberry and other smartphones. Many ladies even see him as Nigeria's sex symbol.
MI
He might be short and dark, but girls love this lad from Jos. MI became the talk of town in 2009 when he dropped his debut album, Talk About it.
We gathers that ladies love MI because of the way he raps. They say he is so eloquent and his rap delivery is usually impeccable.
Ironically, a lot of ladies overlook his height. They say they love Mr. Incredible the way he is. They are probably looking at the bigger picture.
Wizkid
He might be a kid, but he earns more than an adult with his music.
Although the swiftness with which the young boy broke into the music scene still shocks spectators, it seems the crush ladies have on him is swifter.
We observe that if 10 girls were asked to describe the young lad in a word, they would all come up with the same word, cute. Girls who have crushed on him say he is cute. Ladies probably love him because of the kid in his name. Apparently every girl loves a cute kid.
Jim Iyke
Jim Iyke is one actor that frequently plays the role of a bad boy in movies. Why do women like him? Most say they like his charisma on set. Some say they like the way he talks. Others settle for his physique. Whatever their reasons are, Jim Iyke is undoubtedly a favourite among Nigerian ladies.
Ramsey Nouah
Fair-skinned Nigerian actor, Ramsey Nouah, might not be as prominent as he used to be on the television screen, but the love ladies have for him is quite prominent in their hearts.
The reason ladies love him is because they say he is very handsome.
Van Vicker
Even with the slang from a popular travelling bag, Ghana must go, Van Vicker, a Ghanaian actor, has made it obvious that he is here to stay with the amount of love he gets from Nigerian ladies. The Ghanaian actor literarily swept Nigerian girls off their feet since he became a popular feature in Nollywood movies. The fair-skinned actor is highly rated as a favourite among ladies.
Lynxxx
When the slang Utunu is said, only one name comes to mind: Lynxxx. He might be an up-and-coming musician, but he has love from ladies than a lot of old musicians in the industry.We learnt that the ladies love him because they thought he was fresh and sophisticated. The reason is not far-fetched. You will hardly see Lynxxx without a suit that suits him perfectly.