ASUU Begins Warning Strike Monday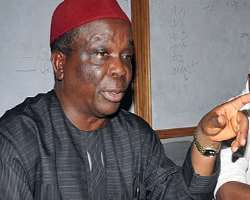 NATIONAL CHAIRMAN OF ASUU, PROFESSOR UKACHUKWU AWUZIE
IBADAN, SEPTEMBER 23, (THEWILL) – Failure of the federal government to honour to the letter an agreement it reached two years ago with the Academic Staff Union of Universities (ASUU) has spawned a one-week industrial action that will begin on Monday and could yet extend into months should the Union's demand be ignored.
The statements of the National Chairman of the Union, Professor Ukachukwu Awuzie on the forthcoming industrial action, were today echoed in Ibadan by the South-West Zonal Coordinator, Akin Ajisegiri, who told the media that the federal government and its powerful elite should be held responsible for the gross underdevelopment of the education sector.
He accused the government of refusing to implement agreements relating to conditions of service, autonomy of universities, pension and retirement age. He regretted that government has been carrying on with indifference despite infrastructural decay in the university system.
Recalling that the 2009 agreement was supposed to form a model on which the resuscitation of the sector would be hinged, he berated government for literally discountenancing all recommendations of the Union.
He, therefore, implored concerned Nigerians to prevail on government to follow up its stagnant commitment to the agreement with appropriate action, without which the sector would slide into further deterioration.