HYUNDAI NIGERIA UNVEILS HD SERIES TRUCKS, BUSES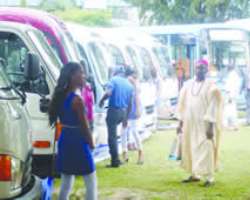 • Hyundai County (midi) and Supercity buses
A member of the multi-franchise Stallion Motors auto stable, Hyundai Motors Nigeria Limited, has introduced a wide range of multipurpose Hyundai HD Series special vehicles to boost the acquisition of value-driven commercial vehicles.
The company has also explained that the launch of the Korean commercial vehicles was in response to the prevalence of decrepit and unserviceable trucks on Nigerian roads,
Managing Director, Hyundai Motors Nigeria Limited, Mr. Pavir Singh, who made this observation at a ceremony in Lagos to officially unveil Hyundai HD Series' special vehicles, said the 'affordably priced hi-tech Hyundai special vehicles' would offer alternatives to the old fashioned trucks and buses that add zero value to the supply chain.
He said: 'We cannot continue to fold our arms and watch stakeholders in the haulage, construction and essential services' business loose precious man-hours and money to unproductive and dilapidated trucks that make business a harrowing experience.'
To this end, the company recently sought the consent of Hyundai Motors Company to provide full scale support for Hyundai commercial vehicles in Nigeria.
'At one of our meetings with Hyundai in Korea, we defined our mission clearly; that the time has come to support the effort of the Federal Government to rid the cities and highways of rickety and dilapidated trucks that add zero value to the supply chain,' Mr. Singh recalled.
He however explained that the addition of Hyundai commercial vehicles to its passenger car division was a sheer routine that would not affect service schedule or alter the work pattern of its workshops nationwide.
'We having at inception, integrated the commercial arm of Hyundai into the after-sales and workshop agenda and our new Hyundai diagnostic tool which is built into the Panasonic's Tough-book can offer diagnosis 24/7 via wireless communication and interestingly, update parts without wired connections.'
He described the Hyundai HD Series range of vehicles as tough and stylish precision engineered vehicles with new dynamics and capabilities to deliver unbeatable comfort and dependability for trucking business in the light and medium light truck category.
'Be it HD65 Dry Van or HD72 Refrigerated Truck or Dump Truck, the HD Series is perfectly suited for the needs and demands of the Nigerian business and transportation environment,' Mr. Singh explained.
Acknowledging these attributes in his presentation, Mr. Pananchickal Paul, marketing director Hyundai Motors Nigeria Limited (commercial vehicle division) told company representatives and stakeholders in the haulage and transport business at the ceremony that the HD Series are produced in the world's largest commercial vehicle production plant in Jeonju Korea with capacity to produce more than 125, 000 units per year.
The HD range of vehicles according to Mr. Paul consists of 150 different models out of which 16 variants would initially be introduced to the local market. They include HD 65 Cargo, HD 65 Refrigerated van, HD 65 Dry van, HD 72 Safety loader, HD 78 Cargo, HD 250 Cargo, HD 260 Water tanker and HD 270 Concrete mixer.
Others are HD 270 Dump truck/tipper, HD 370 Dump truck/tipper, County bus standard, County bus Deluxe with ABS, County bus Deluxe (29+1), Super Deluxe, Super Aero City bus and Universe bus.
The Hyundai marketing director said users of these vehicles would similarly discover Hyundai sterling reputation for outstanding performance, quality and reliability, adding that Hyundai ingenuity is best epitomised by the highly efficient design of their upper bodies that ensures top-notch performance and versatility for wide variety of work.
He listed some of the captivating features of HD range as power steering, air-conditioning, wood-trim interior, dual rear wheels, tilt steering and tilt cabin for easy engine access among others.
For instance, Mr. Paul explained, the HD72 Refrigerated van is equipped with 3.9 litre heavy duty diesel engine, sub engine refrigerator unit, power steering, air conditioning, radio cassette, dual rear wheels, side door, tilt cabin for easy engine access and tilt steering.'So, if you're looking for a rugged truck that fulfils everyday trucking expectation, the Hyundai HD series is your best bet, the marketing director assured.
Also adding that the transport and trucking business covers a whole range of industries and services with differing crew needs, Paul says Hyundai HD variants are designed to offer unique blend of prospects both for long distance comfort and durability.'The large size brake linings, tandem brake boosters and four-channel-type Wabco ABS with integrated EBD similarly assure consistently dependable and powerful braking capability.'
And unlike in competitions, Paul said all fluid levels are easily accessible and may be checked at random, while the advanced integrated fuel filter is serviced only at 50,000km intervals.